So full disclosure – this is not a blog post solely about Sorrento. But that's because there is SO much to do around Sorrento in a weekend, & I somehow fit it all into a weekend. So I have to share each & every part of it! Honestly, this was probably one of our very favorite places on this trip. We decided if we wanted to pick up & move anywhere, southern Italy was it. This is a trip I would recommend to ALL of my friends & family… & you!
Where to stay
Southern Italy is full of cliffs with buildings all up & down them. So while it isn't too hard, make sure that you stay somewhere with a view. You want to be high enough you can see most of Sorrento & facing west to watch the beautiful sunset. We stayed at Hotel Cristina & were blown away. The views are unbeatable. However, don't make the mistake we did & think you can walk to the hotel from the train station because… even if it looks like it's a short distance on the map. Because to get to those views you have to HIKE. I kid you not, we walked in sweating & out of breath. But the women at the front desk were SO nice & got us water immediately & told us they have a shuttle… so TAKE THE SHUTTLE, PEOPLE!
Where to eat
We were all over the place when we were here. Since we were on the move so much, we ate a lot of small places & would grab whatever we saw. However there were two places that stood out, one for food & one for drinks. & both of these were actually in Positano (a destination you can easily reach from Sorrento in a weekend & absolutely SHOULD).
For lunch, make a stop at Hotel Marincanto. Here you will see amazing views & have a pretty private meal. It is far enough from the hustle & bustle, but close enough to a) the bus stop & b) the view. After you spend time at the beach, go to Franco's bar to watch the sunset & get drinks. This is a famous place for both, so make sure you get in line right before it opens! Otherwise you will never get a spot to sit down.
What to do
Ok. Be ready for this long list because there is SO much to do in Sorrento:
First stop, Pompeii. If you head to Sorrento, you will most likely go through Naples & you'll pass right by Pompeii, so why wouldn't you stop?! I have always been interested in seeing it ever since I learned about the disaster in grade school. Being there truly puts you in a sense of awe. There is a lot uncovered already, & so much more to discover. It is much bigger than you think! Definitely a must on the list.
Next is Sorrento where you will be staying. We honestly did not venture around the city itself much. We went straight to the port to get on a ferry to Capri. When you get on the ferry you can see some amazing views of Sorrento… it's a beautiful cliff city.
When you get to Capri, there are two things you want to do, but you probably only have time for one :(. You can either go to the Blue Grotto or you can go to the top of Ana Capri. If you have longer than a weekend, DO BOTH! I wanted to go to the Blue Grotto so badly, but unfortunately it was too windy & wasn't safe to do. So instead, we took the chair lift up to the top of Ana Capri (after taking a bus up to the bottom of the chair lift). It is actually a little scary, but once you get used to it it's amazing. The views are phenomenal.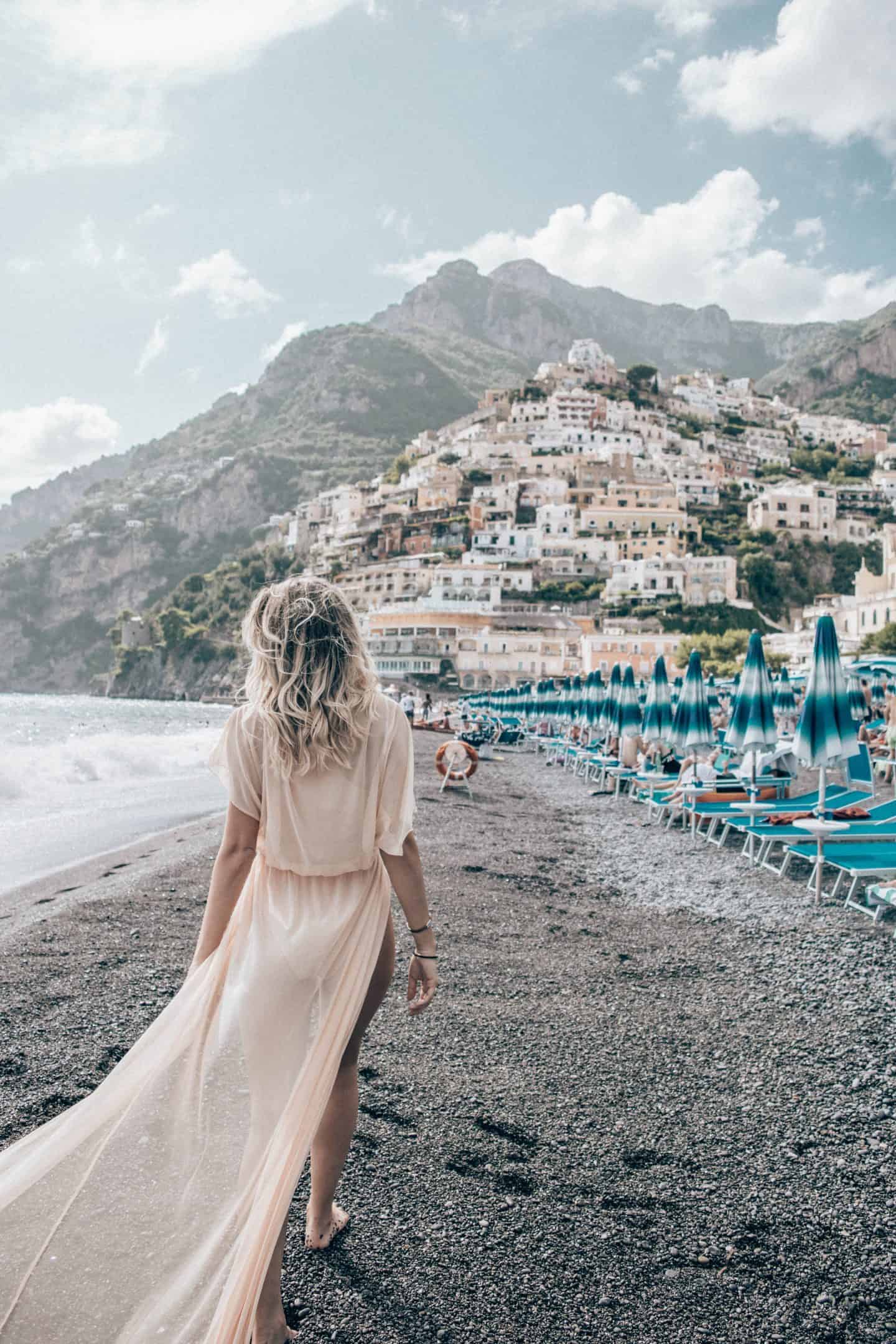 After Capri, we went straight to Positano. Basically every Instagrammer you know who has gone to Italy has a picture at Positano, & for good reason. It is so incredibly picturesque! Here is where you can finally relax after your jam-packed weekend.
Random tips
Staying in Sorrento leaves you in the middle of everything. So if you want to go to Pompeii, Capri & the Amalfi Coast, Sorrento is the best place to stay!
As I always say, take the buses. Save your money! It's worth it!