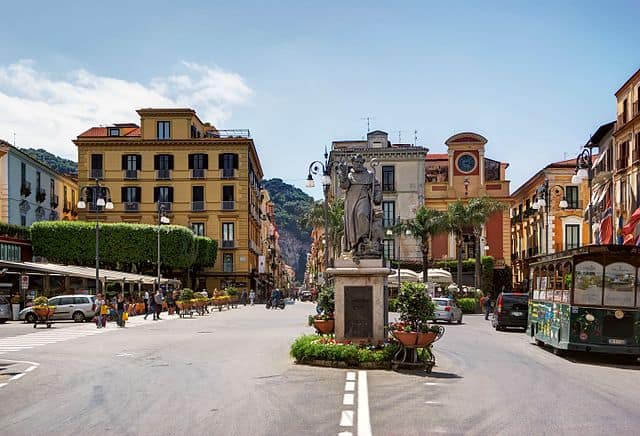 Sorrento sits on the southern curve of the Bay of Naples in Southern Italy. This city on the tall limestone cliffs along the bay is often called the Gateway to the Amalfi Coast and sees a large number of tourists on a yearly basis, so I wanted to create a Sorrento travel guide to make visits easier.
It's one of the major points-of-interest on the Circumvesuviana rail route and is known for its lemon-growing & manufacturing of Limoncello liqueur.
History
If you look into the history of the city, you will see that Sorrento has been under the Greeks and Romans and that it changed hands many times in the Middle Ages. There's hardly anything left from its Greek days but there's a bit of Roman Sorrento that you can still see when you visit this city.
What to see and do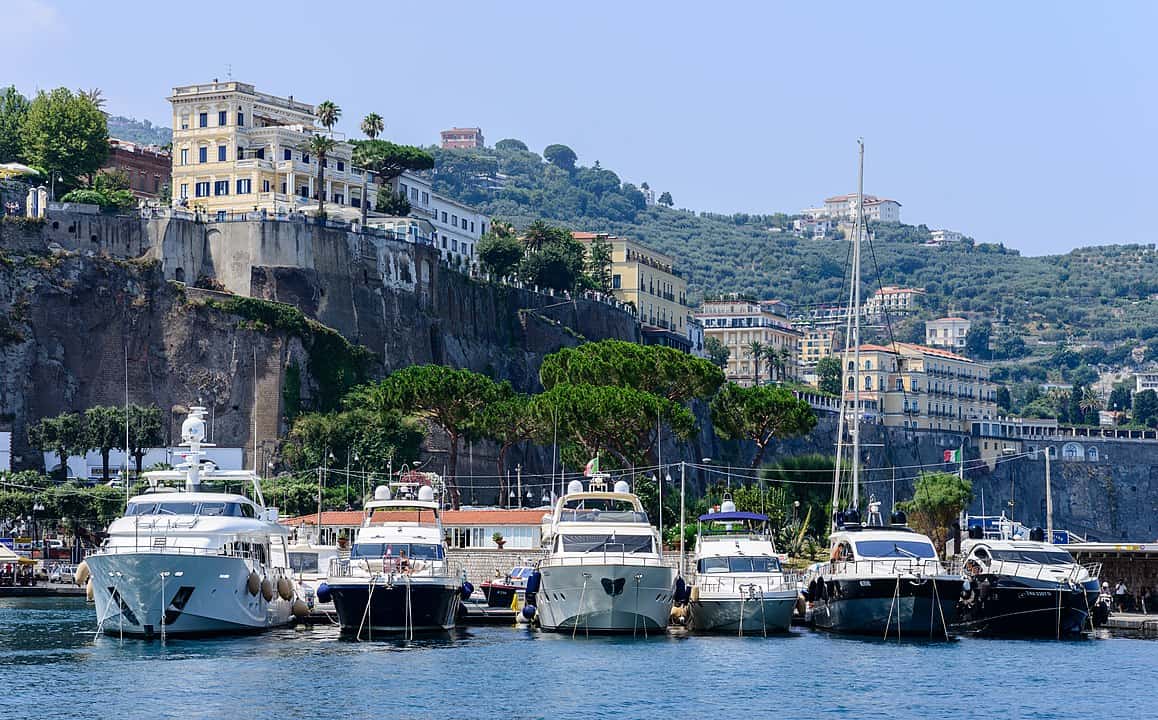 Things to see in Sorrento include a part of a Roman city-wall that has been reconstructed at Bastione di Parsano, the Duomo di Sorrento —a cathedral that is mostly in Roman style of architecture, the narrow road of Via San Cesareo that served as the main road during Roman rule & Villa Pollio Felice, a Roman villa.
These are just some of the historical structures in the city. The other buildings that belong to another age are Vallone de Mulini, Basilica of Sant'Antonino & Museo Correale.
Sorrento also has ports, scenic views, and wood inlay work to check out before you go driving on the Amalfi Coast on the southern part of the Sorrento Peninsula.
Top 10 Things to do in Sorrento
Shopping
Speaking of wood work, there are several places where you can buy pieces of these traditional inlay artwork. This amazing display of artistic ability needed to be included in my Sorrento travel guide. 'Intarsia' is the name of the technique used and you can find it on tables, decor items, and small boxes. As such, you have a large array of options when it comes to the size of the woodwork you want to take back home. You can even buy them at Museo Muta, the museum dedicated to the craft.
Another thing that would make an ideal gift from Sorrento is Limoncello, the drink made of lemon which grows in plenty around here.
And don't forget to pick up some ceramic lemon decor. Or maybe some lemon fridge magnets, yet another perfect Sorrento souvenir. They're small enough to carry even if you have to take back some gifts for friends and family.
You should also know that it might be less expensive to shop around the port areas than in the touristy parts in the middle of the city.
Food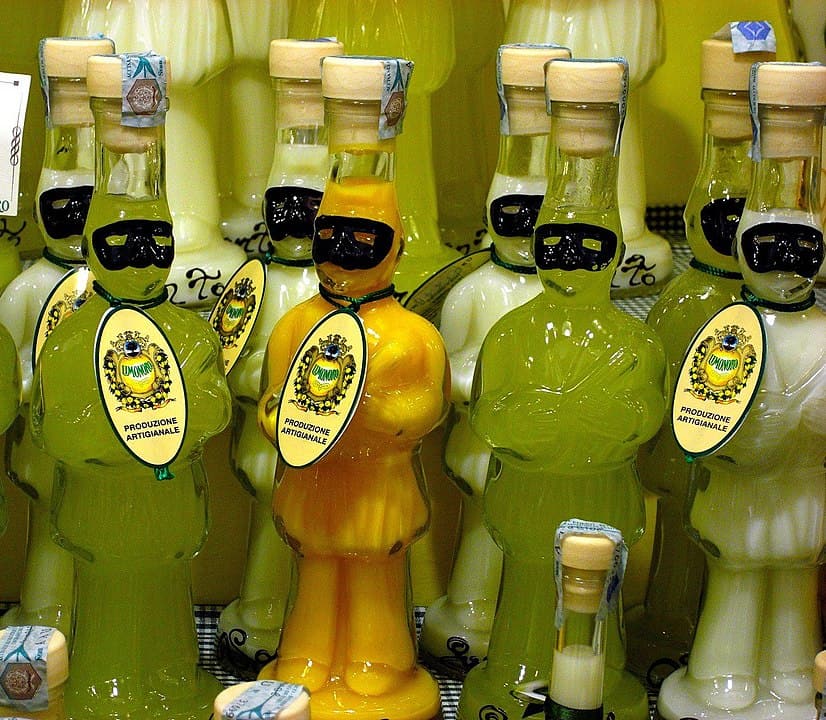 The ports are also the ideal place to go get some fresh seafood in family-owned taverns, especially in the fishing village of Marina Grande. Go into the middle of town to find restaurants serving tasting menus, many of which tourists rave about.
You can look up my list of Best Restaurants in Sorrento for a start!
When you stroll through the town you can find bakeries selling Lemon-based goods that you might take delight in. Most restaurants also have lemon desserts on their menus.
And remember, your trip to Sorrento will not be complete without a taste of Sorrento's famed Limoncello liqueur, which also serves as a digestif. A must to include in this Sorrento travel guide!
Geography
What makes Sorrento a popular tourist destination is its location. It's in a scenic location considering the cliffs on which it has been built & the views that come with the elevation of the city.
Apart from that, it's easily accessible from other popular destinations like Naples and Pompeii. It is on the southern end of Circumvesuviana railway's coastal route from Naples. And that makes it easy for people to get to Capri and also start their Amalfi coast trip here.
Accommodation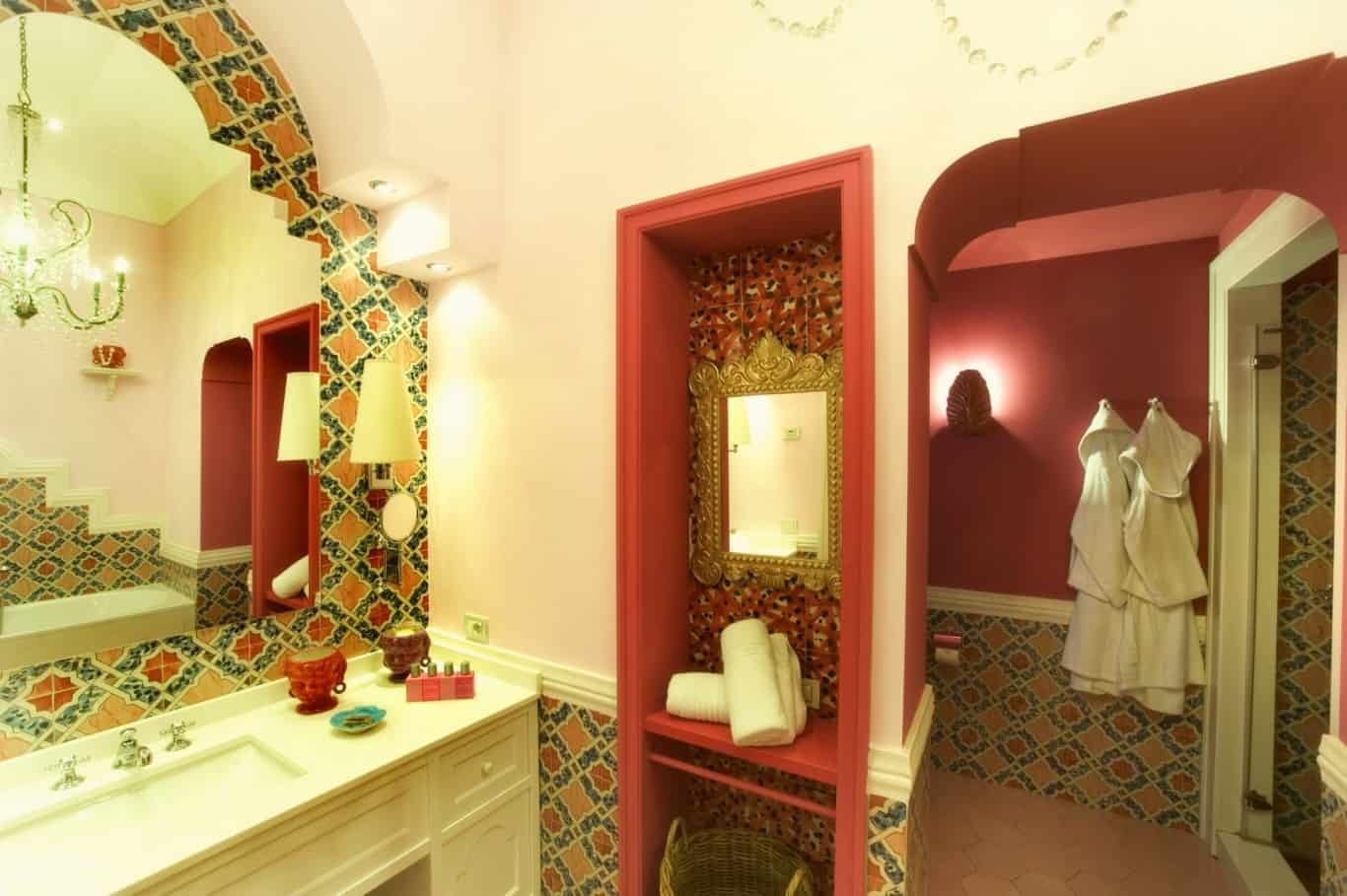 Considering where it's located, its tourist potential & its nearness to other tourist destinations, Sorrento is home to several hotels despite its size.
It's a small city and getting from one part to another is fairly easy. Sorrento is quite walkable too. As such, irrespective of where you are put up, it should be easy to get to all the attractions in the city. However, one of the most popular parts to stay are on the coastline — in properties that overlook the bay and Mt. Vesuvius. In these parts, you will find moderately priced hotel rooms, as well as luxurious ones.
You'll also find some places that aim at giving guests a unique Sorrento experience with rooms with frescoes (Hotel Excelsior Vittoria) and rooms with traditional furniture (Don Alphonso 1890).
There are a few mid-range and budget hotels too on the coast. Towards the center of town you will find more budget hotels and bed-and-breakfast places especially close to Piazza Tasso and along Corso Italia.
Outside town and to the western part of Sorrento, you'll even find hostel rooms and camping facilities.
Transportation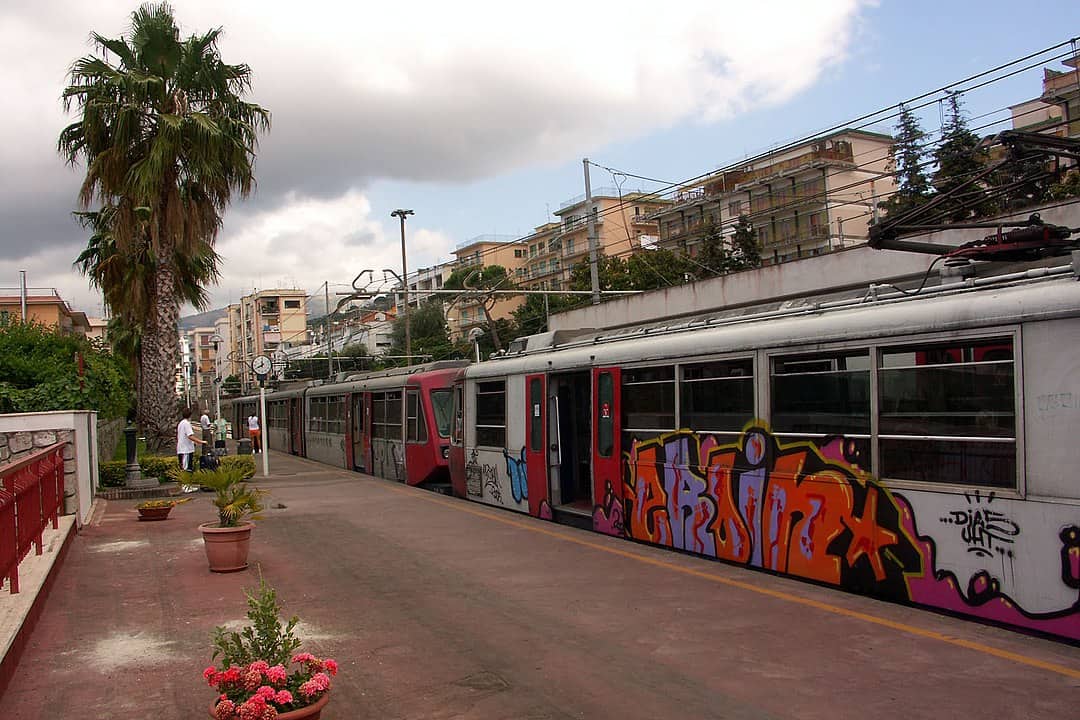 A Sorrento travel guide must include how to get there (and get around)! To fly into the area, travelers can fly to Naples and take the train to Sorrento. There are buses and taxis too, that you can take. You can even take a ferry from Naples to Sorrento.
The city of Sorrento can be pretty much explored on foot. But if you want to go down to the Amalfi coast, you can take a bus or rent a car and drive around. However, in the summer you might encounter parking problems. So you could opt for tours that take care of all of the transportation.
Best time to visit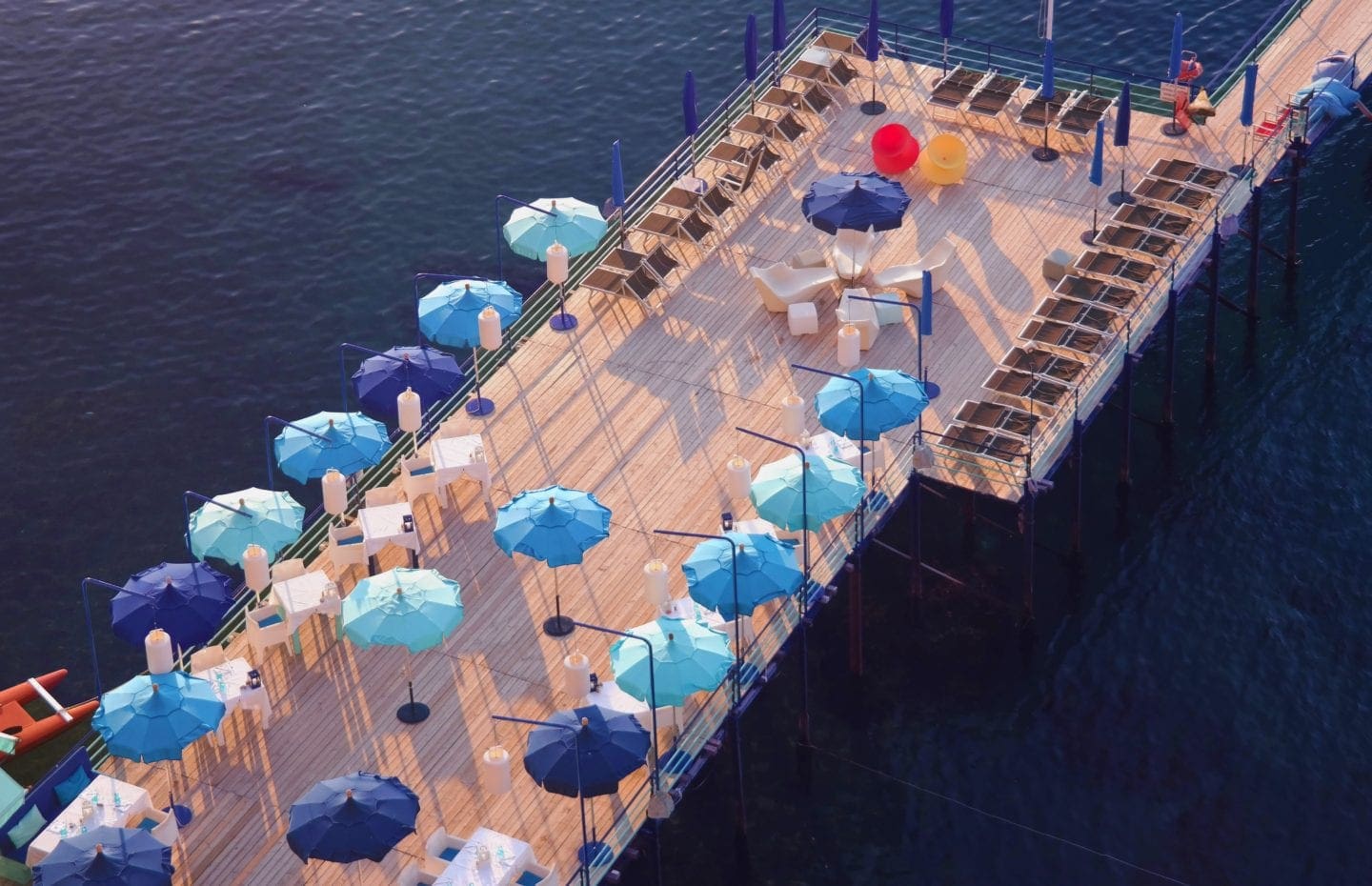 Sorrento is quite an all-year-round destination. Having a Mediterranean Climate, Sorrento gets hot, dry summers and sees visitors from early spring until winter.
April and May are the busiest months in Sorrento. If you are going in the summer months, go prepared for the heat.
In winter the Amalfi Coast and Capri are out of season. However, Sorrento still has restaurants and hotels up and running though the city does slow down quite a bit.
Nearby destinations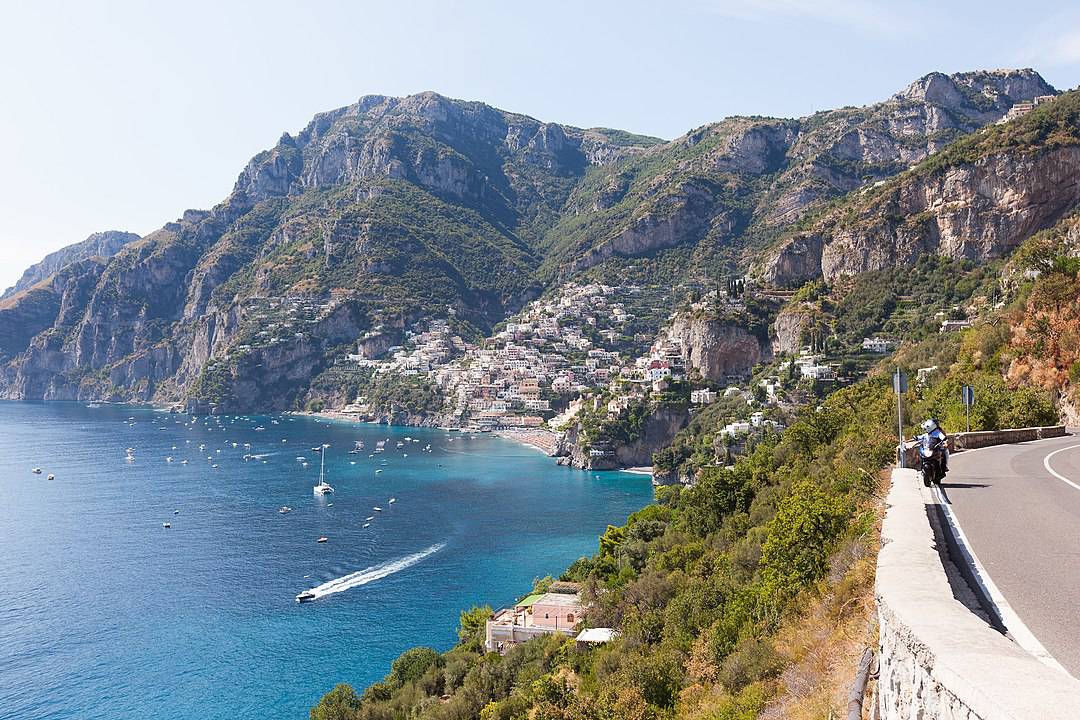 Sorrento often plays base camp for day trips to the Amalfi Coast and the islands of Capri and Ischia. In summer there are more ferry services connecting Sorrento to the islands.
Sorrento and Naples are just around 50 kilometers apart and Sorrento and Pompeii, just around 25 kilometers. So these places can be put together when you chart out your trip to Southern Italy.