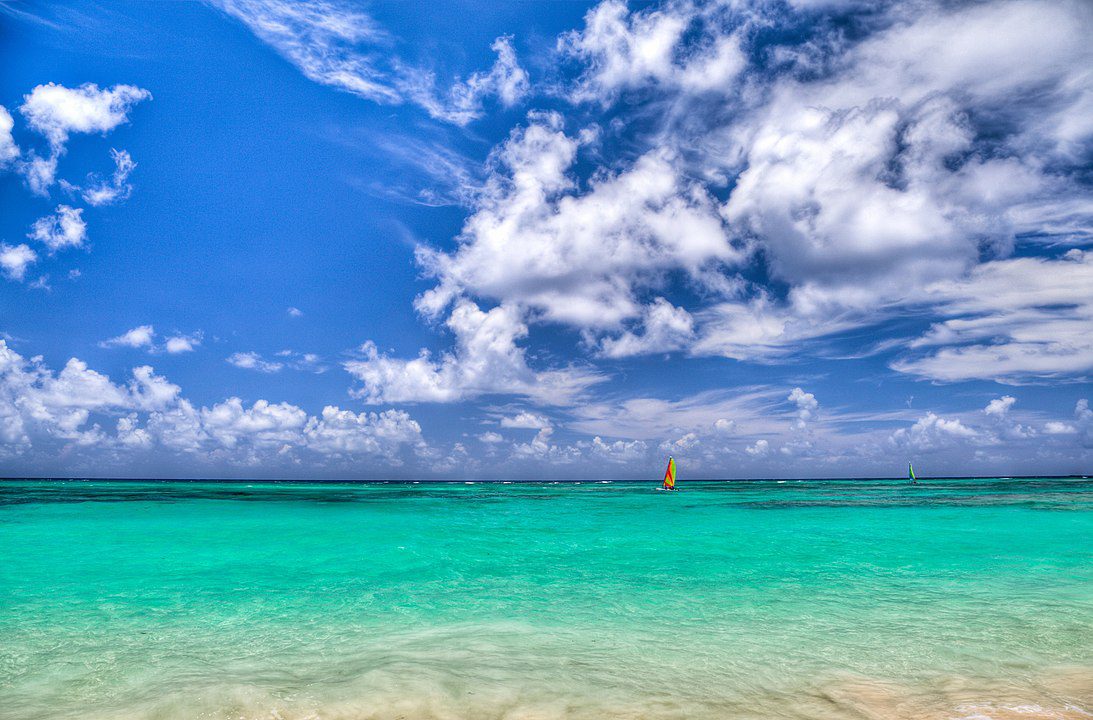 Punta Cana in the Dominican Republic has, for close to a century, been attracting tourists with its beaches and beach resorts. However, there's much more to do here other than just basking on the sand. The top 10 things to do in Punta Cana include water sports, learning about marine life, exploring its rugged & rural interiors, and interacting with locals.
1. Enjoy the beaches of Punta Cana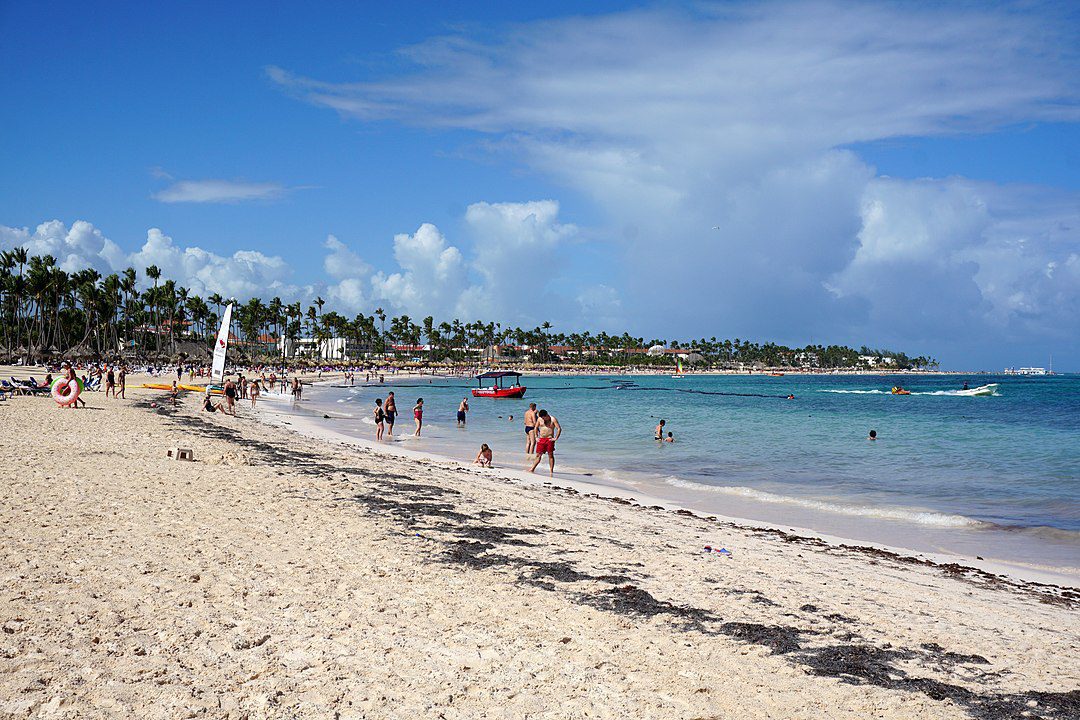 With around 30 miles of coastline to call its own, Punta Cana is blessed with a number of beaches, each offering golden sands, turquoise waters, & good weather most of the time. So spending some time on its beaches is one thing you have to do when in Punta Cana!
The popular beaches north of the cape are Alto, Macao, Arena Gorda, Bavaro, Wl Cortecito, Las Corales, & Cabeza de Toro. And south of the cape there's Cabo Engaño, Punta Cana, & Juanillo.
Among these, Bavaro Beach is one of the most visited ones. If you're making a trip to Dolphin Island, this is where you board your boat. El Cortecito is the beach to go to if you're traveling with little kids as the water here is quite shallow. And Macao Beach is the one to go to if you're looking for a relatively undeveloped beach, or you'd like to attend Surf Camp.
2. Take advantage of the water-related activities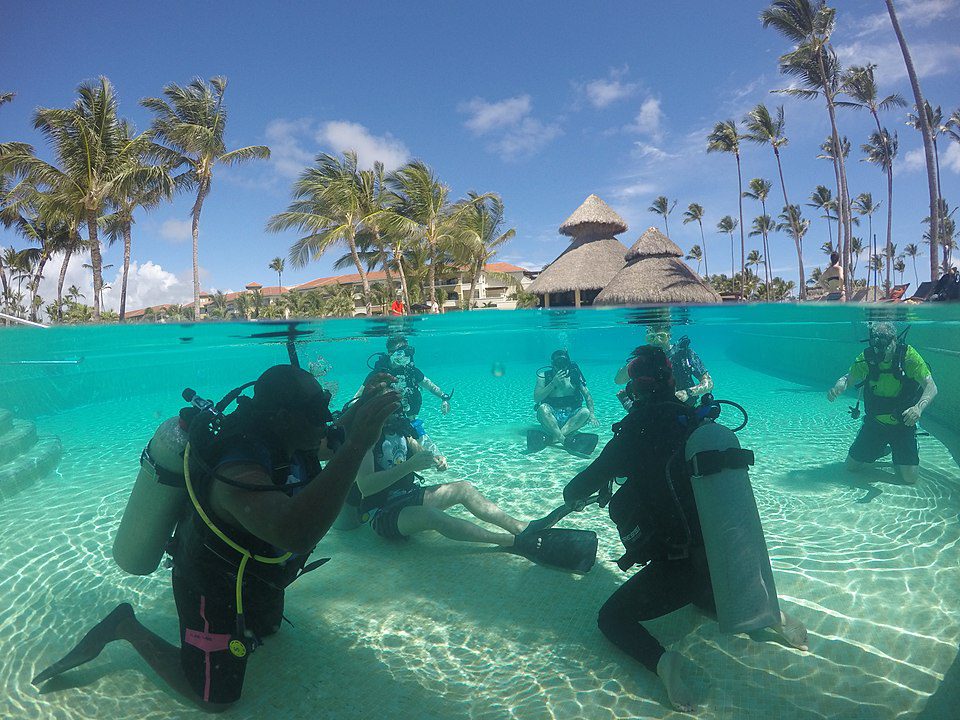 With so much natural water nearby, good surf, & rich marine life, Punta Cana has a lot of activities for its visitors. Tourists to this part of the Dominican Republic can take advantage of the snorkeling, scuba diving, & windsurfing facilities available here. You can swim with dolphins & sharks and even snorkel with stingrays.
You can go out onto the water in speedboats or banana boats, or go on a catamaran cruise. There are even party boats!
3. Try a safari into the interiors or do some off-roading
If you're not into water sports there are a lot of other activities that give you a taste of the natural resources of Punta Cana & its surroundings.
There are safari tours on trucks that will take you to the countryside and show you coffee, sugarcane, & cocoa plantations. You might be able to get close to rural schools, villages, & local families of Punta Cana to experience the culture on these tours. You might also get to see people working on rolling cigars and lay your hands on one to take home. Some of these safaris will take you to see monkeys & monkey squirrels, too. Yet other safaris head to the mountains or a river promising you some time in the midst of nature.
There are yet other tours where you can ride a four wheel ATVs into rugged and remote parts of the Dominican Republic, visit farms and taste chocolate, coffee, or rum.
4. See Punta Cana through Indigenous Eyes
To get to know Punta Cana better, another one of the top things to do in Punta Cana is to visit Indigenous Eyes Ecological Reserve. This 1,500-acre nature reserve and ecological park takes care of both coastal & inland habitats.
Visitors to the park can hike through the forests here, swim in the lagoons, or enjoy the environment on foot, on a segway, or on horseback. There are several ecological excursions conducted here, from tours to fruit gardens, and to the sandy coast. You can take in the local birdlife, take a look at an iguana farm, and the park's beekeeping & worm compost facilities. There's even a petting zoo here.
Note: The reserve is privately owned by Punta Cana Ecological Foundation and is a part of Punta Cana Resort and Club. As such, guests at the resort can visit the park free of cost, but day-trippers will have to look into the ecological excursions conducted here to be able to explore the area.
5. Explore the limestone landscape of Scape Park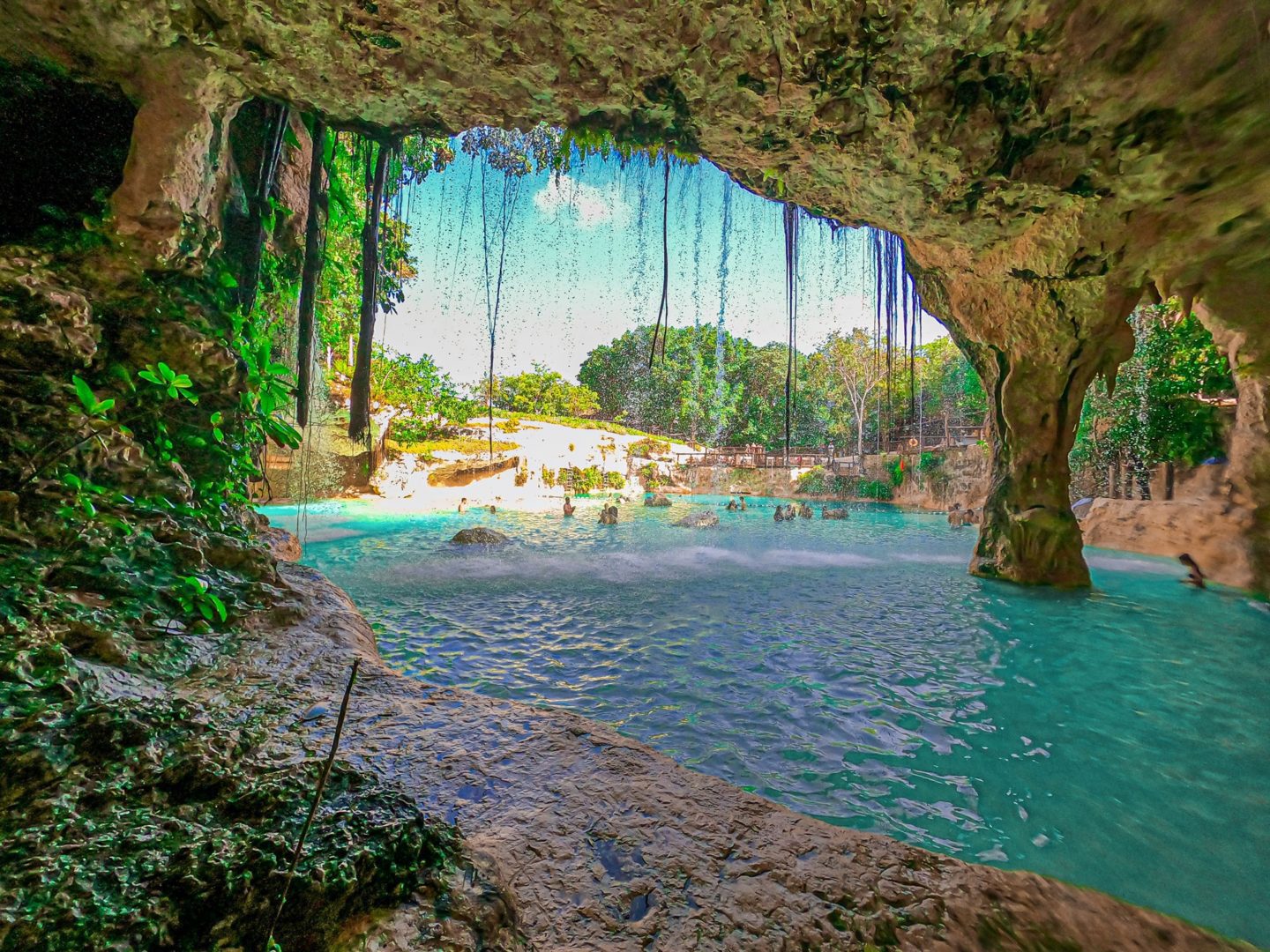 Yet another park that celebrates the natural wealth of the area is Scape Park. Situated in the middle of a limestone landscape, Scape Park is said to be a 'natural theme park' southeast of the Ecological Park.
Here in Scape Park, visitors get to explore its limestone topography as well as the fauna and flora through hikes & cave tours.
One of the prime attractions within the park is Hoyo Azul. This 'blue hole' is actually a cenote that's known for its clear blue spring water. You can either hike through the Cap Cana forest or zipline through the wilderness to get to swim in the clear waters of this 45 ft. deep sinkhole surrounded by rainforests.
6. Get to know Punta Cana's animals at Manati Park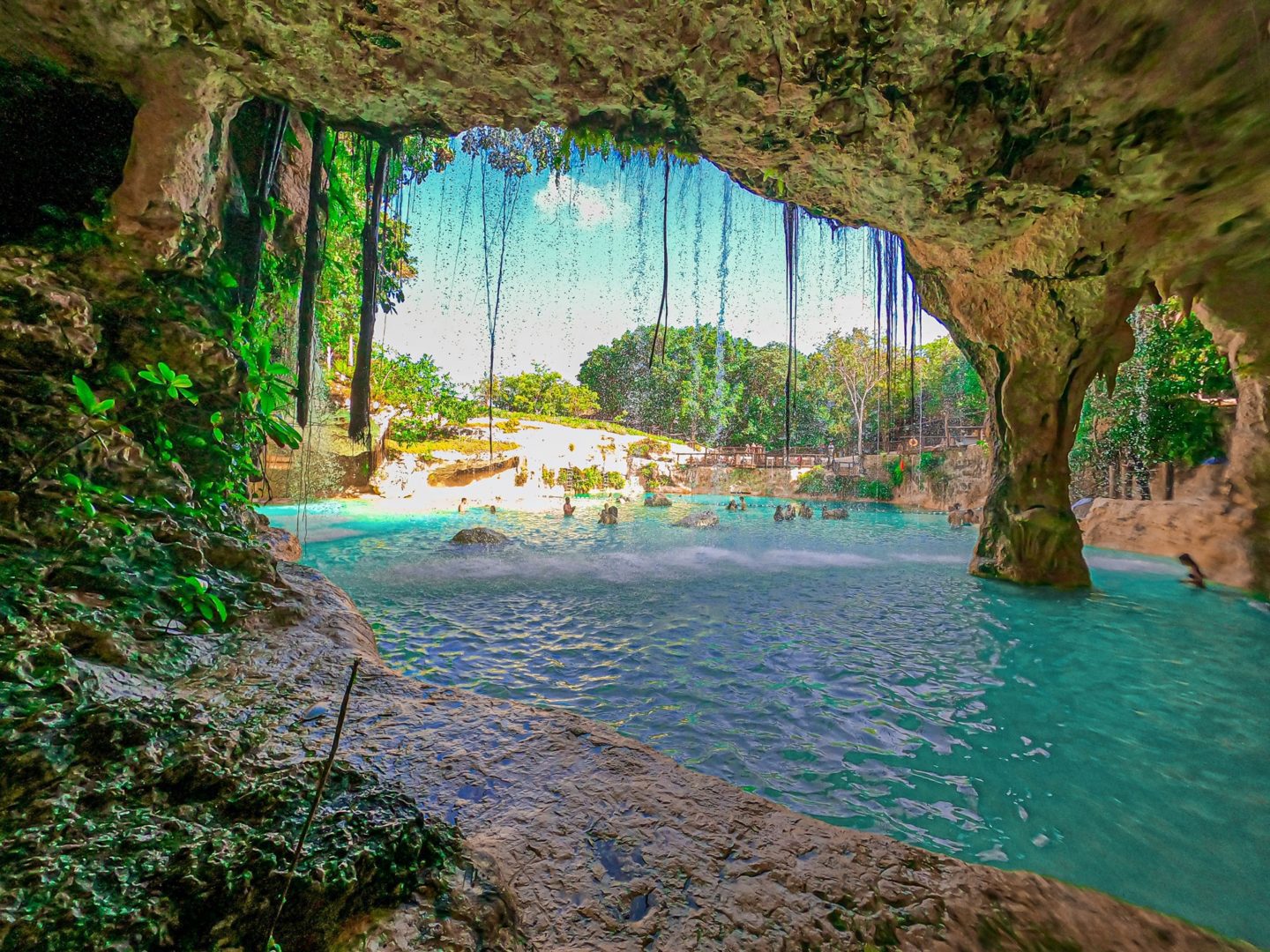 Most first-time visitors to Punta Cana make it a point to visit Manati Park, which is considered to be Dominican Republic's first theme park & one of the best things to do in Punta Cana. Founded in 1996, this park boasts the largest animal collection in the country. There are 150 species of animals in the park and visitors get to interact with many of them. Parrots, sea lions, manta rays, dolphins, & horses are some of the animals here.
Manati Park is on a mission to study & protect all that is natural to the area while allowing guests to enjoy it all. There are also a few shows from which you can learn about the native Taino people & their culture, get to know more about dolphins, and have fun watching sea lions, parrots, & iguanas. There's even an equestrian show here.
7. Play with dolphins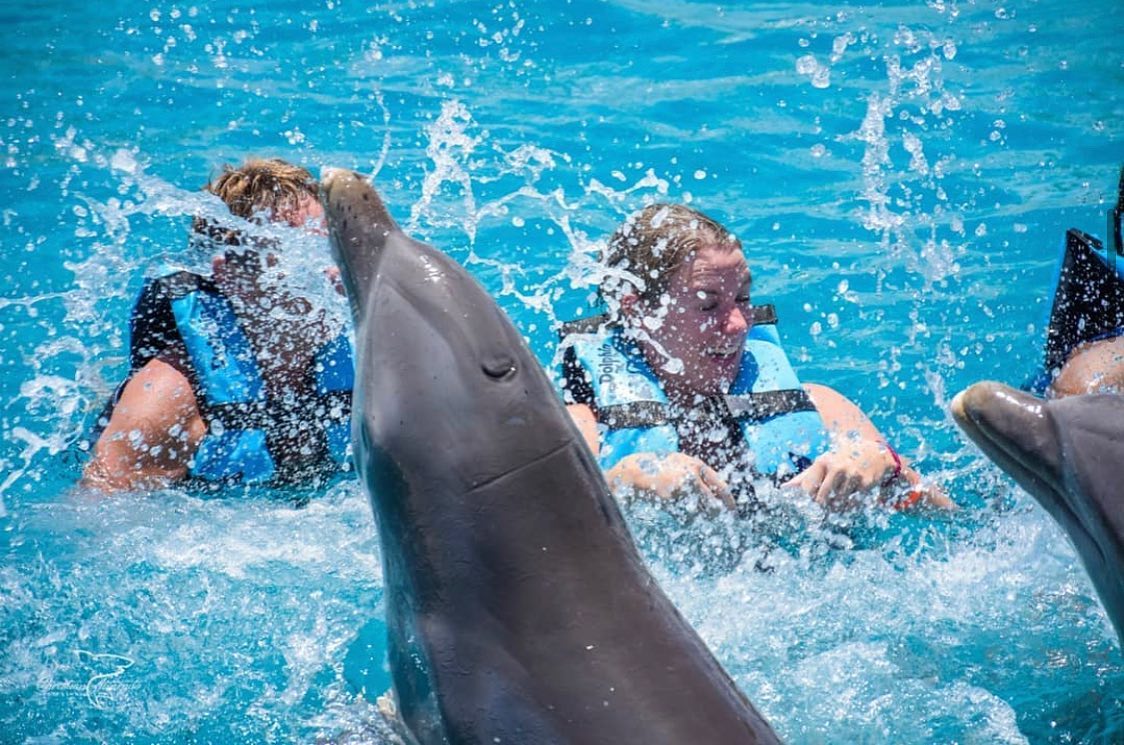 Yet another top thing to do in Punta Cana is interacting with the dolphins of the area. Dolphin Discovery is a great place for that. They have a few programs that allow you to spend some time with these playful sea mammals. You can swim with them, give them belly rubs, & learn lots of fun facts about them. You'll even learn about other marine life, birds, & land animals of the area and about their conservation.
Ocean Adventures has a 'Meet and Greet with Dolphins' for kids who don't want to get into the water and swim with them but would like to touch & play with dolphins.
Then there's Dolphin Island! Founded in 2004, this offshore locale also permits guests to swim with dolphins. You can also snorkel in a shark & stingray habitat when you visit this park. You can even talk with marine biologists and visit the underwater viewing room here.
8. Go Golfing
If you're into golfing, Punta Cana is a great place for a golf vacation. There are several golf resorts at this beach destination.
Cana Bay Beach Club and Golf Resort is quite a sports destination by itself. For one, it's located by Arena Gorda Beach. Secondly, its highlights include an 18-hole golf course in Hard Rock Golf Club and tennis & paddle courts in its Cana Bay Racquet Club.
Yet another place to golf is Punta Blanca Golf Club. This place too has an 18-hole course and a shop where you can pick up all your accessories. It also has apartments, villas, & restaurants.
If you need more options there's Punta Espada Golf Club, La Cana Golf Club, & Corales Golf Course in Punta Cana Resort & Club.
9. Go on Day Trip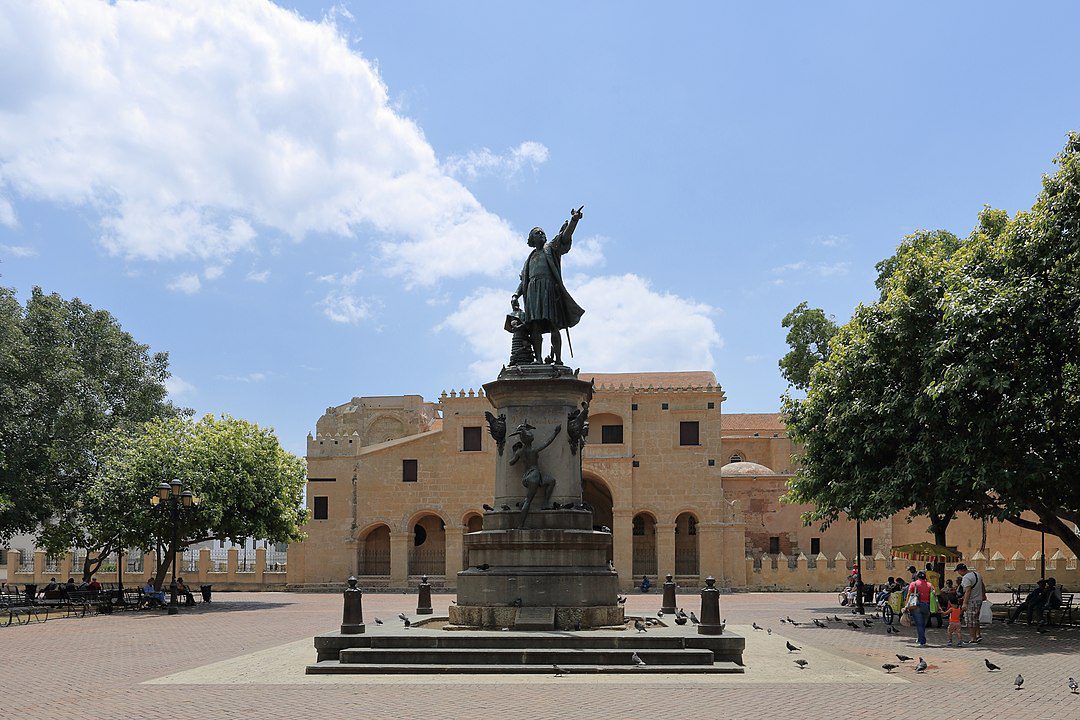 Punta Cana has several interesting places just a few hours away so if you're done with your beach days, water sports, & interacting with local animal life, you could go sightseeing in the capital city of Santo Domingo.
You could also drive to Alto de Chavon to see a 16th-century Italian village where there's an archaeological museum, a cultural center, & a design school as well.
10. Party at Coco Bongo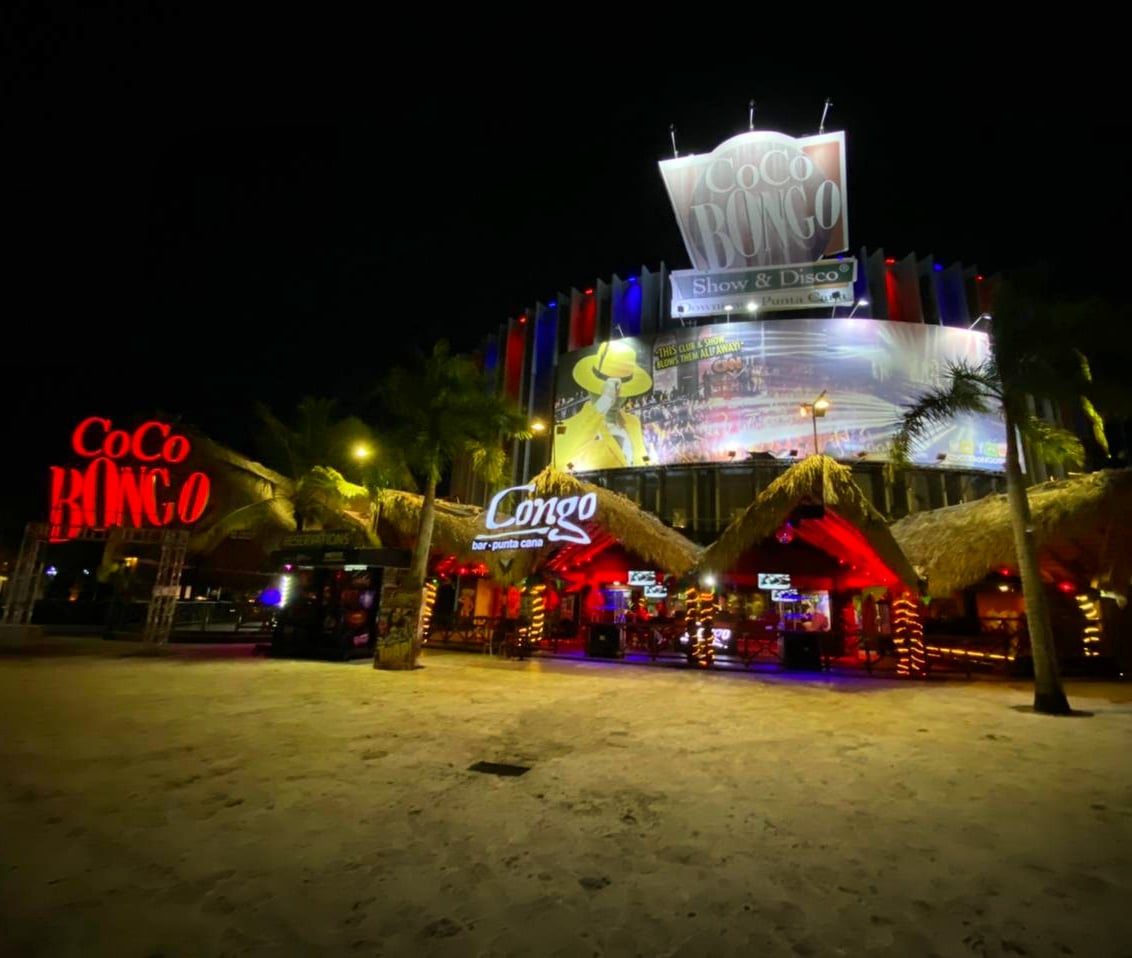 If you're in need of some nightlife you might want to visit Coco Bongo for some drinks, music, disco, & even some shows. The shows here have been impressing visitors with their music, dance, acrobatics, lights, & effects for quite some time now.
Punta Cana's Coco Bongo is located between Bavaro and Punta Cana International Airport. While you make your bookings you might also want to also check if you have transportation back to your hotel after your night out.