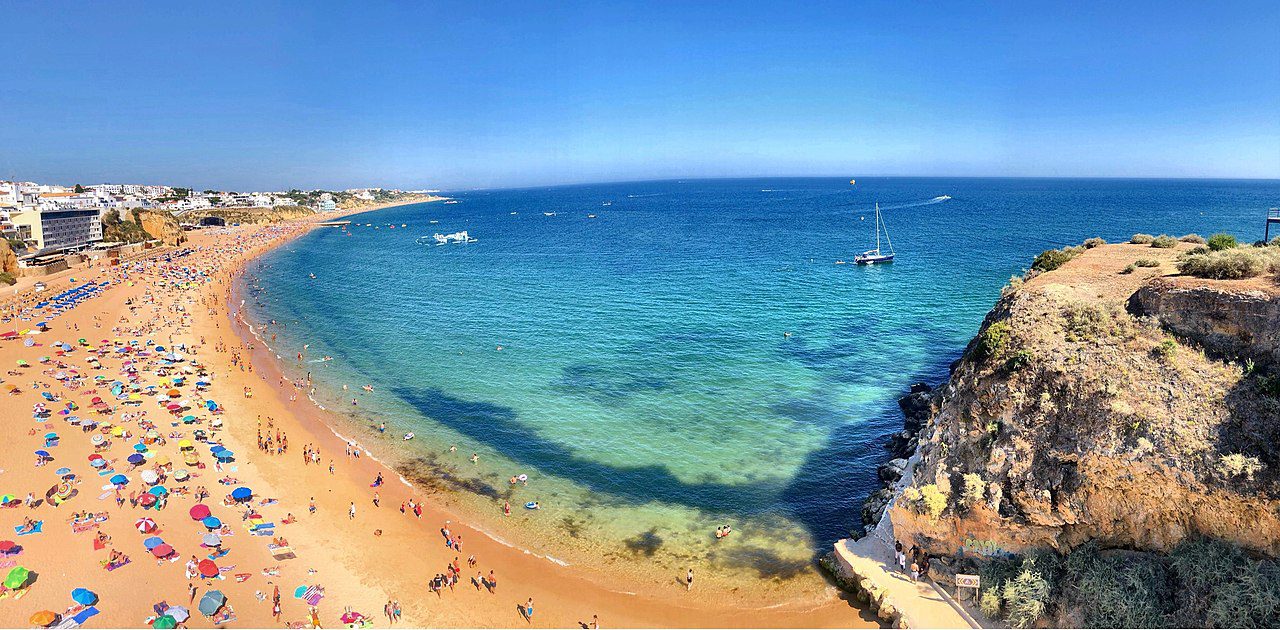 Albufeira is a beach town in the Algarve Region in Southern Portugal. This coastal town is known for its blue flag beaches, its charming historic old town, its bustling party district and a whole slew of activities for tourists. There truly is something for everybody in this seaside resort! This Albufeira Travel Guide has everything you need to know to plan your trip.
History
This fishing village-turned-tourist-destination also has a long history. It's believed that this part of Portugal has been inhabited since the prehistoric era.
Later history has recorded that this coast had been a place of interest for several different peoples: the Romans, Visigoths, Moors & Christian conquerors before it settled down to being a much-loved seaside town of Portugal.
What to see and do
Go beyond the beaches and you'll see some remnants from past centuries that point to the town's history. The countryside just north of the new town has preserved a good part of the Paderne Castle, which is said to have been built by the Moors. In it is a chapel which is a testimony of the Christian conquest, that came later. And north of the castle is a bridge built when the Romans had control over the area. The castle itself is believed to have been built on the site of a former Roman fort.
To get to know and see Albufeira's recent past, visit the Old Town, which carries the look of a coastal Portuguese town with white-washed buildings, 18th-century churches & cobblestone streets. A little east of it, is the new town or Areias de São João, which can be characterized by its more modern buildings and all the action that takes place there. The area is also called The Strip, and its main thoroughfare Avenida Francisco Sá Carneiro is lined with restaurants, bars & discotheques. Spend some time here if you'd like to experience Algarve's dancing & drinking capital.
The beaches of Albufeira are also a big part of the things to see and do, here. There are two beaches that line the settlement of Albufeira — Praia dos Pestadores & Paria da Oura. Both beaches are scenic ones and have all the tourist facilities you can think of. However, these are not the only beaches in the area. There are over 20 beaches on this coast and they are all beautiful and clean ones, attracting people from all over.
Also, make sure to take a look at Albufeira's Marina. Its colorful buildings are attractions themselves, and this is also where you can take boats out into the water, or set out on sightseeing cruises & fishing tours. You could also take a tour to Benagil caves from here.
And if you'd like to add more activities to your time here in Albufeira, visit Zoomarine, Parque Aventura & Aqualand.
For more ideas on what to do that aren't included in this Albufeira travel guide, check out my post: Top 10 things to do in Albufeira.
Food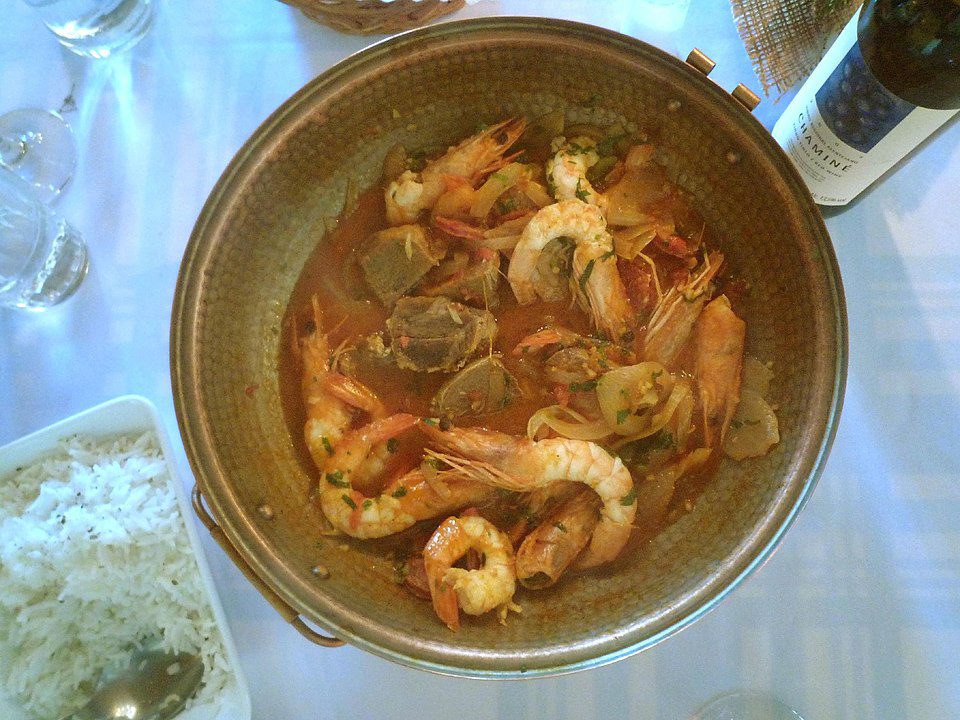 With Albufeira being on the coast, and having been a fishing destination, seafood is still a big part of the staple diet here. And you'll find fresh & creatively-cooked seafood dishes in plenty in the restaurants here.
Most of the restaurants might be serving Portuguese food but you'll also find many an option when you're in the mood for Mediterranean, Italian, French & Indian cuisines. This town is also home to several upscale restaurants, many of them Michelin-starred ones.
Like other parts of Portugal, bacalhau & pastéis de nata are two things you'll find easily. While you're here, make sure to also try Cataplana, a stew which is considered an Algarve speciality. Named after the traditional metal vessel that's used to prepare it, the dish is usually a tomato broth with mussels, shrimp lobsters & other seafood cooked in it. Another dish to try is a fish stew called Calderirada, which also is often cooked with other catches from the Atlantic waters.
For specific restaurants that aren't included in this Albufeira travel guide, check out my post: Best Restaurants in Albufeira.
Shopping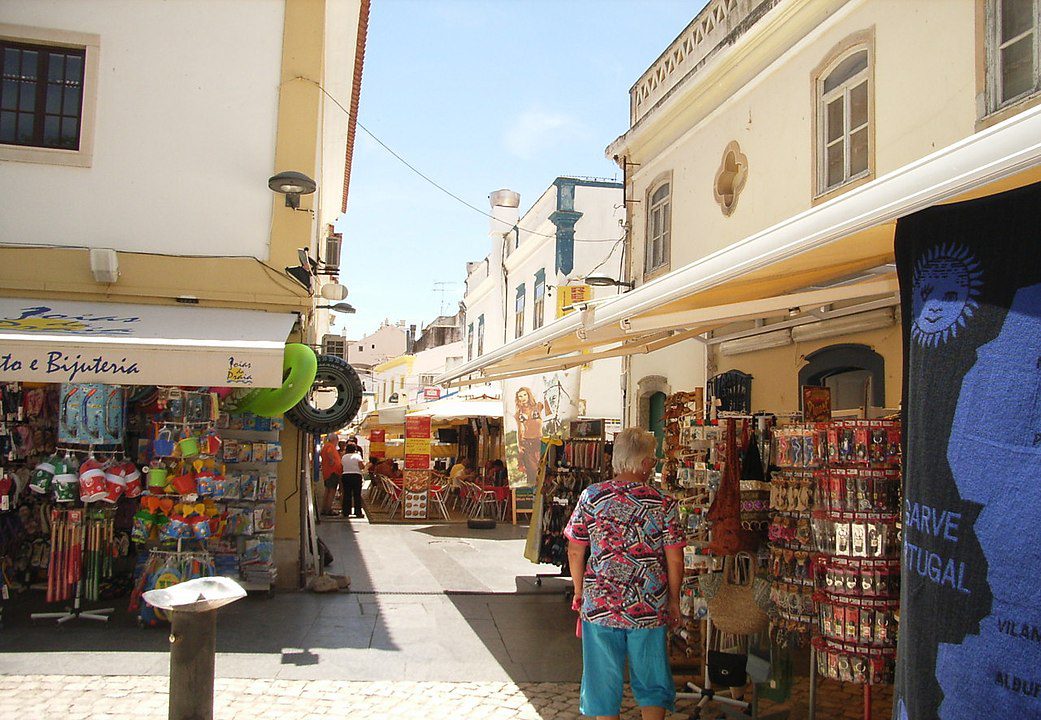 Being one of the biggest tourist towns in the Algarve area, Albufeira has a lot of shopping opportunities. To shop for things like clothes, footwear and bags, you can head to malls like Albufeira Shopping or Algarve Shopping.
To get a feel of the local shopping, make sure to check out the shops on the town's main shopping street, Avenida da Liberdade. Not far from there is the Rua 5 de Outubro, another street you might want to shop on. Then there's the daily market held in the Old Town in the mornings. Mercado Mensal, the flea market held in Rua da Escolas, is twice a month.
As for what to pick up from Albufeira, here are a few suggestions: Port wine, Portuguese Piri Piri Sauce, cork products, leather goods & local handicrafts. Look for local art, jewelry, ceramics & artisanal pottery.
Geography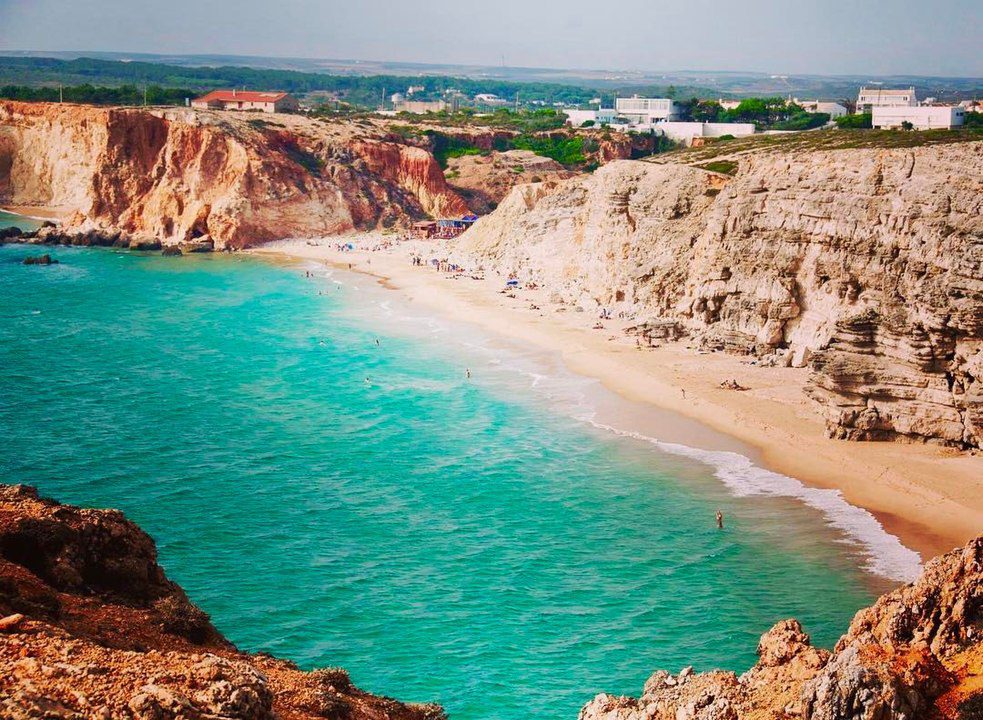 The seaside town of Albufeira is situated in Albufeira Municipality in Faro District on the southern coast of Portugal. The area is also called the Algarve region. It's a sought-after tourist belt thanks to its craggy coast and clean & inviting beaches.
The main beaches that open out into the Atlantic Ocean are sheltered by cliffs and covered in honey-colored sand. There are also some rock formations along that coast making for some dramatic landscapes.
Accommodation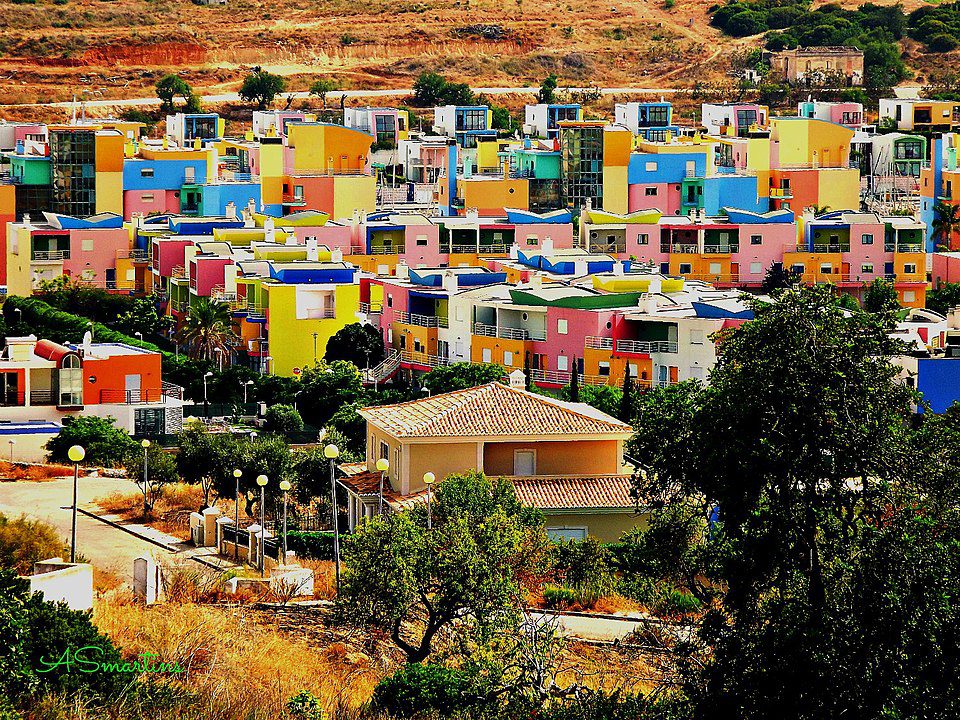 If you're here to party and enjoy the loud parties of Albufeira, it would be a good idea to look for accommodation in and around The Strip. For a more mellow kind of nightlife or if you're traveling with family, you might want to stay in the Old Town.
If you don't mind staying away from the 2 main areas of Albufeira, you could consider staying in the Marina. It has many apartments, villas & hotel rooms. For a luxurious stay, you'll find more resorts beyond the busy areas of Albufeira.
Transportation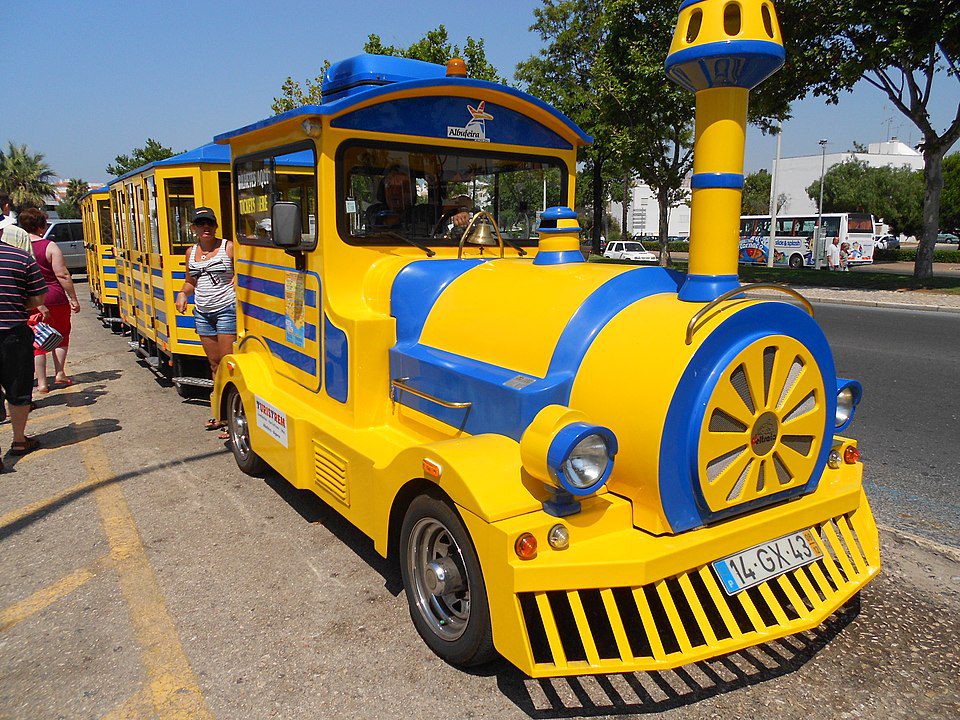 If you're flying into the region, you'll be landing in Faro Airport. It's the main airport for the towns in the Algarve region. From the airport, you could take a shared minibus or opt for private transfers to get you into town. Another option is to take the train and it will get you closer to Albufeira. The station is 6 miles away from the centre of town. So you're going to have to take the bus or a taxi when you get off the train.
To get around Albufeira, you can walk, take taxis or use ride-hailing services. If you'd like to go further out and explore the countryside & nearby towns, you might want to rent a car.
If you're visiting in summer, you get to hop onto the tourist train. It's a road train that takes visitors from the town center to some spots around it. It also goes up to The Strip.
Best time to visit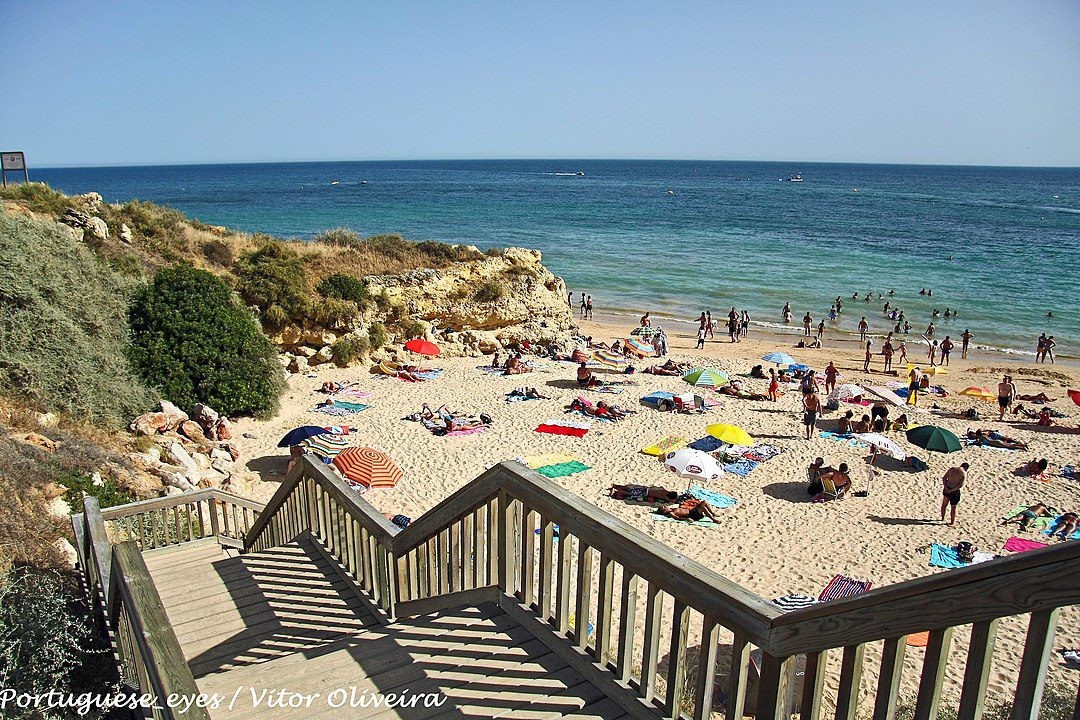 Albufeira gets most of its visitors in summer when the area is at its warmest & driest. Peak tourist season is from July to September.
If you'd like to avoid the tourist season, or are here to golf or spend time outdoors, spring & autumn are the best seasons to visit. The weather is pleasant around this time.
Winters are mild hence not a bad time to visit, also.
Nearby destinations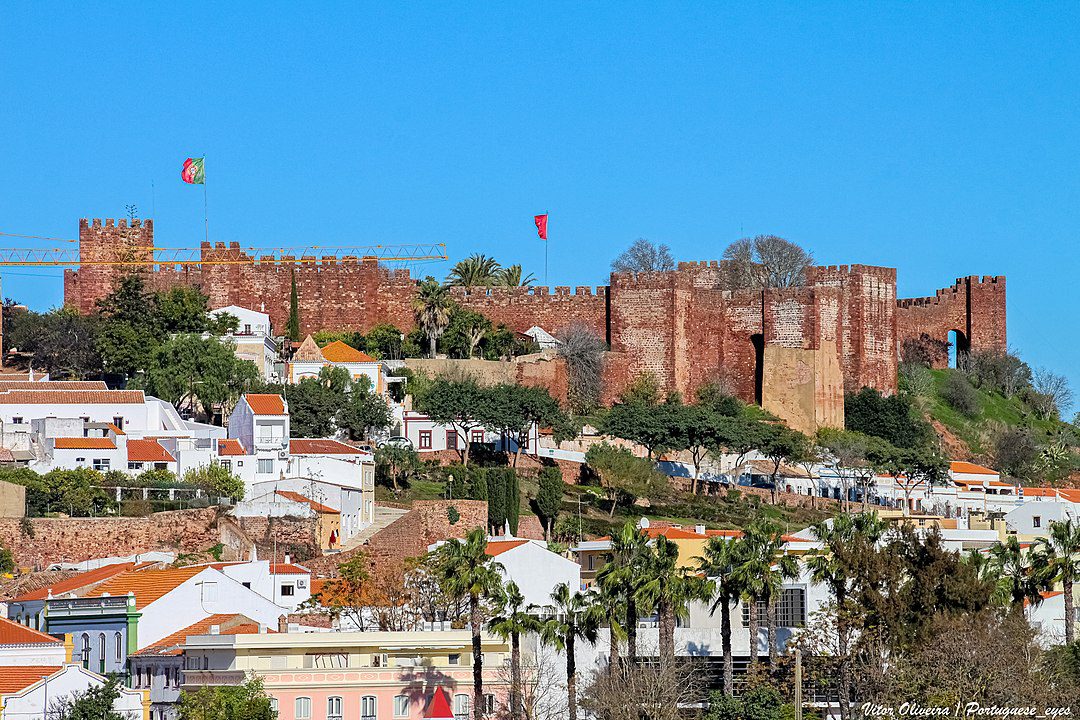 Despite being an Albufeira travel guide, I wanted to include areas nearby. When you're in Albufeira, you could make a trip to Lisbon if you haven't been there already. The capital city is around a 3-hour train ride from here.
If you'd like to explore the Algarve area while you're here, there are plenty of beaches along the coast. Other places to consider visiting on day trips from Albufeira are Faro and Silvas, a fortified town.