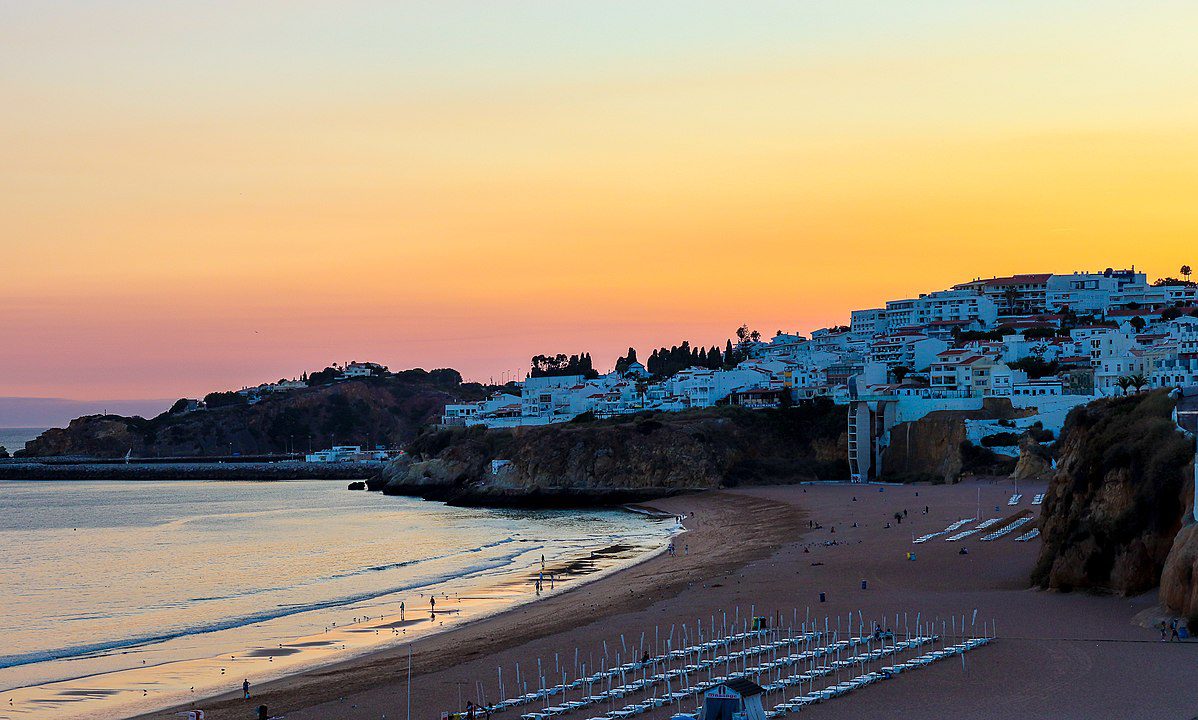 Albufeira in the Algarve region of Portugal is a thriving coastal tourist destination offering an interesting mix of things for visitors to see and do. It's known for its charming Old Town as much as it's known for its party-neighborhood, its beaches, cliffs and its many water-related activities. To make the most of your trip to his part of Portugal, here are the top 10 things to do in Albufeira.
1. Stroll through Old town
The Old Town is a great place to start exploring Albufeira, as expats living in Portugal, Anne and Carl Deane, will attest.The old town carries and old-world charm with its white-washed buildings topped with red-tiled roofs, its cobbled streets and its 18th century churches. The town also looks out into Albufeira's main beach & the Atlantic Ocean beyond it.
On these family-friendly streets, you'll find lots of restaurants, galleries, shops and even small stalls selling handicrafts, leather goods & summer wear. Make sure to find your way to Jardim Publico de Albufeira, the town's main square that's surrounded by local business and a whole lot of action. The Old Town is a great place for a stroll, to dine & go souvenir shopping.
You'll see musicians & street performers, and if you're out in the morning hours, you could see the daily market in operation. And if you're there on a Thursday, you might even be able to take part in a free guided walk to the old landmarks of the historic town.
2. Spend some time on Praia dos Pescadores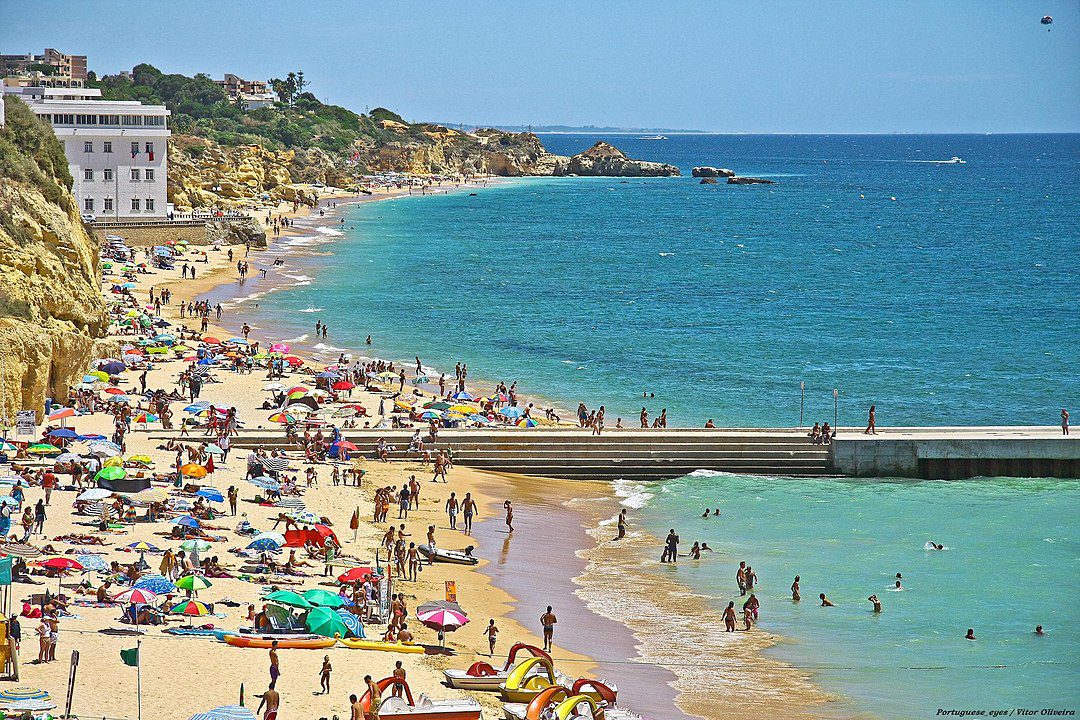 When you're done exploring the Old Town, you're going to want to go down to the beach you see from there. This is Praia dos Pescadores or the Fisherman's Beach, the main beach of Albufeira. Visiting this beach is one of the most popular things to do in Albufeira.
You can take the winding stairs or the escalator down to this urban beach, which is spread over a 1.5-mile stretch, and has some beach bars & restaurants on it. This beach attracts people of all ages and can be crowded with families, friends, parasols & sun loungers.
Praia dos Pescadores is also known for its golden sand, rock formations and for being a blue flag beach.
3. Party on The Strip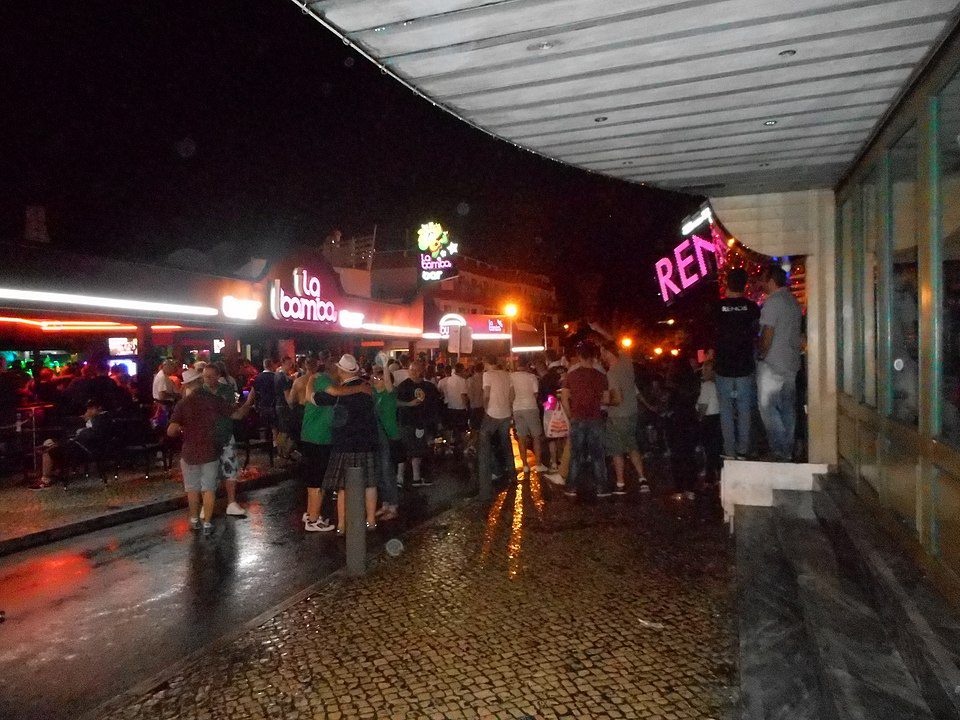 Other than the charming Old Town, and the busy & inviting Praia dos Pescadores, Albufeira is also known for another thing — its own version of Las Vegas! Just a little over a mile from the Old Town is the New Town, which is also called Areias de São João, or simply, The Strip!
Avenida Francisco Sá Carneiro, the main street of the neighborhood is lined with restaurants, bars & nightclubs. With its all-day drinking, open-air parties & neon lights, The Strip is in party mode all the time!
4. Check out Paria da Oura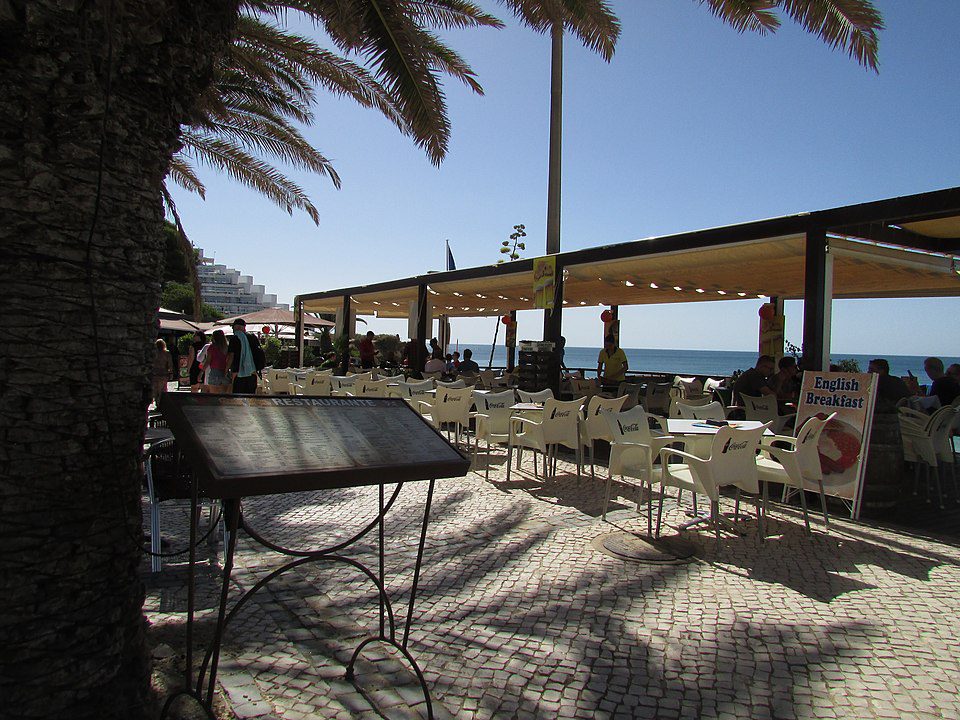 The Strip leads down to the other beach that fringes Albufeira. Called Paria da Oura, this beach is also a Blue-Flag one with golden sand & rocks bordering it.
With a length of 900 metres, this beach at the foot of The Strip also has restaurants & bars on its waterfront, and gets very busy in the summer. This makes it one of the more popular things to do in Albufeira.
Praia da Oura is also a good place for those who might want to go windsurfing, or do other water sports.
5. Go beach-hopping in the area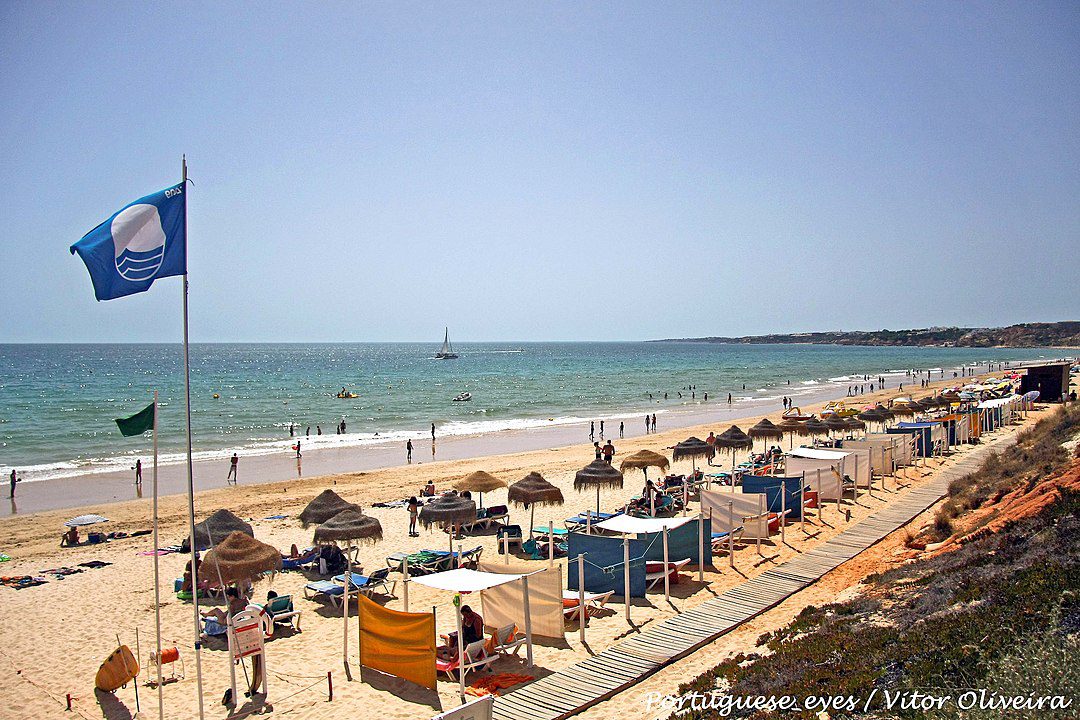 Having checked out the two lively beaches on Albufeira's coast, if you'd like to relax on a less-busier beach, there are several good ones on either side of the seaside resort.
On the eastern end of Paria da Oura is Praia dos Bicos, a smaller and quieter beach. Further east is Praia de Santa Eulália & Praia da Falésia. Praia da Falésia is also the longest beach in the area. All of 3 miles, this one is also sheltered by cliffs and has beach bars. Since it faces the west, it's a great place to watch the sunset, too.
To the west of Paria da Oura is Praia dos Aveiros, another beach you might want to spend time on. Other beaches nearby are Praia de Sao Rafael, Praia da Coelha & Praia da Galé.
6. Make sure to visit Marina de Albufeira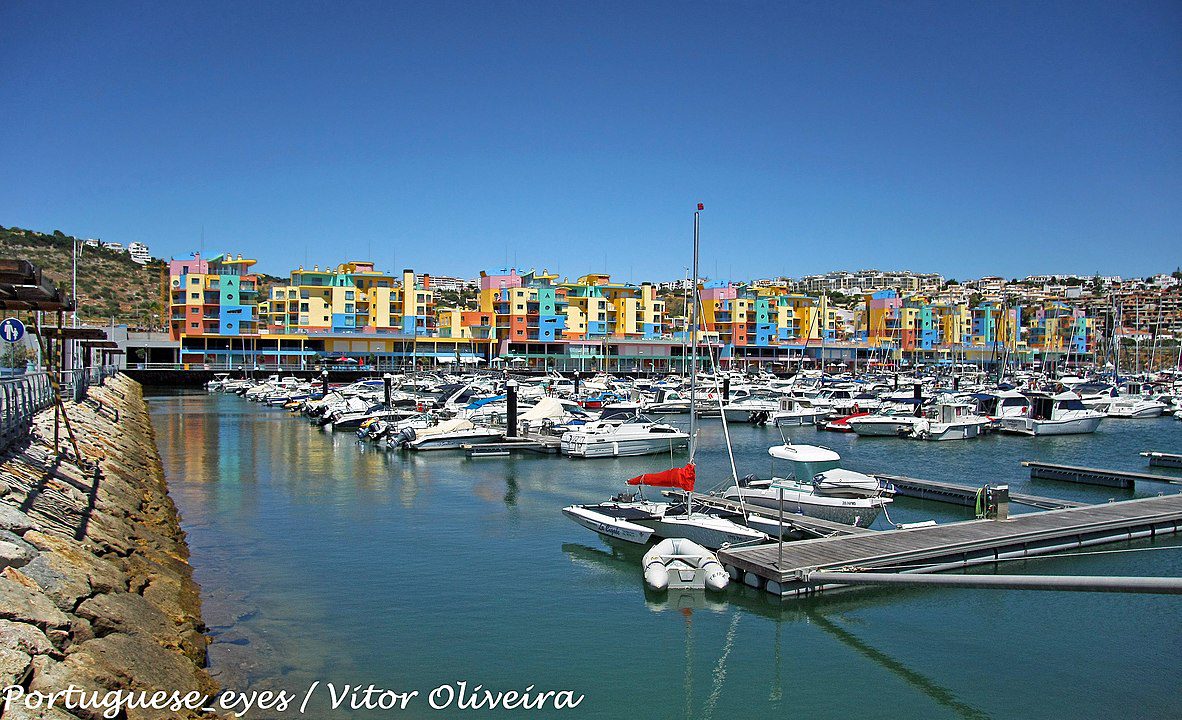 Marina is another attraction that's one of the best things to do in Albufeira. The Marina itself is a sight to see! It's situated in a tourist complex that's made of modern colorful buildings. And in the middle of it all, is where the boats are harbored.
Located 1.5 miles west of the Old Town, the complex is made of hotels, apartments (vacation units), shops, restaurants, cafes, swimming pools and a recreational center among other features.
The marina is also the starting point for sailing lessons, dolphin tours, yacht charters & sightseeing cruises.
7. Kayak into Benagil sea caves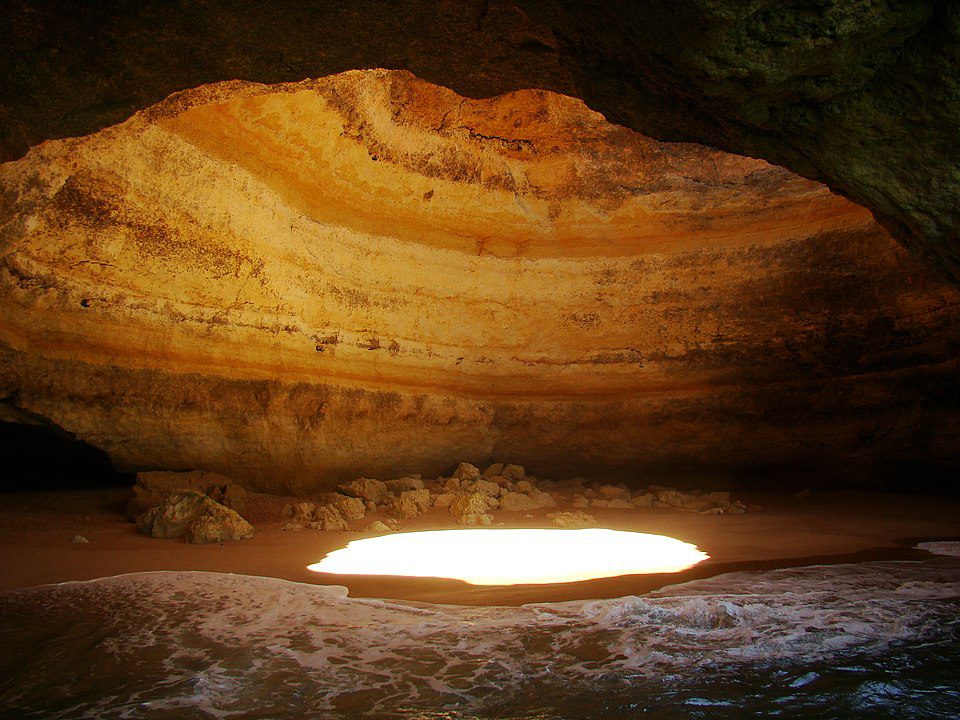 When you're in the Marina, you're going to want to make enquires about the Benagil tours offered there. Benagil Caves are sea caves near Benagil Beach, also on the Algarve Coast.
It's a 2.5 to 3-hour boat ride from the Marina. And if you'd like to go into Algar de Benagil, you can kayak in or go Stand up Paddling. When you do so you get to see the inside of this cave, which was created by erosion, and also see its famous eye— the opening at the top of this huge cave. These caves are often called 'cathedral' because of the grandeur in there.
8. Drive out to Castelo de Paderne
Head to Castelo de Paderne to see some man-made grandeur or what remains of a medieval castle northeast of the New Town. This is such an interesting thing to do in Albufeira!
The ruins of the castle sit on some cliffs by the Quarteira River, and there you can walk around and see some walls still standing, archways, and even the framework of a chapel that was part of the castle. Look down towards the river and you'll see an old bridge that runs across the Quarteira.
The Paderne Castle is believed to have been built by the Moors in the 12th Century on the site of a former Roman fort. It's also said to have been taken over by Christian conquerors, who later set up the chapel that you see there.
9. See the Churches of Albufeira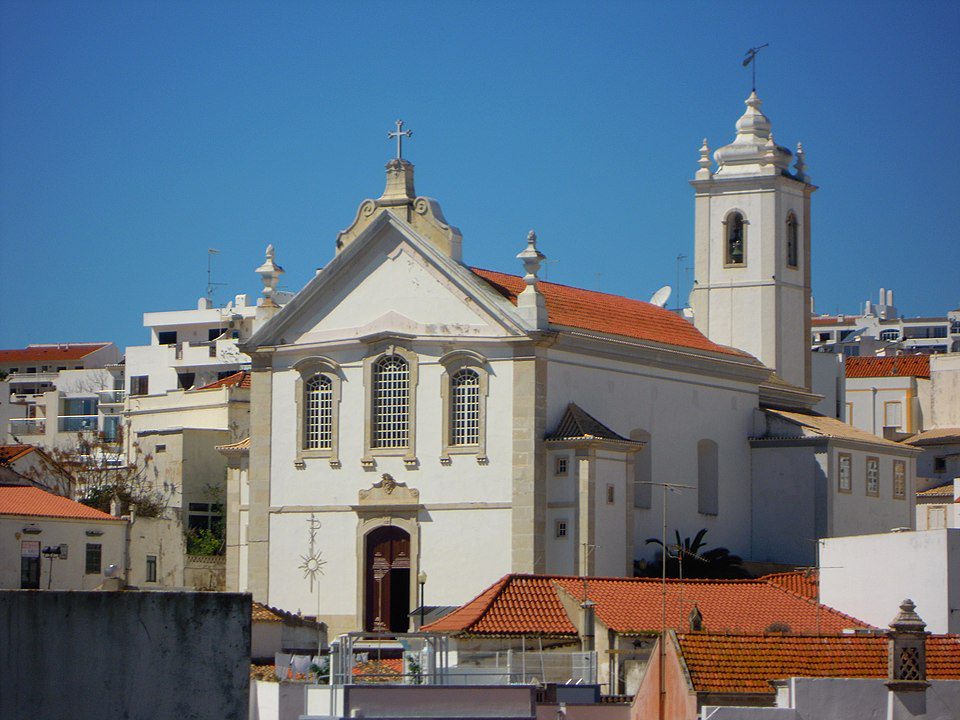 Igreja Matriz is Albufeira's main church. Go here to see an 18th-century church built in Neo-classical style and flaunting a ceiling with filigree stucco on it. Also, look out for the statue of the patron saint of the fisherfolk of Albufeira, Senhora da Orada. If you're there in August you might be able to witness the annual celebrations when the town gets together to thank & honor the patron saint with special prayers & processions. The festivities begin at the beginning of August go on for around 2 weeks.
You could also go see Igreja de São Sebastião. It's a smaller church bearing architectural features that date back to the 18th century. Look for the baroque stonework, a unique altar and a collection of statues of saints. These idols are said to have been recovered from former churches in the area.
10. Visit the Albufeira Municipal Museum of Archaeology
While you're in the Old Town, you should also visit Alburfeira's Museum of Archaeology. Located in Praça da República, this museum tells the stories of this town. If history is your thing, this is the thing to do in Albufeira!
Displayed there are artifacts that date back to the periods when the Romans, the Moors and the Visigoths controlled the land. In there are also religious artworks found in the old churches around there, and many architectural remnants from ages ago. At the museum, you can also learn about Albufeira's medieval times.
Most of the collections in the museum are said to have been put together by a priest called Padre José Manuel Semedo de Azevedoa.