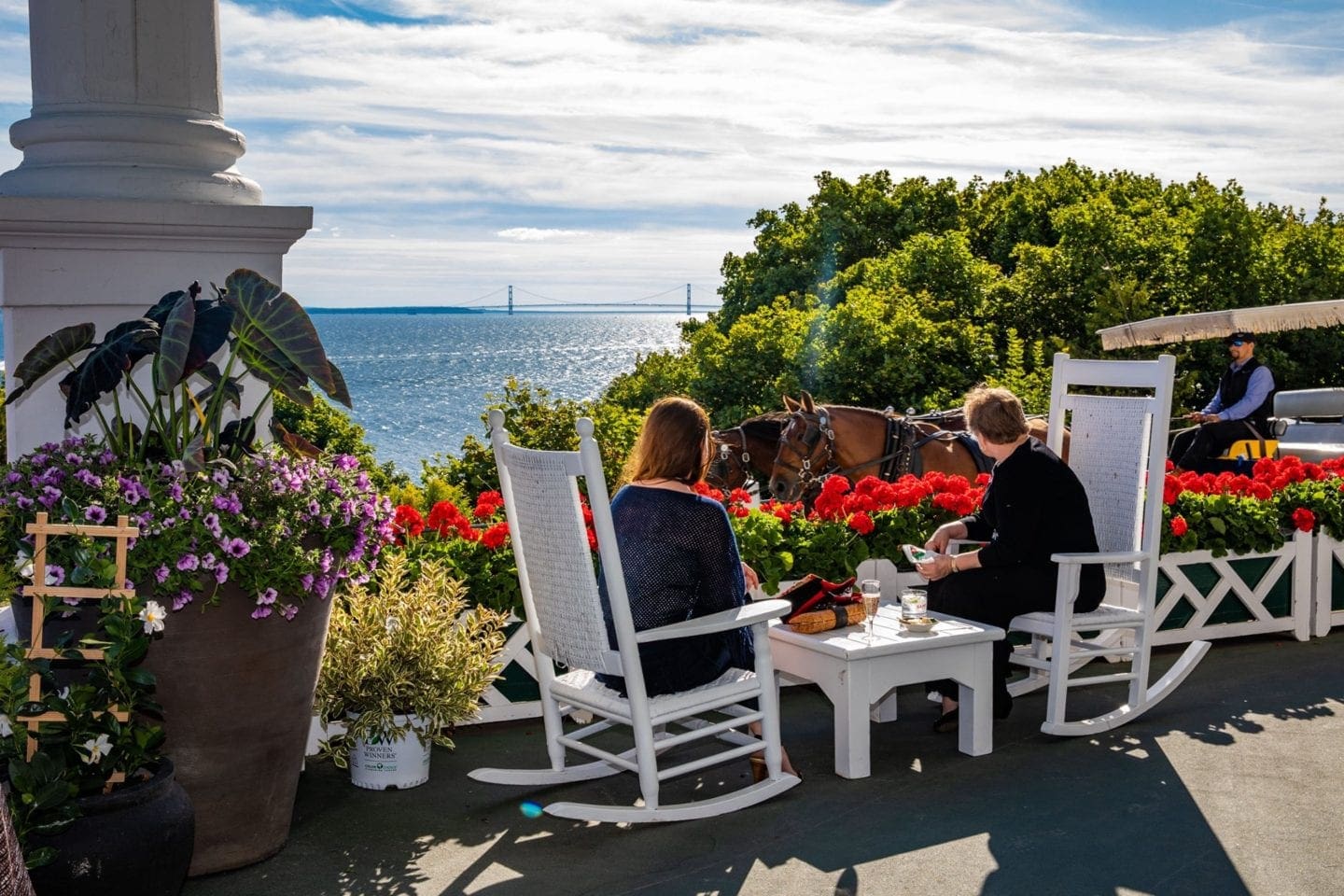 Mackinac Island might be just around 4 square miles in area, and most of it might be under the State Park system, but it sure has a lot of restaurants. Many of the restaurants on the island are favorites among the tourists. Most of the restaurants on Mackinac are historical eateries with an old-world feel. Here's a list of the best restaurants on Mackinac Island. Now you'll know which places offer views of the Straits of Mackinac & the harbor, and which one's up in the woods of the island. And you'll know what to eat where!
1. Chuckwagon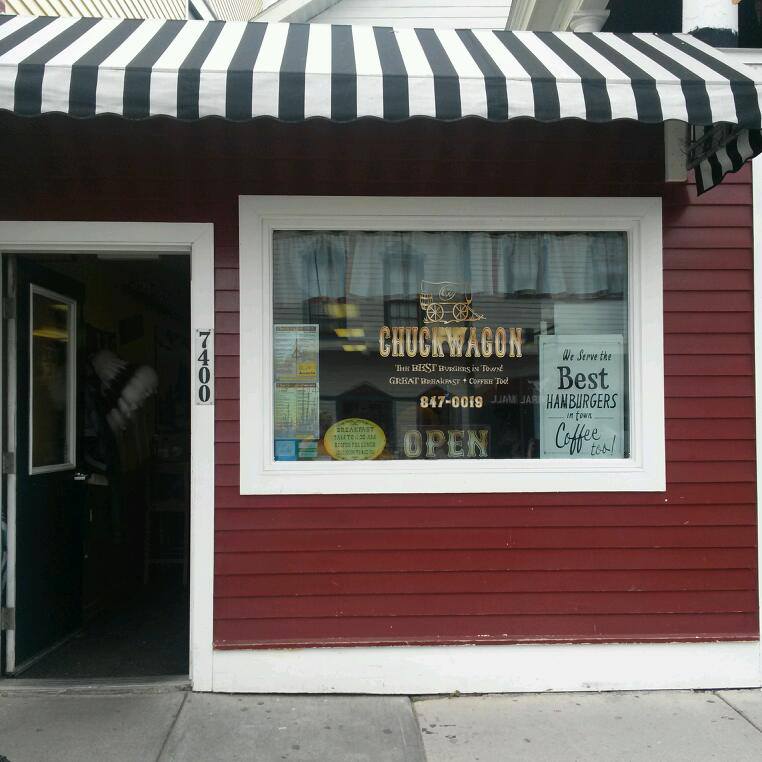 This diner on Main Street is an absolute Mackinac favorite. They claim to serve the best burgers & coffee in town, and great breakfasts too! Locals & regular visitors to the island will tell you that that's definitely true.
Chuckwagon is known to serve good sandwiches, steak, & breakfast burritos. The eggs, hash browns, & bacon are also much-liked. The specials here are their french toast & everybody's favorite, the rattlesnake burger.
Chuckwagon is a small diner and a very busy place. It's open for breakfast & lunch. Long lines outside the eatery are a regular sight. Most people will tell you that the wait is well rewarded because the food here is really great. Once seated, you'll be amazed by how fast the service is.
This diner has been around for around 60 years and has changed owners a few times. However, the food has always been good & inexpensive.
2. Pink Pony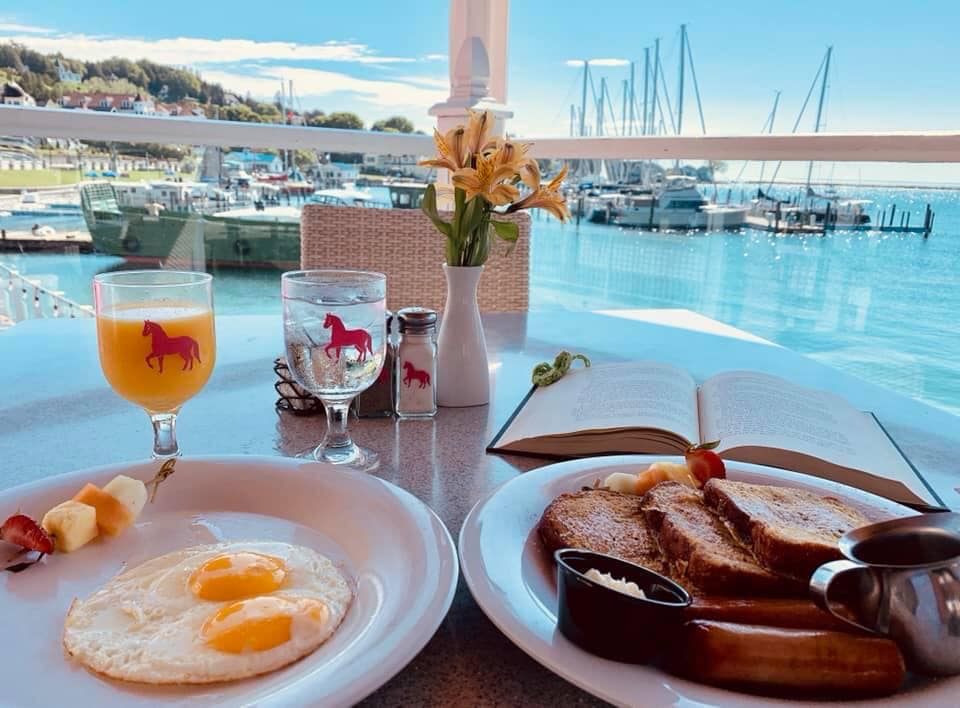 Also on Main Street and also one of the best restaurants on Mackinac Island is Pink Pony. This place has been open since 1848 and has a wide range of food. And it's open for breakfast, lunch, & dinner.
Located on the waterfront, eating at Pink Pony comes with harbor views and sometimes even some live entertainment. The restaurant also has balcony seating, and the staff is friendly & attentive.
Some recommended items here are boursin stuffed chicken, beer-battered whitefish & chips, tomato bisque, tacos, sweet potato fries, whitefish dip, & of course, the cocktails.
3. Yankee Rebel Tavern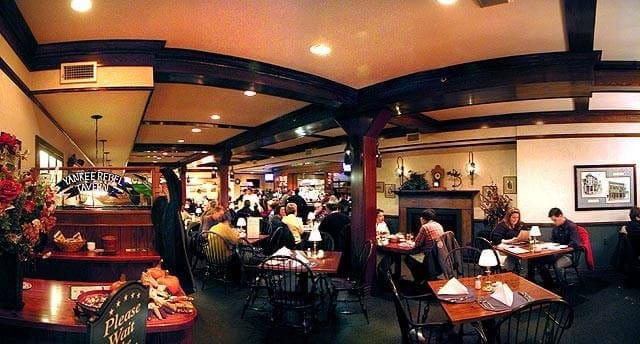 If you're looking at a meal away from the more busy Main Street, you could consider Yankee Rebel Tavern. Situated on Astor Street, it's open for lunch & dinner.
The food is American and the place honors a patriot who had served in the military and was taken prisoner of war during the War of 1812.
The recommendations for this tavern include prime rib, spinach & artichoke dip, mussels and scallops, pot roast, cajun steak bites, & their special chocolate bread pudding. Yankee Rebel Tavern, however, does take care of vegan & gluten-free needs. And the service is top-notch.
4. Seabiscuit Cafe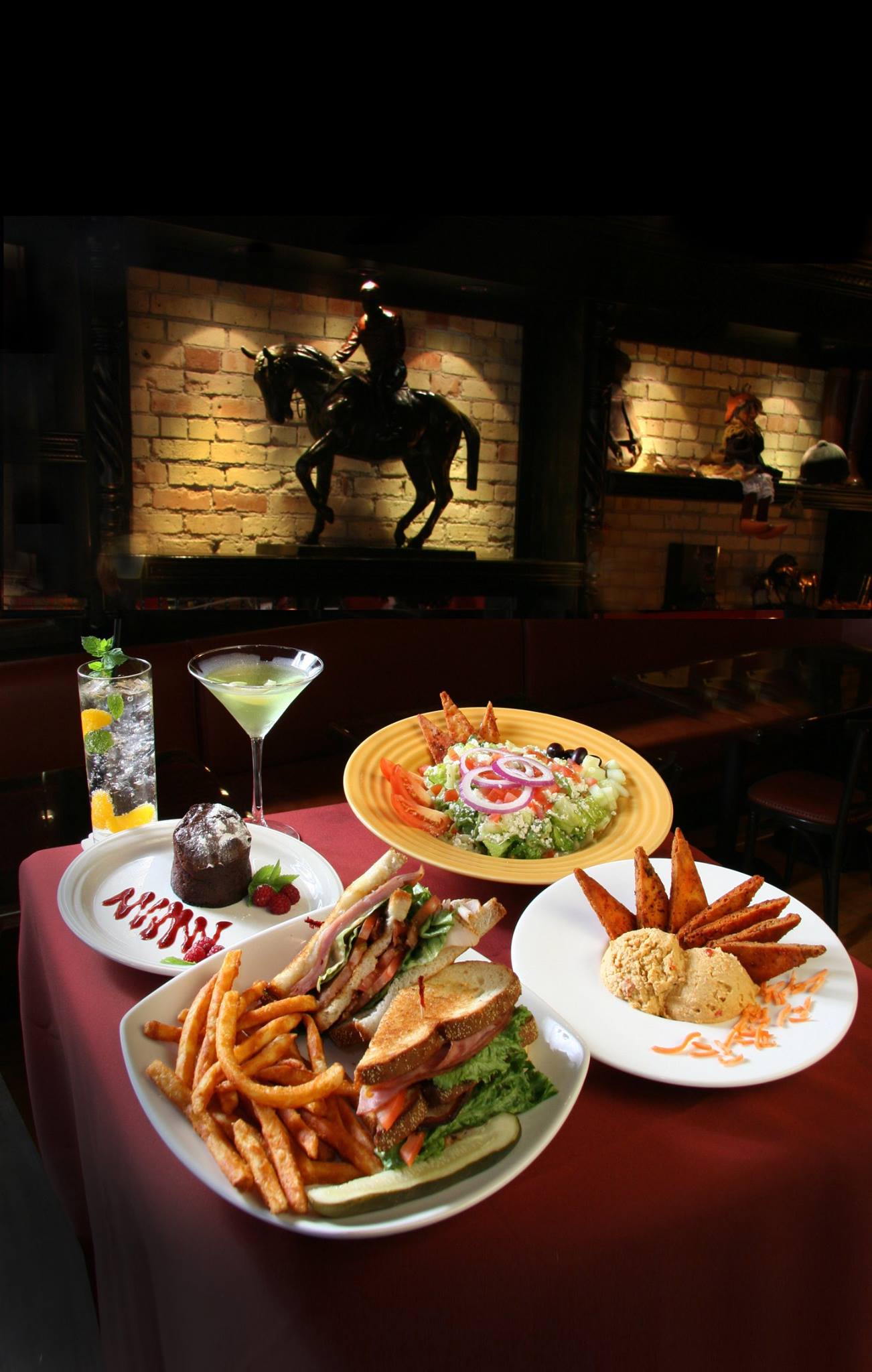 Seabiscuit is one of the best restaurants on Mackinac Island & is a comfortable tavern. It's housed in a building that used to be a bank back in the 1800s. The ambiance here is pleasant and the staff is friendly.
As for the food, the portions are decent and they do well in the taste department too! Some things to have here: their creative cocktails, pulled pork & cheese, fish & chips, and their desserts. You might also want to try their painted pony macaroni (breaded macaroni balls).
5. Mustang Lounge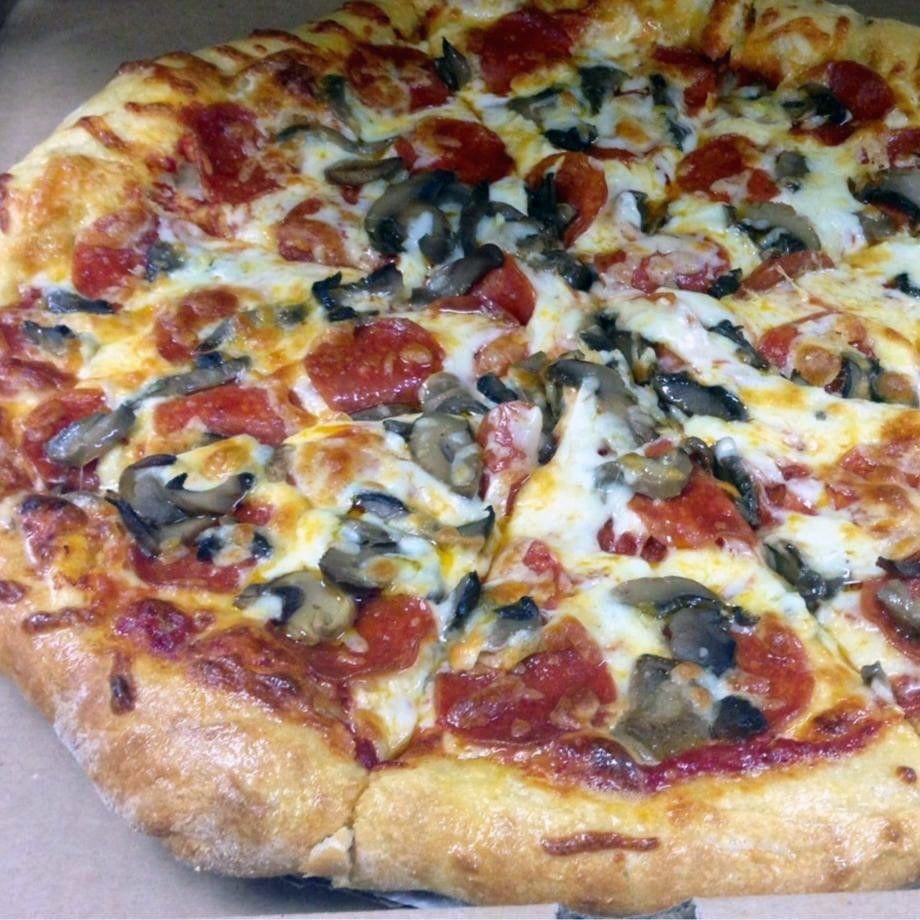 Yet another tavern that's a historical building in Mackinac Island's downtown area is Mustang Lounge and it's frequented by both locals & tourists. It's known for its great food, great service, & its casual environment. It also has outdoor seating. Another plus is that it's open year-round.
Mustang Lounge has been here on the Island since 1965. This family-owned business has menus some well-liked sandwiches, hamburgers, homemade pizzas, & chicken quesadilla. This place also serves good fish & chips & pulled pork.
6. Carriage House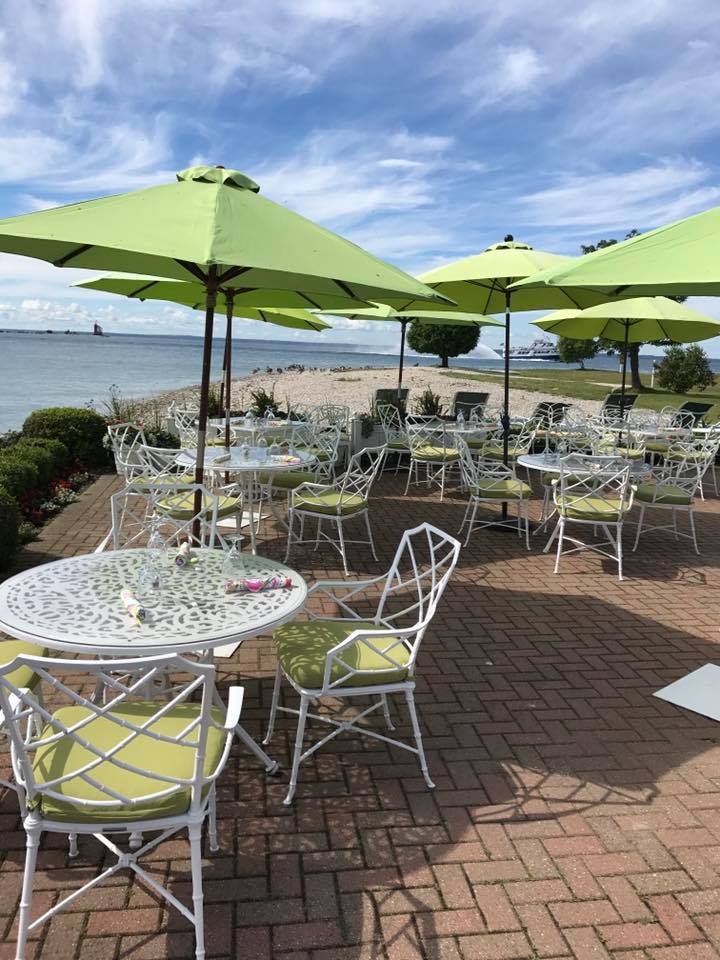 Carriage House is a seasonal restaurant within Hotel Iroquois & one of the best restaurants on Mackinac Island. It's a highly rated and recommended restaurant because of the quality of the food & the professional service offered here.
When you dine at Carriage House, you can do so in their glass-clad dining room or sit out in the gardens and enjoy the views that the island is known for. The restaurant overlooks the Straits of Mackinac & a lighthouse. It's also a great place to catch a sunset. The restaurant's outdoor area is also dog-friendly.
Depending on when you're there, you might be able to enjoy live music or a fun quiz-night at Carriage House.
7. Millie's on Main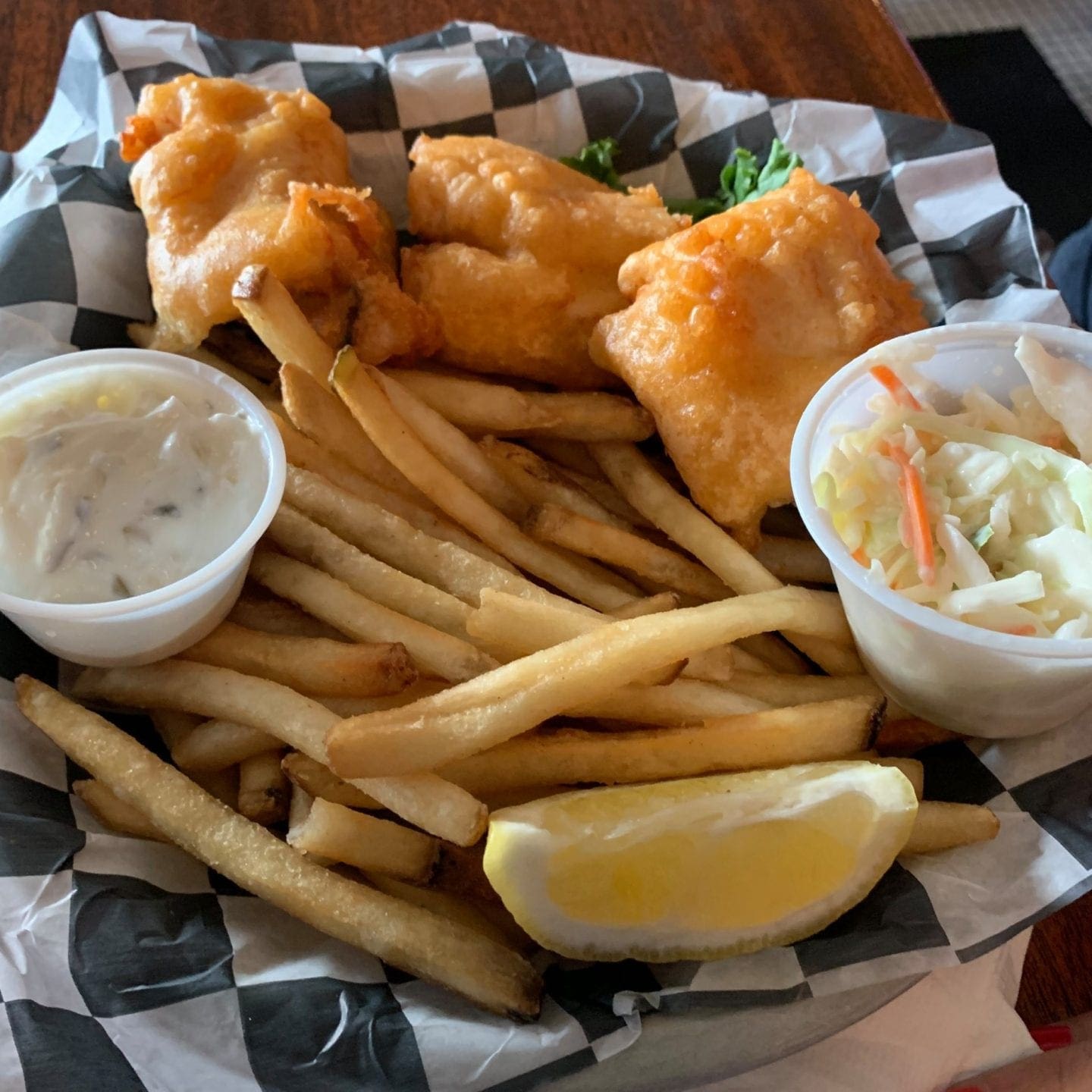 Millie's on Main is yet another seasonal restaurant on Mackinac Island that you might want to dine at. It's right next to the carriage tours so it's easy to find.
It's a cozy pub that serves delicious local specialties. Their portions sizes & prices are good, too. And the service here is attentive. Millie's is open for lunch & dinner.
People come here for soups, salads, & sandwiches. Some specials here are pasties, whitefish chowder, meatloaf, olive burgers, & french onion soup. They have vegetarian & vegan options too.
8. Mary's Bistro Draught House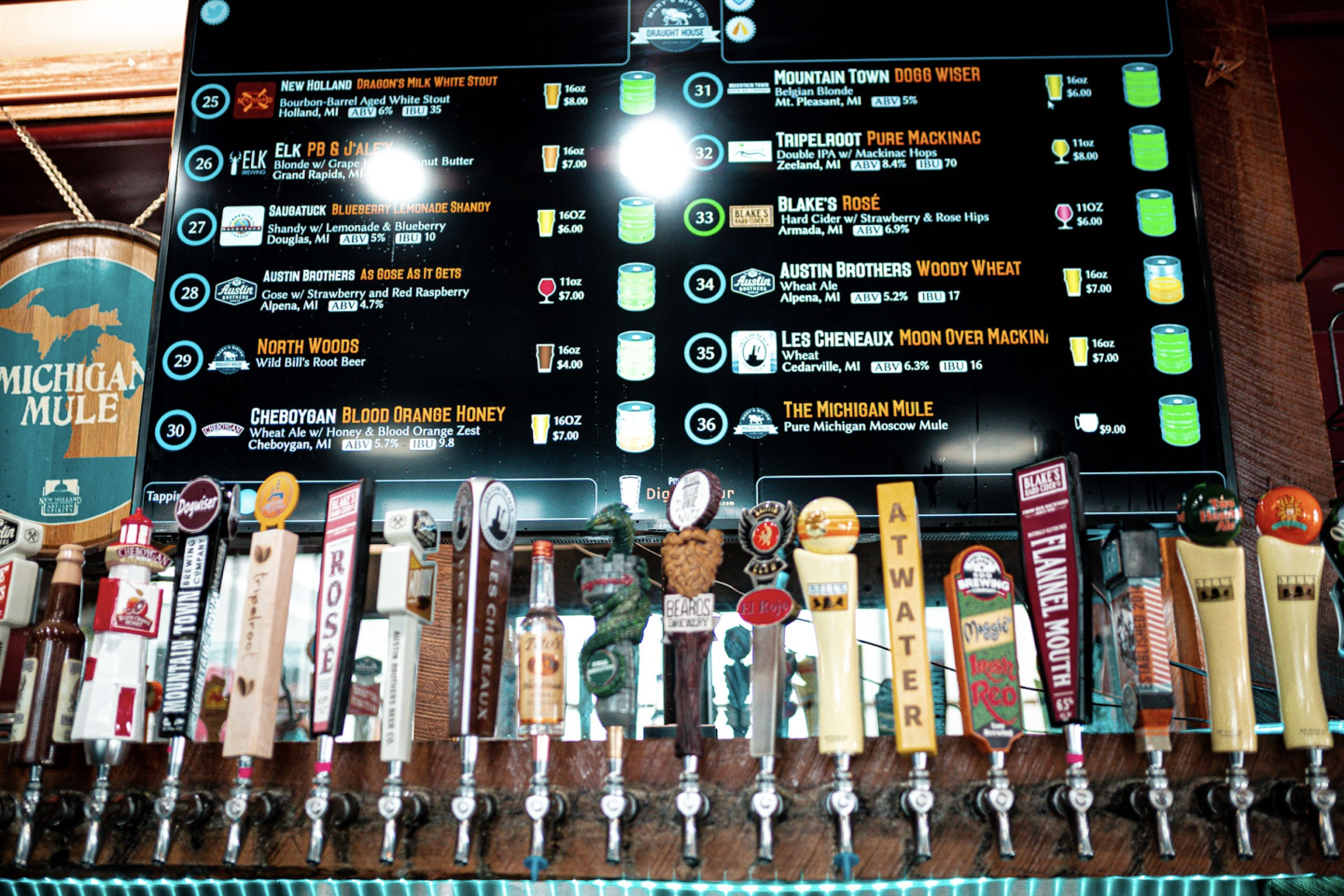 Yet another one of the best restaurants on Mackinac Island is on Main Street called Mary's Bistro Draught House. It's known for its meat dishes. It's also known for its fast service and known to be very accommodating. Diners also talk highly of the wait staff at Mary's.
In terms of its food, Mary's is known for its wine & beer, fries, & whitefish entrees, even its cider. They say they have 50 craft beers you can choose from, the largest collection of craft beers in Northern Michigan!
Mary's also has an open kitchen & offers signature Mackinac Island views — that of the water that it's surrounded by. The views are one of the biggest attractions of this restaurant that's open only during the tourist season.
9. The Woods Restaurant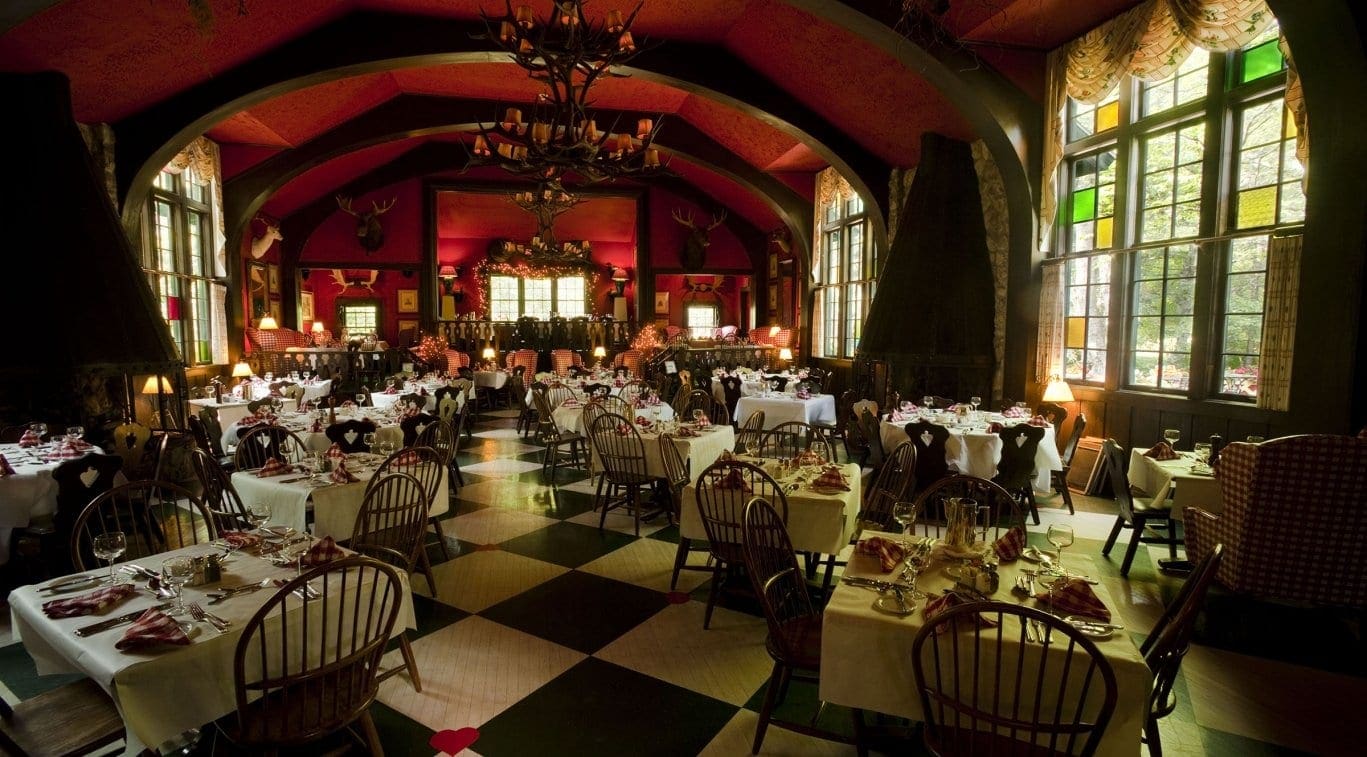 Also, a seasonal restaurant, and also liked for being in a great location is Woods Restaurant. Woods is literally in the woods, and also offers views of the Straits of Mackinac from a bit of an elevation.
The food served here is Bavarian and some of the things to think of ordering are goulash, whitefish bisque, German beer & Austrian steak soup.
Woods Restaurant is housed in a 1905 building. The atmosphere is warm & homey with large fireplaces and live piano music. The place can be reached by horse-drawn taxis. Just as memorable as the dinner & ambiance will be the carriage ride back into town in the dark.
If it's for dinner that you want to visit Woods, make sure to make your reservations much in advance.
10. Grand Hotel (for the Grand Luncheon Buffet)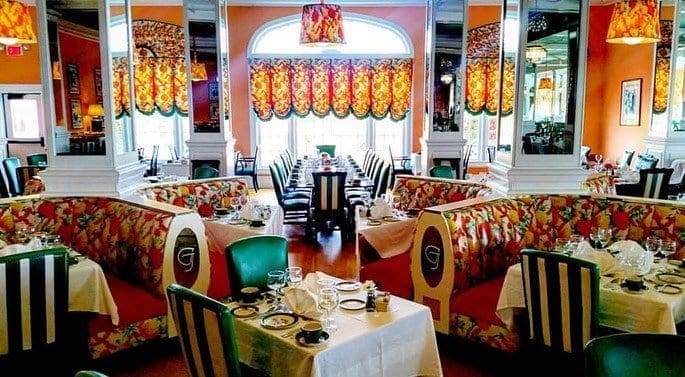 The last on the list and definitely not the least, is the property that Mackinac Island is quite proud of — the Grand Hotel.
Grand Hotel's Grand Luncheon Buffet is very highly recommended for lunch. Just as grand as the dining room & the hotel itself is this buffet. Some of the things you can hope to see as part of the spread are fish, shrimp, chicken, beef, pasta salad, potato salad, around 20 desserts, & a whole lot more. And when you do the luncheon, you get to eat at the hotel's Main Dining Room, which runs along its long world-famous porch. You'll also be treated to views of the water.
Also quite recommended at the Grand Hotel are the dinners at the Main Dining Room, afternoon tea in the hotel's parlor, and the offerings at Cupola Bar.