Portland is the largest and most populous city in the state of Oregon and one the largest in the Pacific Northwest. This port city by the Columbia River is also known for its picturesque outdoors, its many gardens, all year-round events, beer, wine, food, & music… not to mention, roses! Read on for a complete Portland travel guide!
History
The area that is today the City of Roses, and its surroundings, used to be occupied by the Chinook people. The region was discovered by settlers in the early 1800s.
As more and more people started taking the Oregon Trail and settling in what is now Oregon City, travelers between there and Fort Vancouver often stopped at 'the clearing' on the western banks of the Willamette River. Later some businessmen would work at turning it into a settlement. Founders Asa Lovejoy and Francis Pettygrove both wanted to name the city after their respective hometowns so some coin tosses later, Portland won over the other name: Boston.
In the years that followed, the city has grown in port facilities, manufacturing, and expansion of the IT industry, to name a few areas. These days this big city is known for its green outdoors & surroundings and for a culture of its own.
What to see and do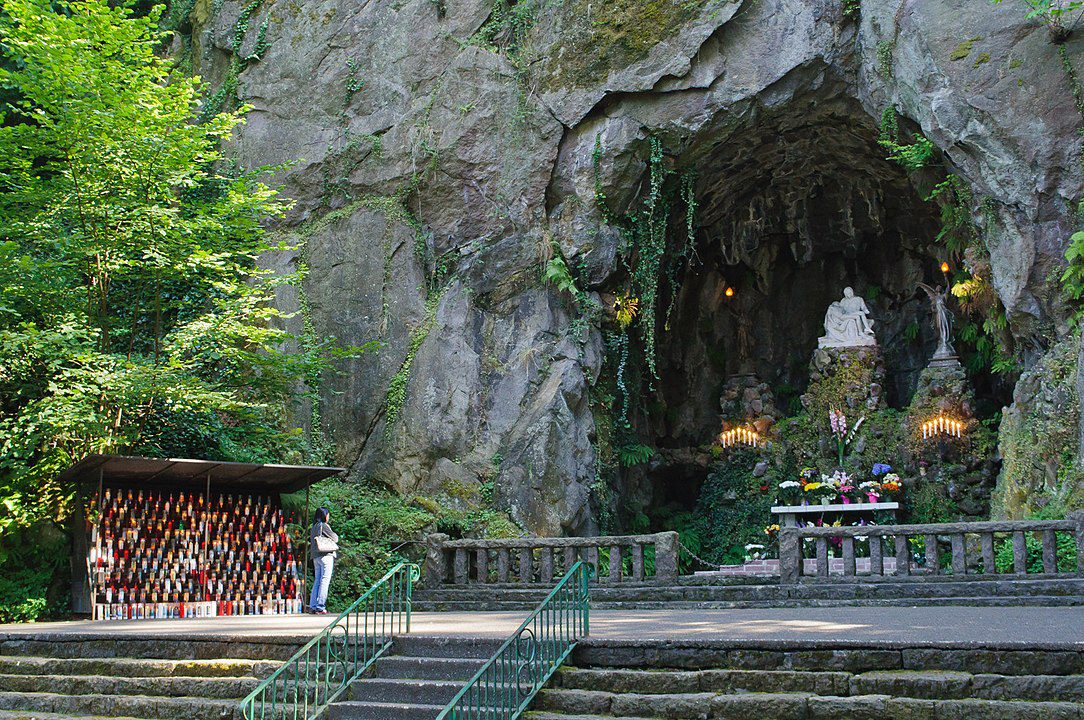 Portland offers much to see and do in and around the city. There are many must-see gardens and historical buildings. Things to do here include enjoying the green outdoors, the outstanding spread of food, & tax-free shopping.
Portland is home to some very popular gardens: International Rose Test Garden, Japanese Garden, Lan Su Chinese Gardens, Crystal Springs Rhododendron Garden, & the Grotto Garden. Also popular are the Children's Museum, Oregon Museum of Science and Industry, Portland Art Museum, & Oregon Historical Museum. Other places you might want to visit while you're here include Pioneer Courthouse Square, Pittock Mansion, Tom McCall Waterfront Park, & the Oregon Zoo.
To experience Portland's outdoors, check out Hoyt Arboretum, Forest Park, Mount Tabor Park, & Powell Butte.
For more ideas on what to do that aren't included in this Portland travel guide, check out my post: Top 10 things to do in Portland.
Food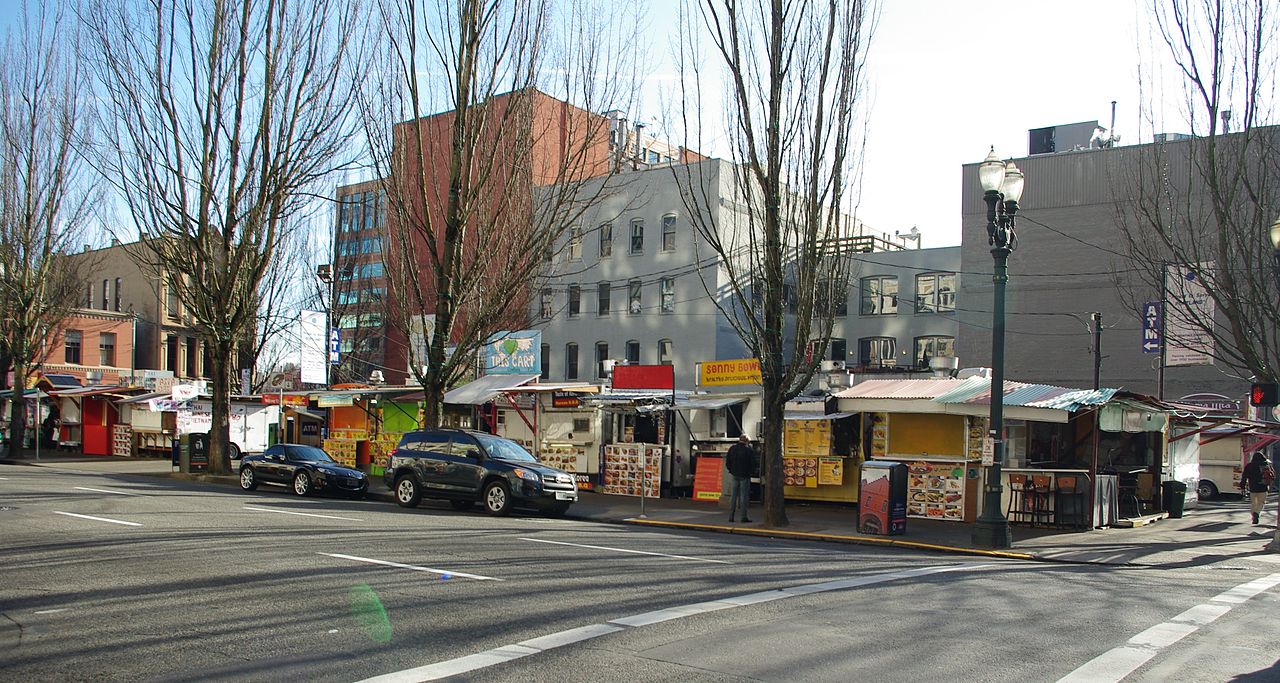 Portland has a very happening food scene. There are a number of fine-dining and award-winning restaurants you can go to, and several cafes & smaller restaurants as well. It's also a city of food trucks so there should be no missing that!
The number of cuisines from different parts of the world, fusion restaurants, & unique eateries found here can put several big cities to shame. There are lots of vegetarian & vegan options too.
Remember, Portland is known for its Donuts & Coffee culture. Voodoo Donuts' original shop is a place you don't want to miss while you are here. However, there are several other well-known donut joints all over.
Portland also has many microbreweries in the city and some much-talked-about wineries in the Willamette Valley adjacent to the city. The Pinot Noir made here is among the best.
You might also want to consider a dinner cruise on the Willamette River or pick up some Latin-American food at the Portland Mercado. Portland Saturday Market is another place to find some great food & drink.
For specific restaurants to check out that aren't included in this Portland travel guide, check out my post: Best Restaurants in Portland.
Shopping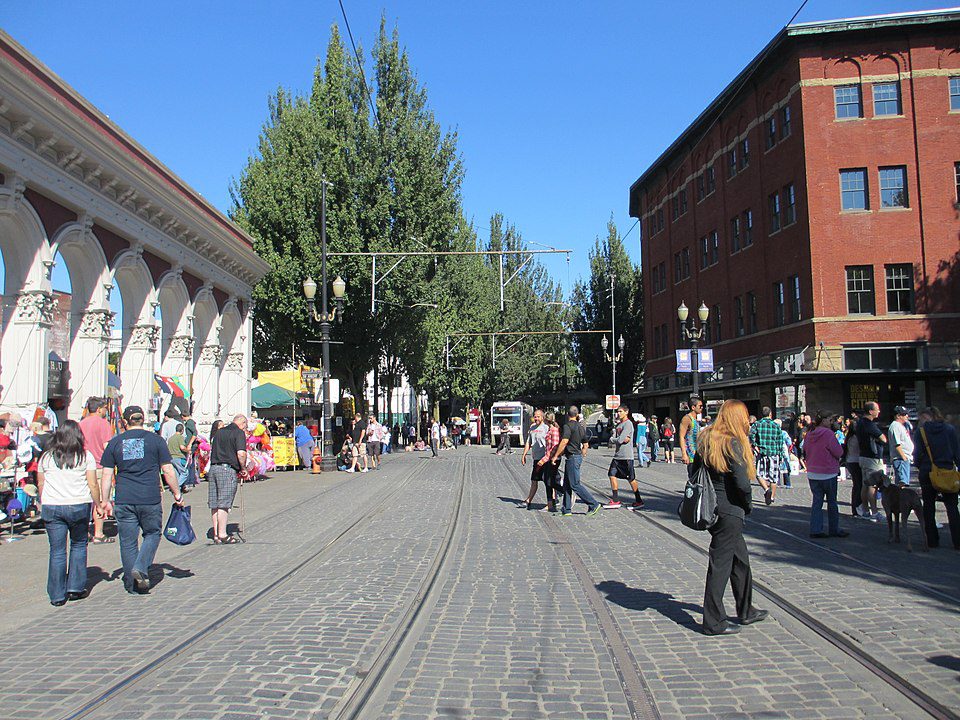 Portland is a shopper's paradise thanks to the tax-free shopping you can do here. As they have no sales tax here, this city is a great place to do all your big-brand shopping. But then again, Portland also has interesting and unique smaller shopping options: boutiques, art & craft stores, independent cosmetic shops and the sort.
Some of the most popular places to shop are Washington Square Mall, Bridgeport Village, & Pioneer Place apart from Downtown Portland. To feel the shopping vibe of the city, head to Multnomah Village, Hawthorne, Alberta Arts District, & Mississippi. Pearl District too has some good stores, many of them in warehouses turned into shops & galleries. Powell's City of Books is also in the area. You'll also find a good mix of big name brands & smaller independent shops in Northwest 23rd District – Nob Hill.
If you're in Portland sometime between March & December, make it a point to check out the Portland Saturday Market. This market that's been in operation since 1973 is one of the best places to pick up art & handcrafted items like pottery, jewelry, glassware, & toys. You'll also find soaps & creams & food items.
Apart from the popular souvenirs you generally pick up from your travels — when in Portland, — think of arts & crafts, donuts, books from Powell's, wine produced right here in the fertile Willamette Valley, craft beer, & vegan beauty products. You might also want to consider vintage clothing & vinyl to take back home or as gifts.
Geography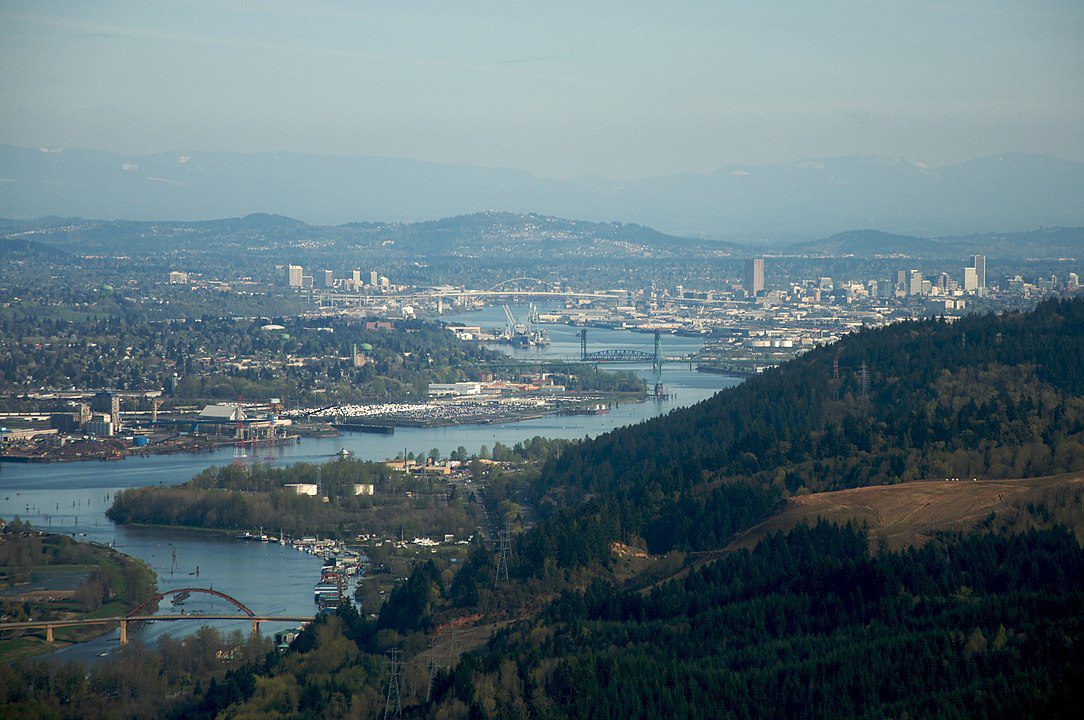 Portland is located close to Oregon's border with Washington. It's in a geographically gifted area sitting at the confluence of the Columbia & Willamette Rivers and having port facilities.
The Pacific Ocean is just around 80 miles west of the city. And Portland is surrounded by the coastal ranges in the west, Willamette River and Valley to its east, and further east is the Cascade Mountain Range. And north of the city flows the Columbia River.
The Willamette River divides the city into its East and West sides and Burnside Street, which runs east-west, divides the northern and southern parts of the city. Together, the Willamette River and Burnside divide Portland into rough quadrants.
Accommodation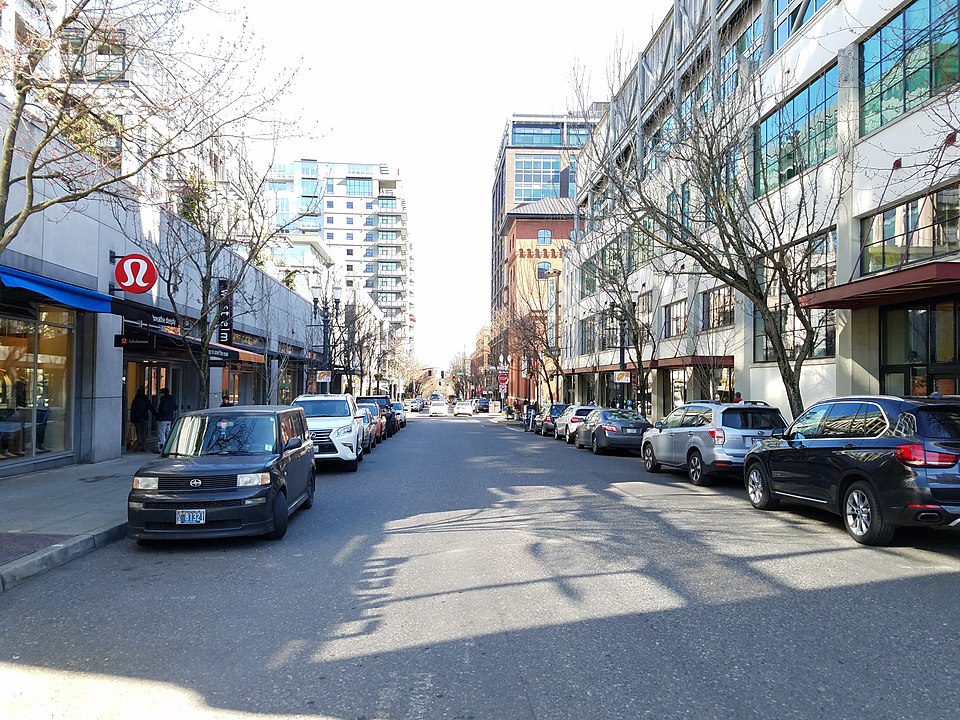 It's important to include where to stay in a Portland travel guide! Most first-time visitors prefer to stay in Downtown Portland, Pearl District, or Nob Hill. However, Chinatown, Northwest District, & Old Town are also good places for visitors who are getting to know the city.
If you're staying in the downtown area, not only are there a lot of accommodation options but you're also close to restaurants, public transport, & food carts. However, the room rates are going to be on the higher side.
Nob Hill is the uptown area that's more of a residential area and is quieter. The neighborhood is a pleasant one with historical Victorian buildings, boutiques, & restaurants.
For budget options, stay in the Central Eastside, also quieter than the downtown area yet easy to get downtown. If you'd like to be close to the city's bohemian region, look for a vacation rental on or around Hawthorne.
And Lloyd is where you'll find a lot of the popular chain hotels.
Transportation
Most people who fly into Portland at Portland International Airport, which is barely 10 miles northeast of downtown.
Another means to get into the area is the train! Amtrak trains that run south from the Seattle – Tacoma area pass through Portland, and then there are the trains that connect Portland to the SF Bay Area and further down south to the LA area. There's also the route to the east, through which people can travel from as far as Chicago.
Greyhound also has buses from several cities large & small. If you're taking the road, you can easily drive to the city, thanks to Interstate 5, which runs North-South & Interstate 84 going East-West.
Once in the city, you'll see that the downtown and several parts around it are very walkable. There are bike lanes if you'd like to bike around or rent electric scooters. The public transport here is also pretty good. There are the buses, the light rail, & streetcars that are all user-friendly.
If you'd like to go beyond the urban area and explore the natural beauty of the larger Pacific Northwest, you could rent a car and drive around.
Best time to visit
Generally speaking, the best time to visit Portland is from June to August, maybe even September. This is when the city is at its warmest & driest. Go around this time and you'll be able to enjoy the beautiful outdoors of this city. It's the perfect time to go hiking, for driving around, and even to enjoy all the patio dining this city offers.
Summer is also the most expensive season. If you're looking for better hotel deals, go sometime between March to May or September to November. In the spring, the city's Cherry Blossoms in the Japanese Garden & Waterfront Park and the Azaleas and Rhododendrons at the Rhodendron Garden should be in bloom. And there are some tulip farms that are not very far from the city.
In the fall, you can take in the fall colors of PNW. Note: You might find yourself in the middle of some showers in these seasons.
And if you're here in the winter, you're going to be there when it gets most of its rains. However, traveling around this time is the least expensive. You can also head to the snow in the Mt. Hood area or attend some winter events.
Portland has a lot of events taking place all year round so there's always something to do here.
Nearby destinations
Despite being a Portland travel guide, I wanted to make sure to include destinations close by. When you're in Portland, you can day-trip to the Oregon Coast, to Astoria or Canon Beach. You could also drive along the Columbia River Gorge (don't miss the Multnomah Falls, there) or go see the volcanoes of the Cascade Range. Mt. Hood in Oregon, and Mt. St.Helens & Mt. Rainier in Washington are not very far from the city.
If you'd like to go a bit further out, you can visit the cities of Olympia, Tacoma & Seattle, or go see the rainforests & mountains of Olympic National Park.