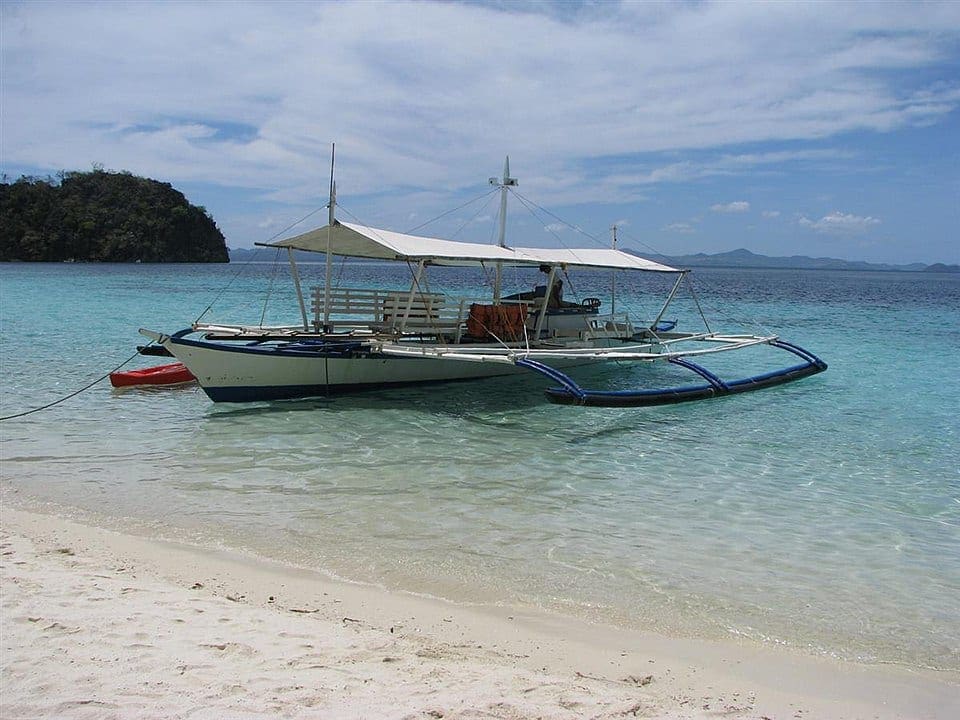 Coron in the Philippines is a tropical destination made up of mountainous islands, white sand beaches, & lakes hidden between tall cliffs. Travelers who would like to dig deeper into the destination will see that there is much more to Coron than just the sights from its coasts. Go underwater and you'll see that the area is also home to coral reefs and sunken warships. The clean and clear green lakes, however, are the most visited attractions around here. Visitors to Coron take boat tours or private boats to the lakes, beaches, & islands in the area. Read on for the top ten things to do in Coron:
1. Take a boat out to Kayangan Lake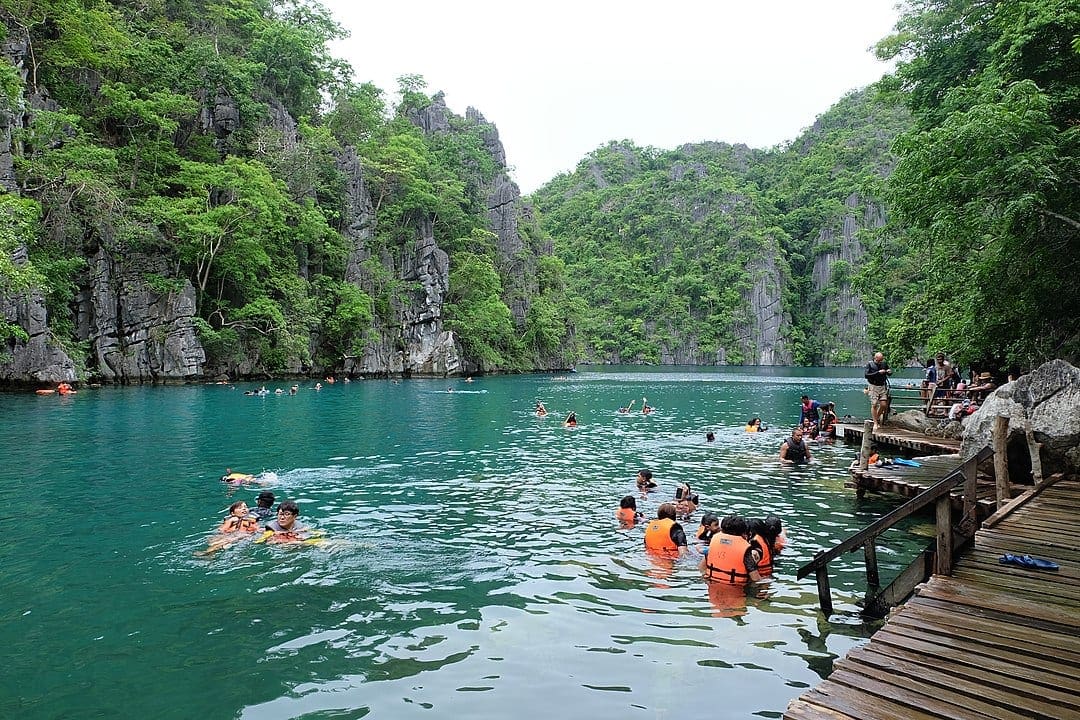 Among the lakes on Coron Island, the most visited is Kayangan Lake in the northern part of the island. Said to be the cleanest lake in the country — some claim it is the cleanest lake in all of Asia — Kayangan Lake is hidden among limestone cliffs.
Once your boat drops you off at the jetty, you climb up the cliffs and then descend towards the lake. It's a hike of around 300 steps of a wooden stairway, and midway there is a view of the lake that gives you a sneak peek at the water you are on your way to! You can also spot the jetty where you got off the boat.
You can swim in Kayangan Lake, see the rocks, and enjoy the marine life there. You'll want to leave early in the morning if you want to be there before most of the tourists arrive since this is one of the top things to do in Coron.
2. Experience thermocline at Barracuda Lake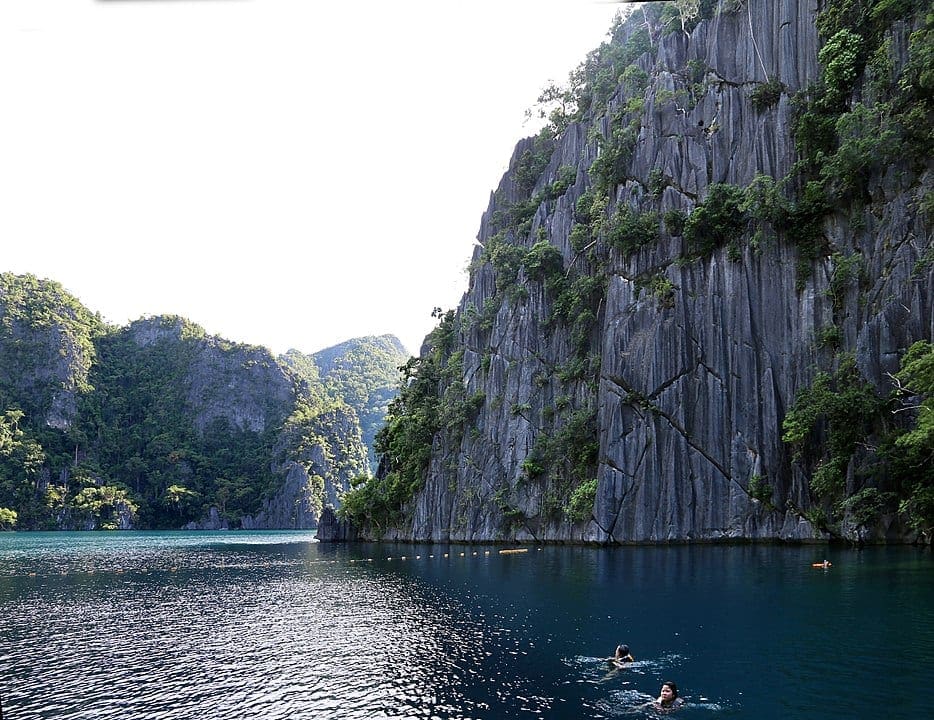 Not very far from Kayangan Lake is Barracuda Lake, which is among the clearest waters of the area. It's less busy than the neighboring lake and like it, it also requires some up-and-down hiking to get to.
Barracuda Lake is known for being in a crater and being a great place to dive into. Although the water is clear, the best views are underwater. The rock formations here are often called underwater mountains and are just gorgeous! Dive here and you also get to experience thermocline, or the difference in the temperature of the water as you go further down. And that's because the water in this lake is part freshwater & part saltwater, with the upper layers being freshwater.
3. Swim the waters of Twin Lagoons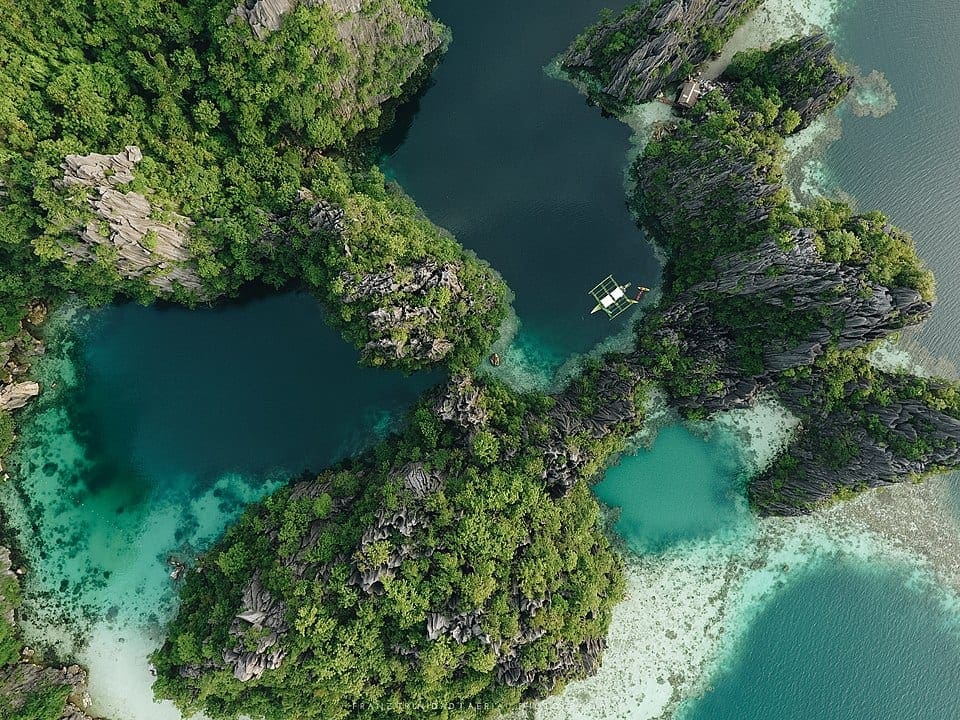 Another popular thing to do in Coron is visit Twin Lagoons, sometimes referred to as "hidden lagoons". Like Kayangan and Barracuda lakes, these twin lagoons lie behind the tall karst walls of the area.
These are two small lakes separated by blocks of cliffs, but also connected by an underwater channel that can be swum through at low tide. There's also a wooden ladder that allows people to cross over the lagoons.
With its turquoise water, dark cliffs & dark green vegetation, it's a very scenic place on the northern part of the island. It's a place you want to make sure is on your itinerary when you book your boat tour.
4. Explore Coron Bay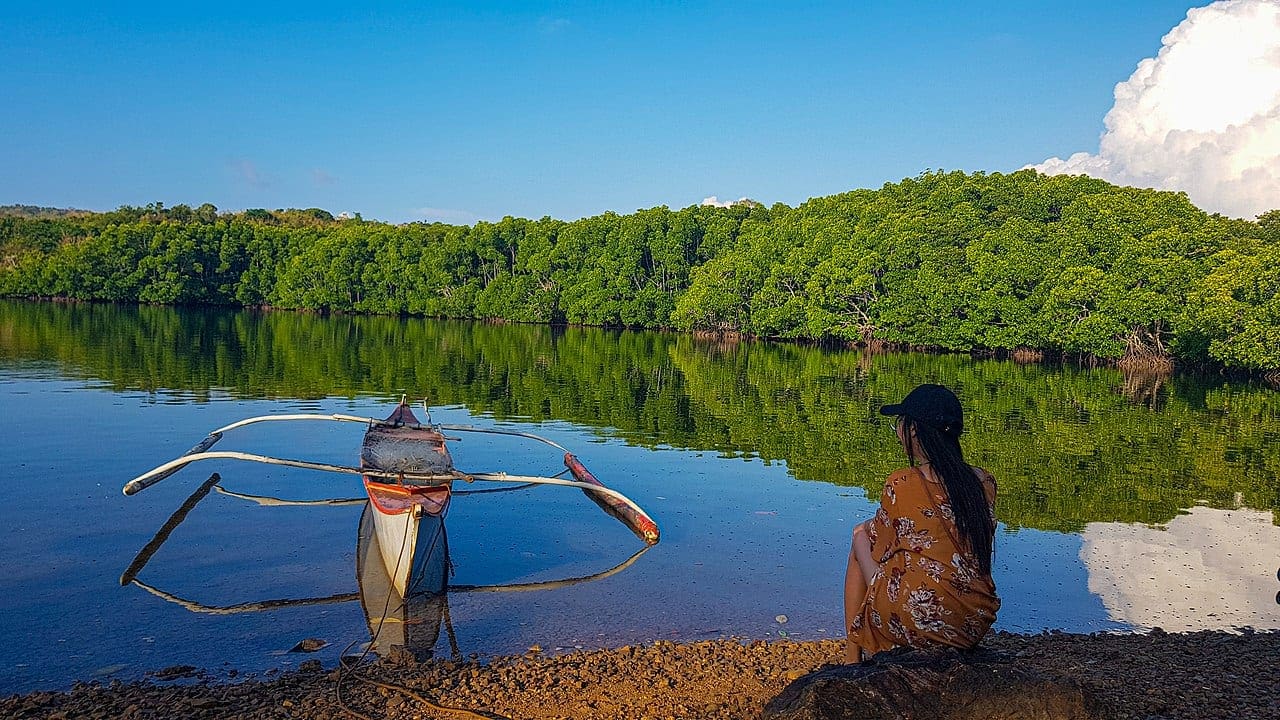 This is the water that lies south of Busuanga Island and between the islands of Culion and Coron. And if you take a boat out into this bay you can enjoy vast stretches of emerald green water, karst formations, several inlets & coves, swimming spots, & beaches.
There are also several smaller and less-visited islands in the bay that you can visit or stop at for a lunch cooked on the boat. The area is also rich in reefs you can dive to see, not to mention the many shipwrecks down there.
5. Snorkel in the Coral Gardens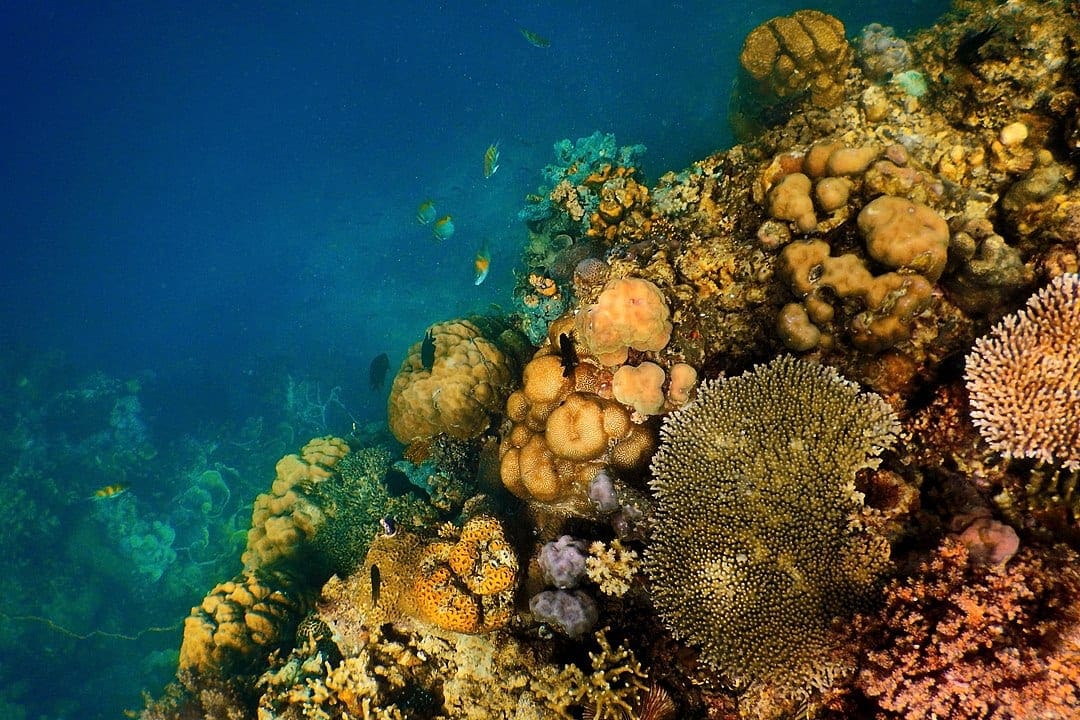 The area around Coron is blessed with vast stretches of shallow reefs and with the water being clear, it's easy to see sea anemones and fish that live among the coral reef. Siete Pecados, Twin Peaks Coral Garden, and Smith Coral Gardens are some names you should keep in mind and ask to visit.
Siete Pecados is the closest and easiest to get to and you'll want to go early in the morning if you want to beat the crowds. Twin Peaks Coral Garden is close to Kayangan Lake and is a small area near two rocky structures that stand out of the water. Smith Coral Gardens, another snorkeling area, is just a few minutes away from the lakes and is a great place to see hard and soft corals and colorful marine life. This one of the most popular things to do in Coron!
6. Make a stop at Banol Beach
Banol Beach is situated on the western part of Coron Island and is liked for its soft white sands and tall rock walls. It also has beach huts if you'd like to stop and rest for a bit.
Banol Beach is also a good place to stop for lunch. Make sure you have all the supplies you need to cook up a quick lunch on the boat.
7. Go wreck diving in Coron Bay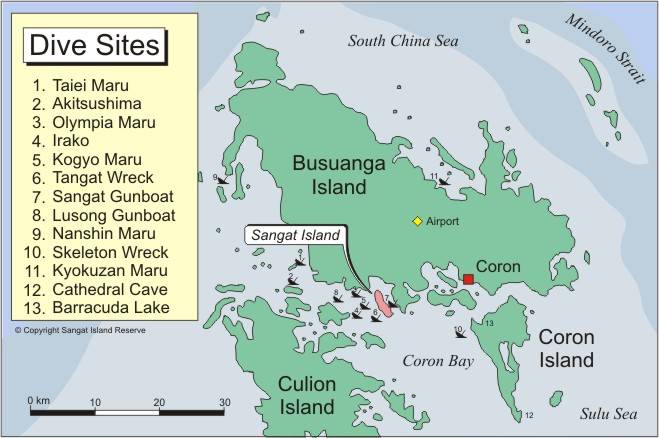 Another awesome thing to do in Coron is to go wreck diving! A fleet of Japanese warships was bombed here during the second world war, the wreckage of which still lies in the waters of Coron Bay.
Divers are allowed to go down and explore the sights and see the different kinds of vessels that went down. They are still quite well-preserved, save the barnacles and other sea creatures that have set up residence. There are around 12 dive sites around Basuanga Island.
8. Relax on Banana Island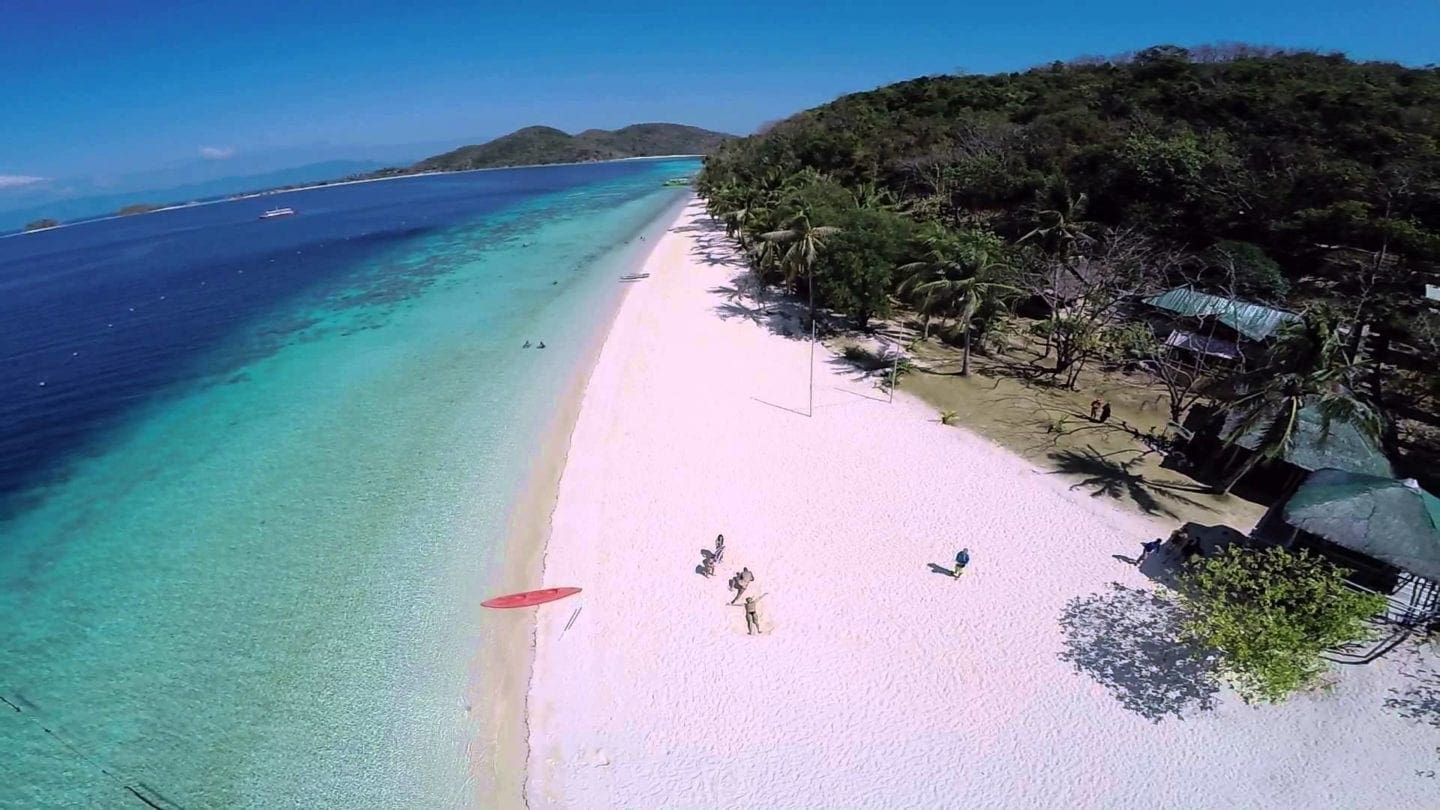 Banana Island is another place you should consider for a rest stop when you're island-hopping around Coron. Banana Island is one of the islands to the south of Coron Bay and is not very busy because it's a bit far-flung from the touristy areas.
This island with white sand and coconut palms is a place to spend some unhurried time, take loads of pictures of the bay, or just take an afternoon nap.
9. Capture the sunset from Mt. Tapyas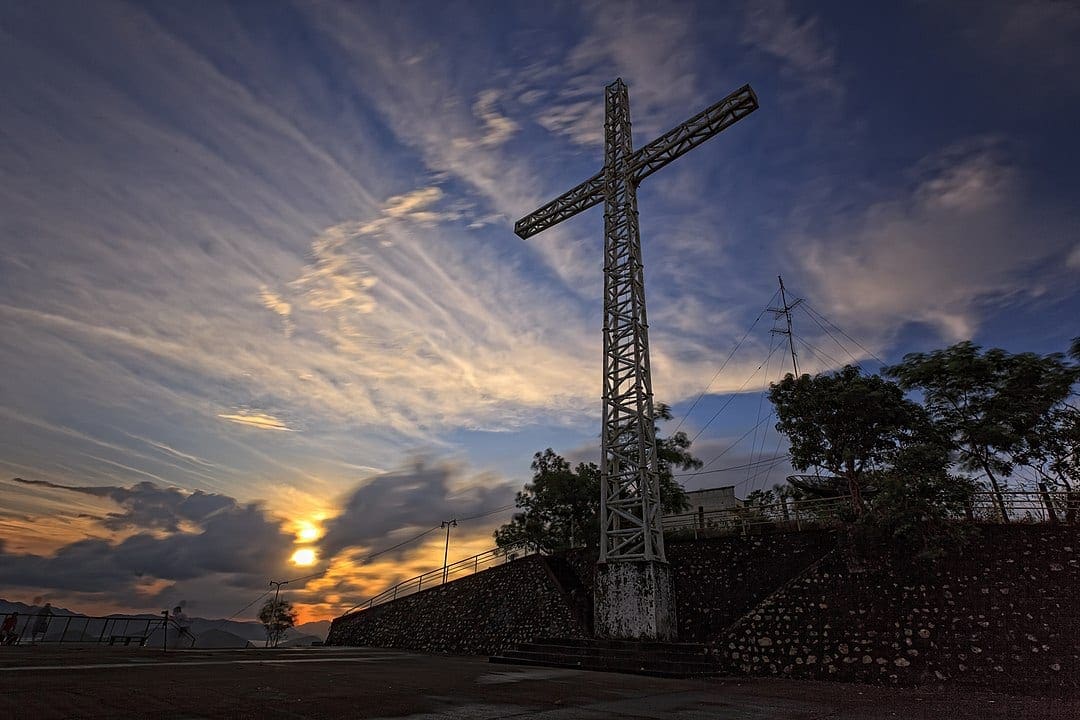 Back on the Coron part of Busuanga Island (not to be confused with Coron Island that's situated south of it) you could hike up to Mt. Tapyas. Since it's not exactly wise to walk up during the middle of the day, you might want to save this activity for the evening and go up there for the sunset.
At the top, you'll also see the Coron Sign (the letters of which stand out of the landscape. Also standing out there is a tall crucifix that looks down onto the surrounding areas.
From the top of Mt. Tapyas, you get views of Coron Town, Coron Island, and the coastal areas.
10. Unwind at Maquinit Hot Springs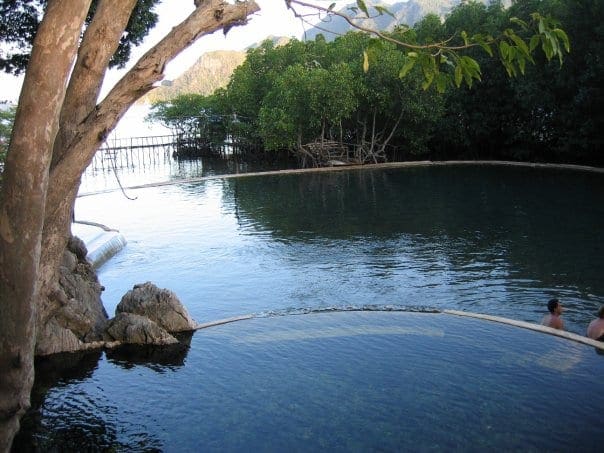 This is where you might want to unwind after a day of hiking up cliffs and to the hidden lakes & Mt. Tapyas, and all the swimming and diving you may have done during the day.
Maquinit Hot Springs is on the southern part of Busuanga Island and a few minutes' drive out of Coron Town proper. It's a saltwater hot spring with temperatures ranging around 35-40 degrees Celsius. This is not a bad place to catch a sunset or watch the stars if you plan on staying late.