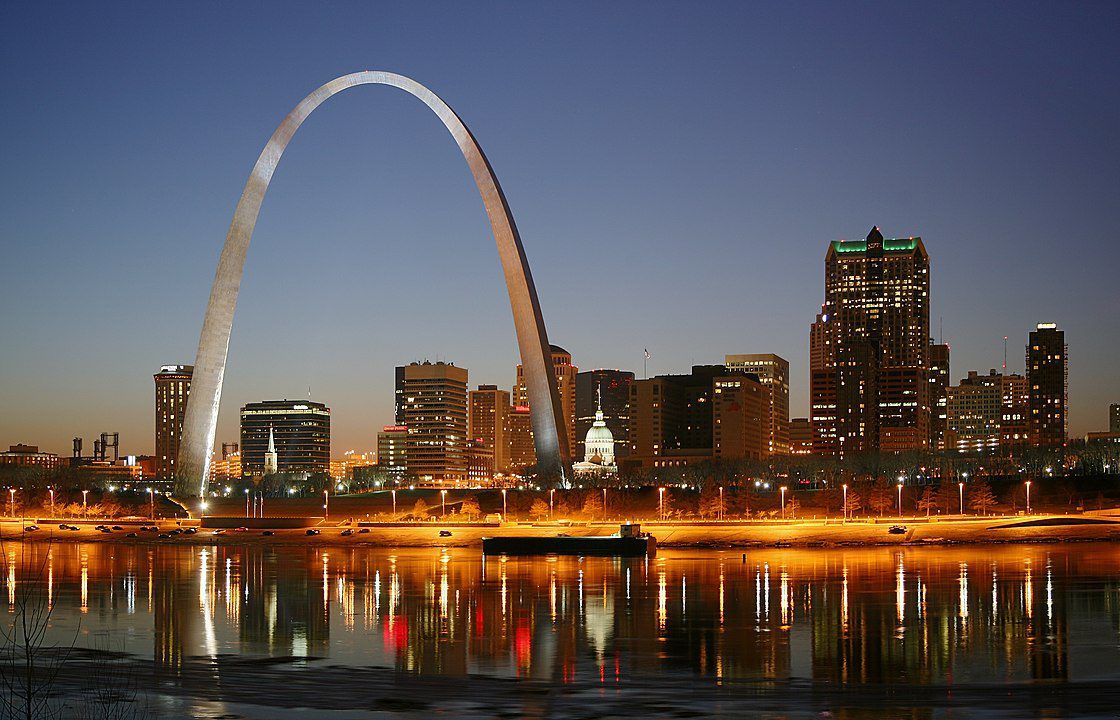 St. Louis in Missouri is home to historical buildings, the tallest monument in the United States, some unique & fun museums, as well as outdoor spaces giving visitors a large number of sightseeing options. If you're looking for the top 10 things to do in St. Louis, this list is for you!
1. First see the Gateway Arch
When the most recognizable structure in the city is also the tallest monument in the country, it deserves to be at the very top of things to do in St. Louis!
Gateway Arch is a stainless steel arch that rises up to 630ft. The Arch symbolizes St. Louis as the 'gateway to the wild west' and also marks where Lewis and Clark set out on their historic expedition. This was also one of the places where pioneers stopped to pick up their supplies before they ventured out into the west.
When you go to see the Arch, not only can you stand below it and marvel at its height, but you can also get into the structure. There are trams that will take you to the top of the arch. There, at the height of what is about 63 stories, is an observation deck that will treat you to views of the city and its surroundings going up to a 30-mile radius.
2. Get to see & know more about the arch and St. Louis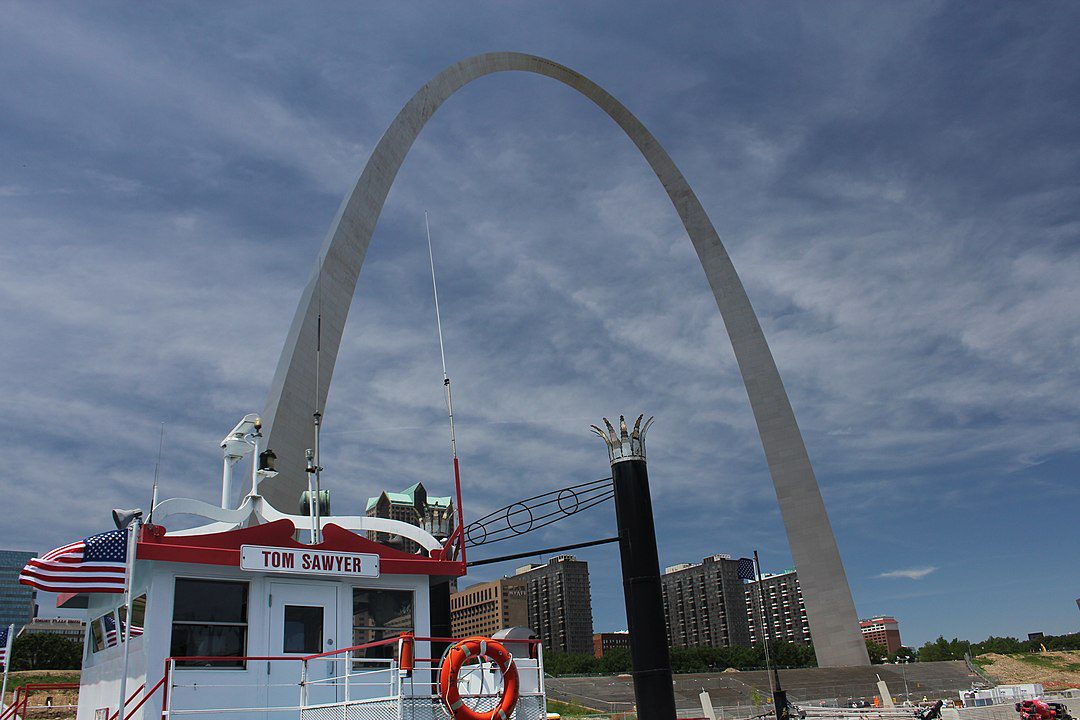 To know more about the iconic structure, you might also want to stop by the museum at the Gateway Arch Visitor Center. Here you can learn more about the arch, how it was constructed, and what an engineering feat it was when it was built in the 1960s. You'll also get to learn about St. Louis' role in the United States' expansion to the west.
For another view of St. Louis & its Gateway Arch you could get onto a riverboat — a replica of the 19th-century paddlewheel boat and cruise along the Mississippi River. From the boat you can enjoy the city's skyline & the silhouette of its famous arch.
3. Explore the attraction St. Louis Union Station has become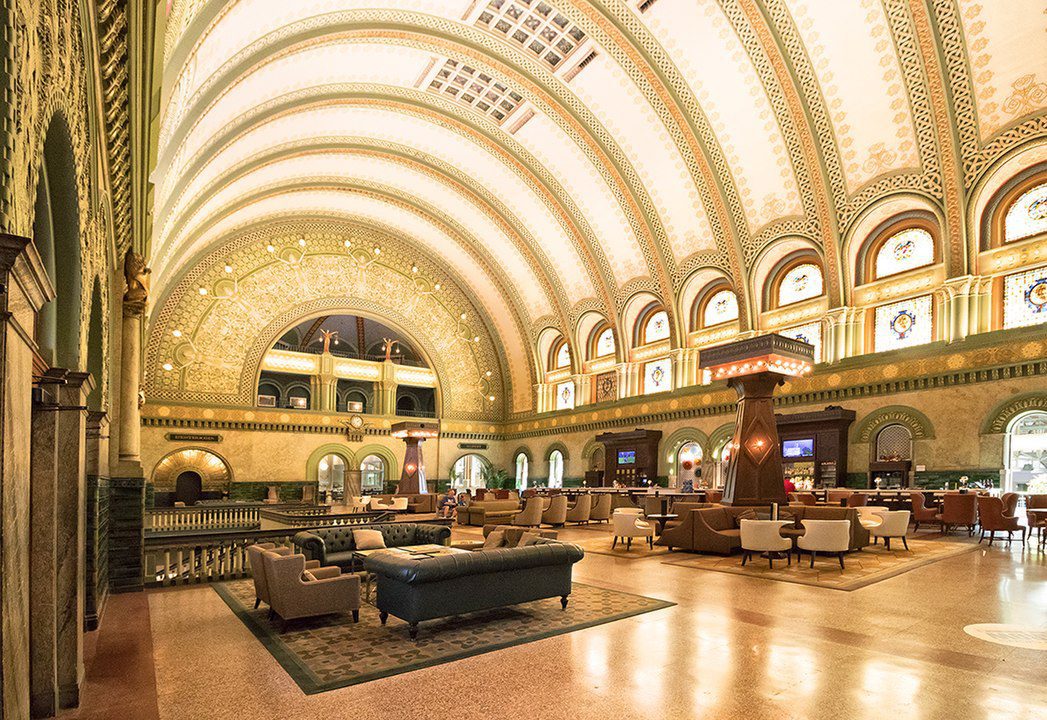 Another historical structure that you don't want to miss is St. Louis Union Station, which was the largest train station in the world when it opened in 1894. And a few years later it ended up being one of the busiest stations.
This station that was in operation from 1894 to 1978 is now a National Historic Landmark and one of the most visited attractions in the city. It's now a shopping & entertainment complex that houses a hotel, some shops, a museum, & an aquarium. You can even watch a 3D light show on the Grand Hall ceiling & a fire show by the lake in the station. For more adventure, there's a carousel, a ropes course, zip lines, & an observation wheel.
Built in Roman Revival Architecture, the building itself is something to see. Some of the original features of the Union Station still stand and are big attractions to this day. People come here to see the Grand Hall with its vaulted roof, stained glass art, its original glazed bricks, & terrazzo floors. You can also step into the museum on the upper level of the train shed to learn more about the station and see some railway exhibits.
4. Go see the Cathedral Basilica of Saint Louis
If you're interested in older buildings and art & architecture, you are also going to want to walk into the Cathedral Basilica of Saint Louis or the Saint Louis Cathedral. This Roman Catholic Cathedral has some striking spires & a grand dome to show visitors. It is one of the most popular things to do in St. Louis.
The present building that was built in 1914 (the first church was built at the site in the 1770s) has another major feature that cannot be missed: its mosaic murals that have gone on to become one of the largest collections of its kind. The murals here have been put together with around 42 million pieces of glass that come in several different colors.
To know more about the famous murals of this cathedral, you can go to the lower levels of the building and learn about the designs on those ceilings and the installation of these mosaics. Some guided tours are also conducted here.
5. Pay your respects to the Old Courthouse
Yet another domed structure that features in most St. Louis itineraries is the Old Courthouse. This courthouse that was constructed in the 1800s is architecturally appealing and occupies an important place in US history too.
When you get to see the federal style building you'll be able to see its courtrooms and educate yourself about the 19th-century judicial system and see some exhibits of historic events.
Slaves were auctioned on its steps at one point. However, it has also been associated with the 'Underground Railroad.' And some important trials of the age were fought here. Two of the most well-known of them are the Dred Scott Trials & the Virginia Minor case that were about slavery and the fight for voting rights, respectively.
6. Stroll through Missouri Botanical Garden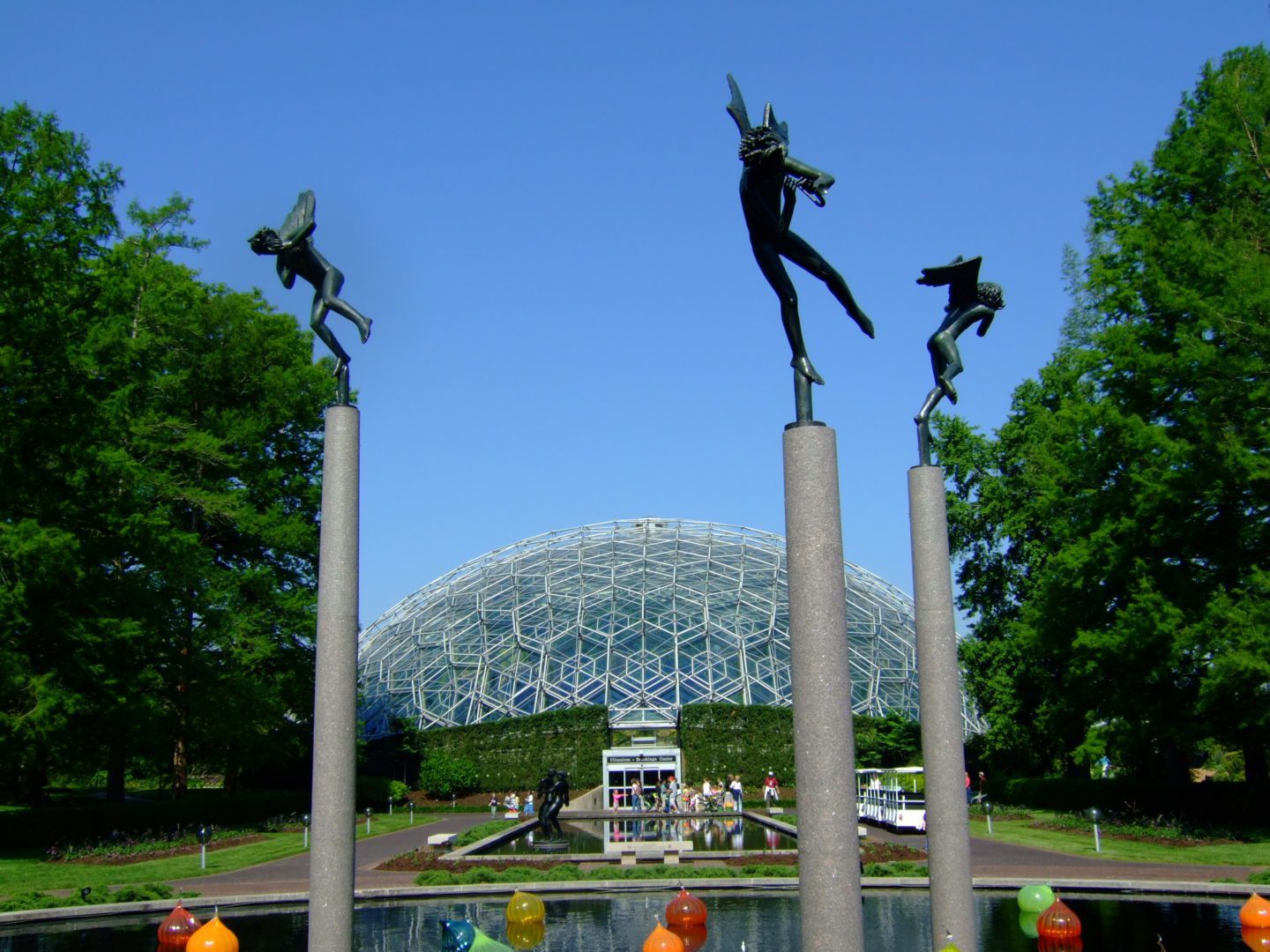 This Botanical Garden makes it on to this list of things to do in St. Louis because it dates back to 1859 making it one of the oldest botanical gardens in the country. It's said to be the oldest one to have been in continuous operation too!
That's not all! Having been conceived by a botanist on the 79 acres of land here, there's a large plant collection. You'll find home-garden plants, a climatron for tropical plants, wildflower gardens, a limestone habitat, and even some wetland flora.
Other things to see at this Botanical Garden that's also known as Shaw Garden are a Japanese Garden, a children's garden, an Ottoman Garden, English Woodland Garden, a Chinese Garden, Prairie vegetation, tram tours, water fountains, & several sculptures. And in a corner of the green area is botanist Henry Shaw's garden house — Tower Grove House.
7. Have fun at City Museum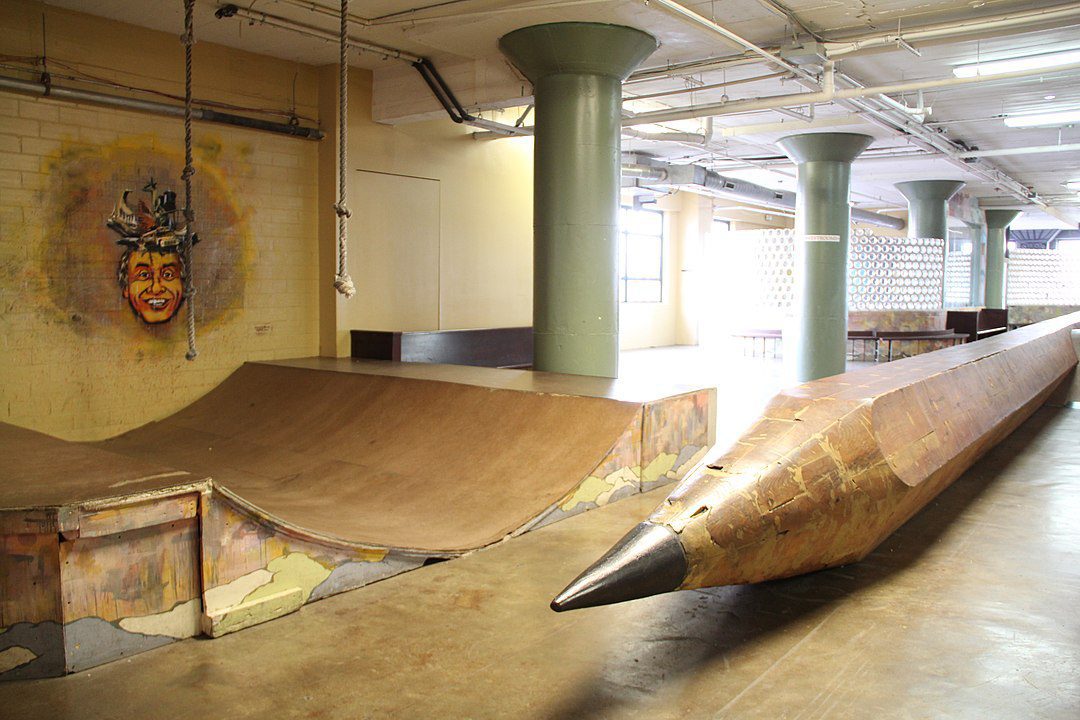 Also one of the very popular things to do in St. Louis is its City Museum. This place is a unique one and truly an attraction that has something for everyone. Housed in a ten-story building that was once a warehouse, the museum has been in operation since 1997.
Visitors to City Museum can see architectural exhibits, an aquarium with real fish & imaginary ones, a miniature train, a marble bar, & a hallway of mirrors among other things. Kids can do some art projects, watch a circus, or magic shows.
With tunnels, caves, slides, & structures that stretch between different levels of the building, it's a playground for the young and old alike. One of the most talked-about features here is the giant slide that goes down 10 stories. Apart from its architecture, what makes this place even more interesting is the fact that several of the structures have been made with repurposed things like old doors & walls and reused materials like iron, concrete, stones, & bricks.
8. Experience Budweiser Brewery
When you're in St. Louis, you have the opportunity to visit Anheuser-Busch Brewery's first location. It was opened by a German Immigrant in the 1850s. At this brewery complex you can do a brewery tour & sample some beer at the end of it.
The specialty tours at the flagship location allow you to choose a tour that suits your tastes. You can take a guided tour of the facility, opt for some freshly brewed beer, or do a behind the scenes tour.
9. See the residents of St. Louis' Zoo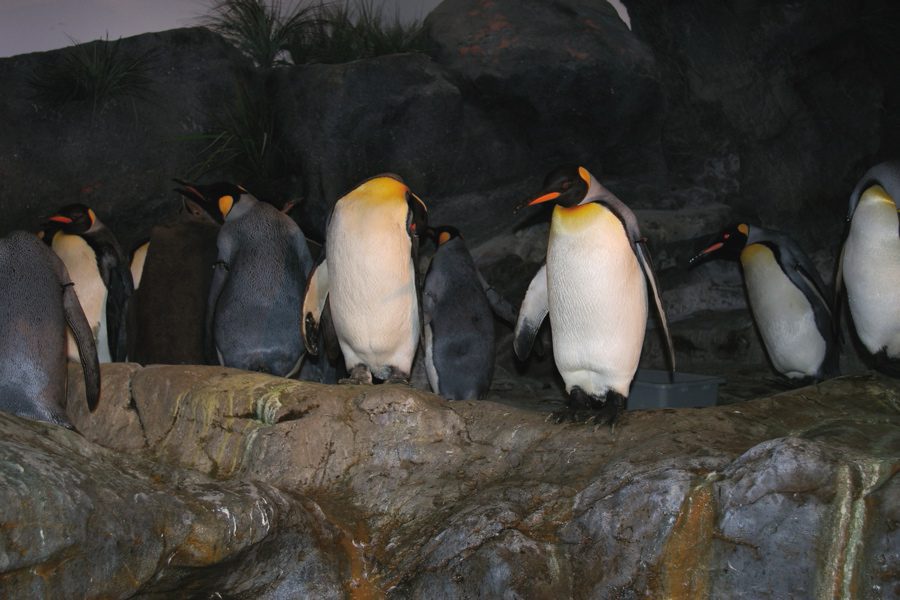 Among the most visited attractions & popular things to do in St. Louis is also the St. Louis zoo. It gets around 3 million visitors every year. The zoo at St. Louis is known to be one of the few zoos in the country that allows a free-of-charge entry. It's also known for its large collection of animals and its management of them.
The zoo has animals from different parts of the world and is a great place to learn about different animals, species, & their habitats. The zoo has several educational programs and conducts a lot of research here.
10. Magic House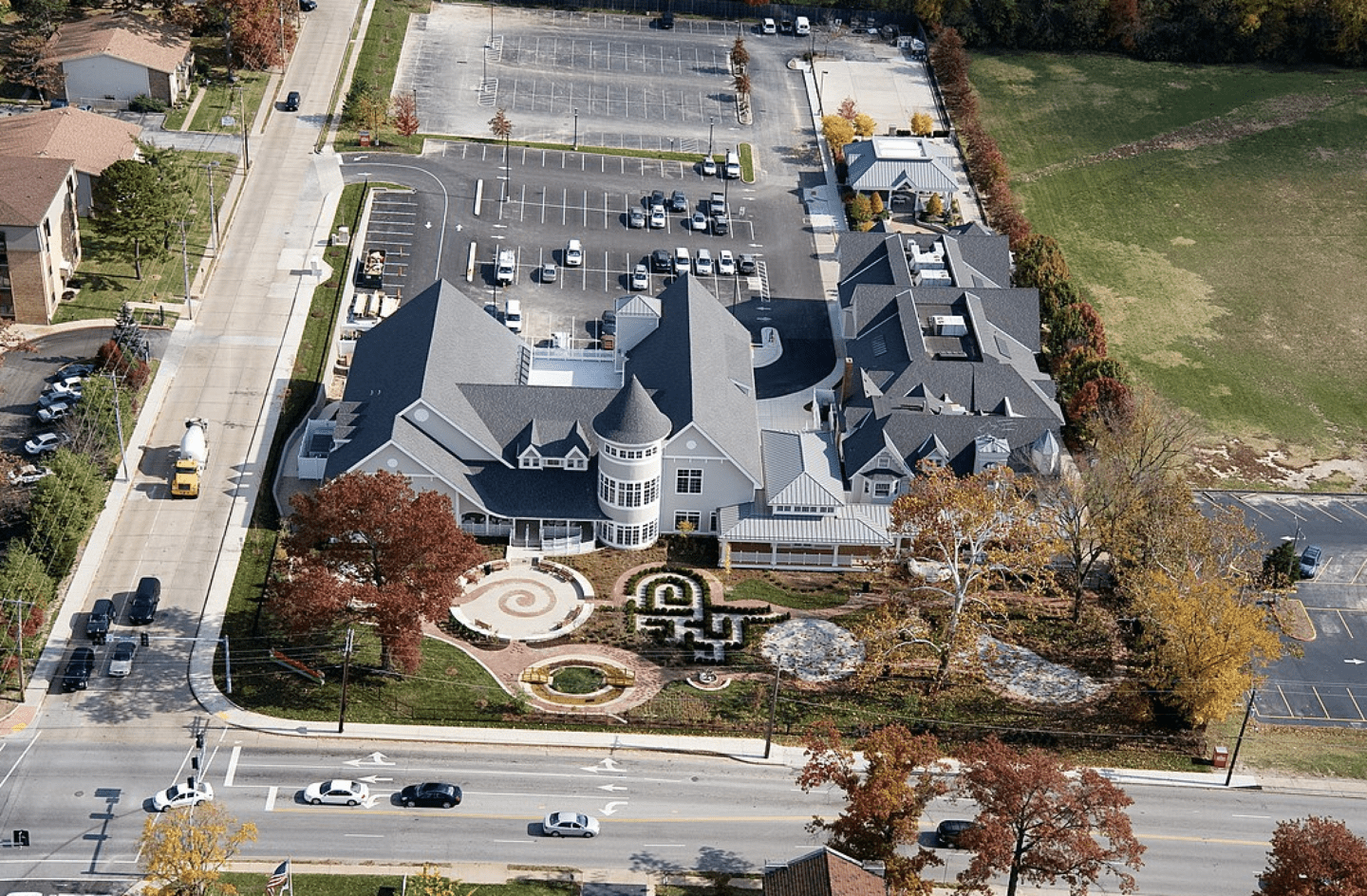 Magic House is a children's museum in St Louis that gets a lot of visitors because of how interesting it is apart from the fact that there are a whole lot of things for kids to do in there.
There are structures to play on, many interactive exhibits, and spaces to get creative. Some of the popular activities here are climbing a 2-story beanstalk, getting to work on changing car tires, & getting to try out the role of a grocery store employee. Older kids can try a hand at exciting things like 3D printing, animation, or laser cutting.
What's more: it's all housed in a large, sprawling Victorian mansion!