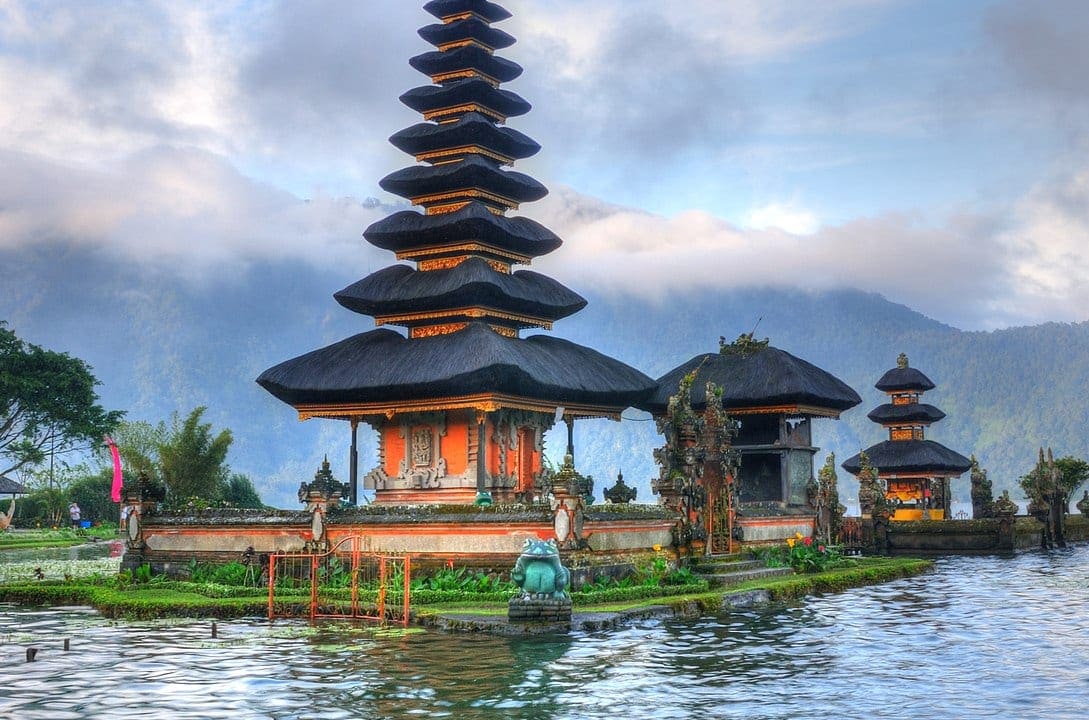 Bali is an island of the archipelagic nation of Indonesia. It's also Indonesia's most successful tourist destination. As a tourist destination, Bali has something for everybody. The island has numerous beaches, waterfalls, mountains and it also showcases a rich culture that dates back to several centuries. Read on for a complete Bali travel guide!
History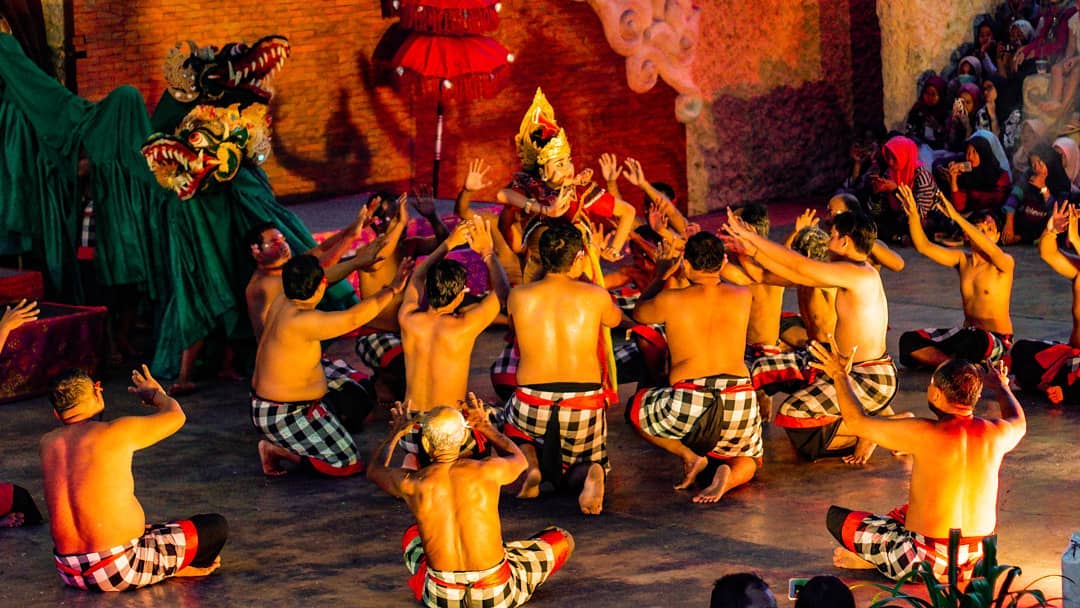 The history of Bali has been traced back to BC. Hinduism was established on the island ages ago. Later Bali is said to have gone through religious and political tussles as well as Dutch colonization before it became the Indonesian island as we know it today.
Tourism has been on the rise for over 30 years now & it's become the largest industry of the island.
What to see and do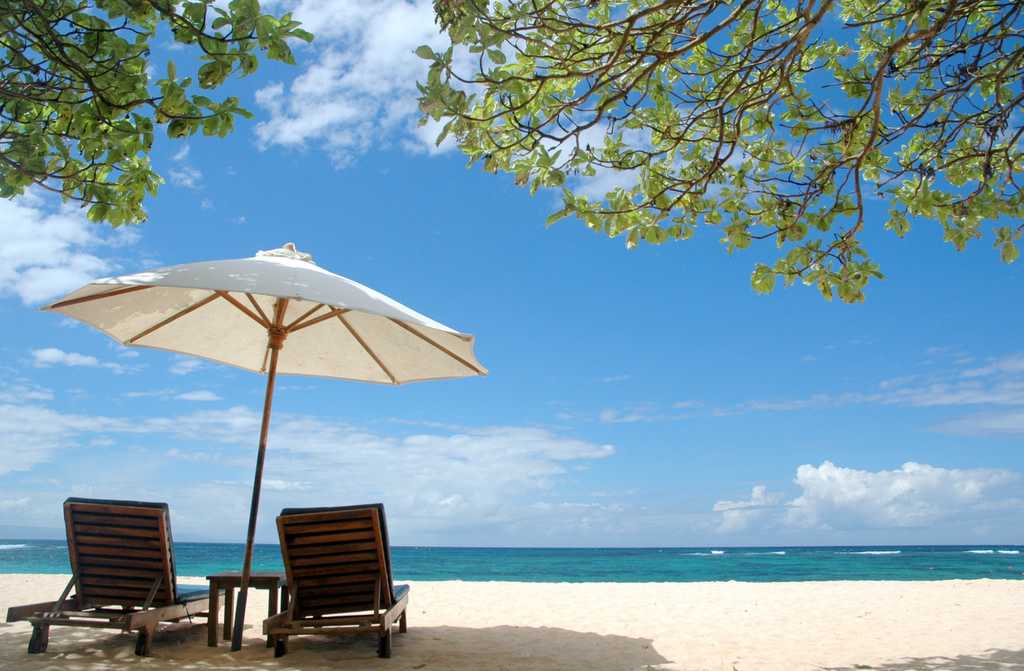 The southern parts of Bali are more touristy, as that's where most of the beaches, beach bars, & restaurants are. The beaches of Bali are a big draw. While some of them come with soft white sand, others have dark sand from the volcanic activity on the island. Coastal Bali also facilitates surfing and snorkeling.
Bali is also known for its many waterfalls, thanks to the mountainous nature of the island. While some waterfalls are very popular and easy to get to, others call for a hike. You can swim at most of them and go canyoneering at some of them. There are so many falls in Bali that whichever part of the island you're on, you can find one close to you.
Another aspect that attracts a lot of travelers to Bali is the culture of the land. The island follows Balinese Hinduism so it's home to a large number of temples both on the coasts as well as further inland. To experience the culture of the island you can visit some of the sea temples and watch some of the ethnic dances, take a dip in the sacred pools that are said to purify you, visit the museums, and even make a trip to Batubalan to see village folk sculpt figures of deities. You could also watch some cultural performances there.
As for the other things to see in Bali, there are the iconic gates, which are a product of the craftsmanship of the sculptors of the island. They also make great subjects for your photos. There's a Monkey Sanctuary that's pretty popular. And there are adventure activities organized by Bali Swing that you might like. If you're into amusement parks, Bali has that, too.
If you'd like to see more than just the tourist spots of Bali, you could hike to the top of Mt. Batur, a volcano on the island, and see the villages built on the mountain. You could also hike up Mt. Agung, the highest volcano on the island. You should go up these mountains early enough to see the sunrise. Then there's West Bali National Park in the northwest, the island's only national park that preserves some fauna and flora of Bali.
Other things that are absolute must-dos in Bali include walking through rice fields and trying out the local food of this Indonesian island.
For even more ideas on what to do in Bali that are not included in this Bali travel guide, including exact locations, check out my post: Top 10 Things to do in Bali.
Food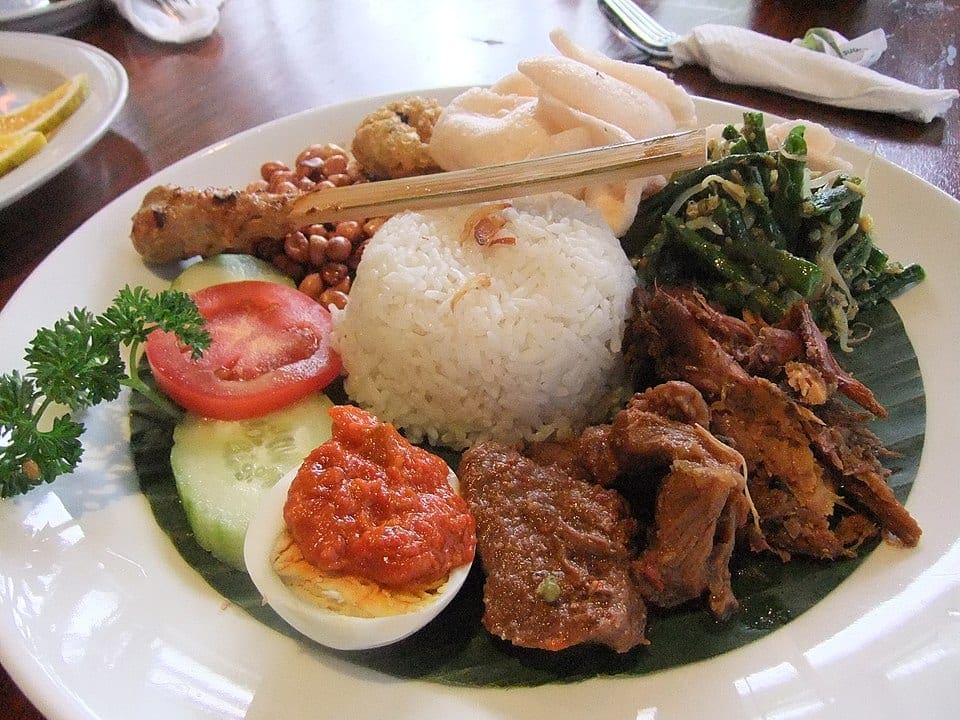 As Bali get tourists from all over the world, the island has a lot of multi-cuisine restaurants, restaurants serving Asian foods, & local eateries serving Indonesian food.
While you're in Bali you should try some street food or you could eat at the warungs — the small family-owned restaurants that serve authentic Indonesian fares.
What to eat here includes nasi goreng – or Indonesian fried rice, gado gado – or Indonesian salad, sambal – a spicy condiment, sate – or skewered meat, & nasi campur – or their mixed plates where you have rice served along with a number of sides. You might also want to try bubur sumsum or rice pudding & pisang goreng or fried banana.
For specific places to eat that are not included in this Bali travel guide, check out my post: Best Restaurants in Bali.
Shopping
Bali is a fun place to shop. While you do find international brands at the shopping centers, you should to go to the smaller shops and pick up things like sarongs & long, flowy clothes, handcrafted jewelry, bags, & small figurines that are easy to carry back with you.
Bali is also known for its stone carvings mostly crafted at Batubalan, a village that specializes in sculpting figures out of volcanic rock. Then there are the Ikkat and Batik clothes you can pick up. These would all make ideal souvenirs & gifts to take back from Bali. Other suggestions are Indonesian coffee & chocolate.
Geography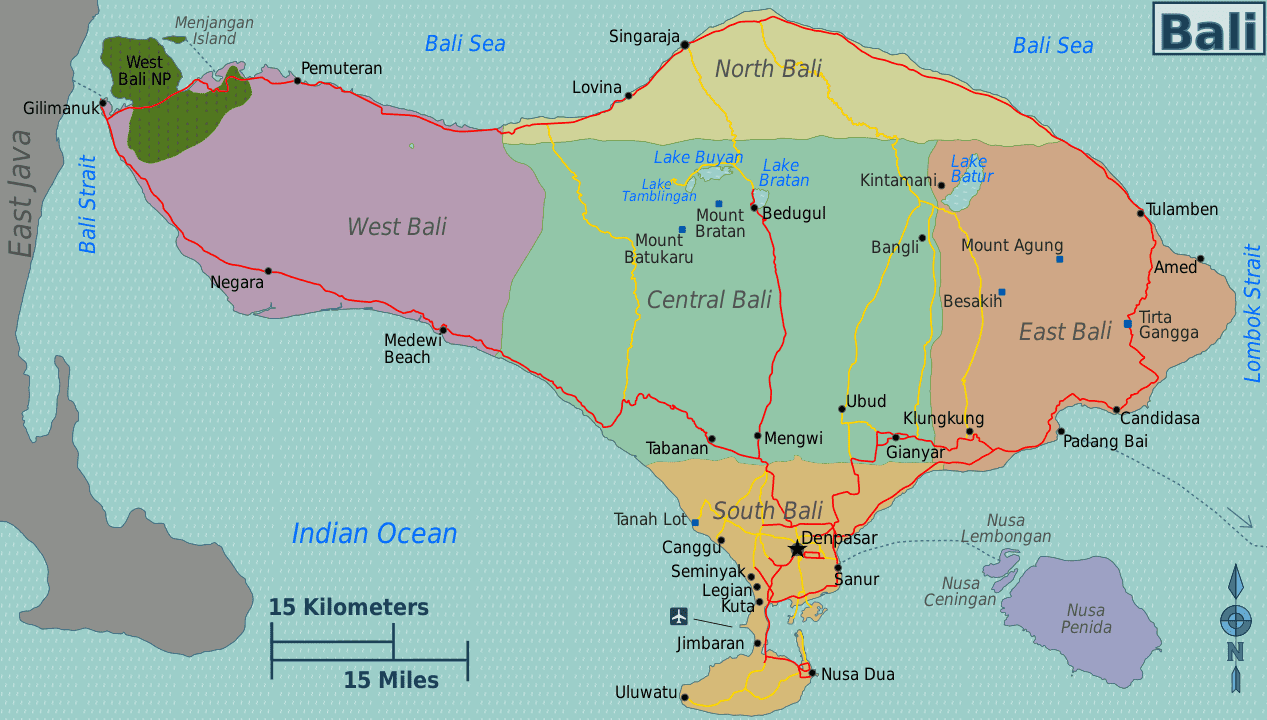 Bali is an island and a province of Indonesia between the islands of Java and Lombok, & it's surrounded by numerous small islands.
This island is geographically rich with dense green vegetation, numerous waterfalls, a whole lot of beaches, & is surrounded by turquoise water. Towards the northwest, there's even a mangrove that's now protected under the name of West Bali National Park.
As a province, Bali includes the main island of Bali and the islands of Nusa Lembongan, Nusa Ceningan, & Nusa Penida.
Accommodation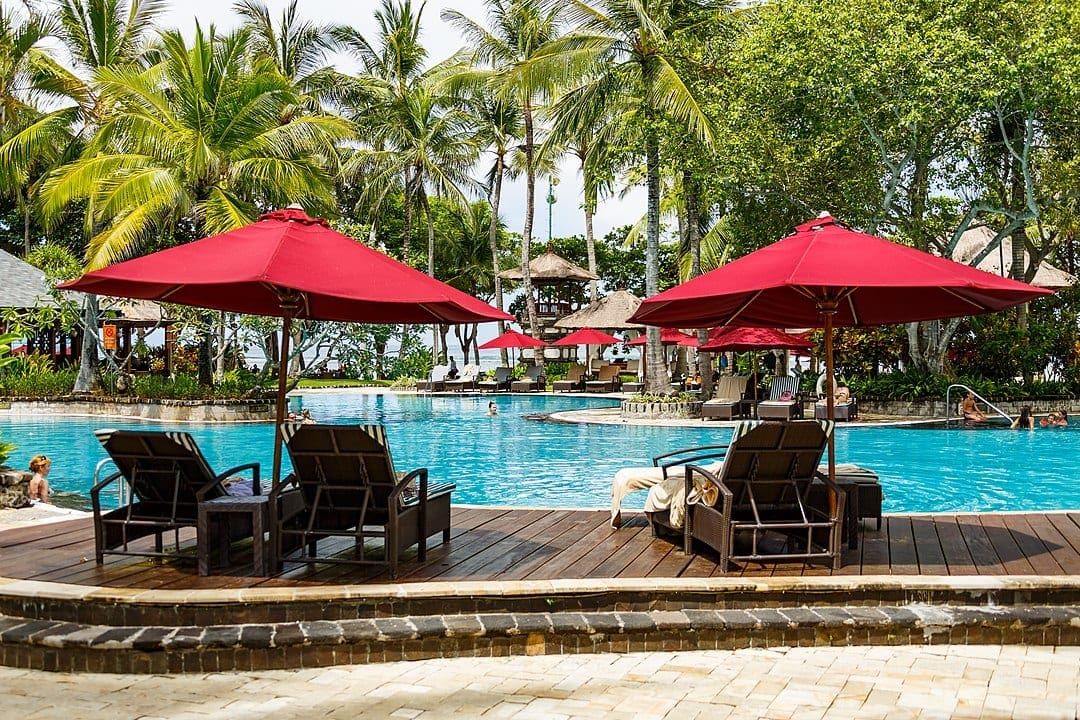 Bali is a destination for all kinds of travelers. It welcomes visitors from the western & eastern hemispheres, and domestic tourists, too. It attracts luxury tourists, business travelers, & backpackers. So Bali has everything from high-end resorts to vacation rentals, villas, long term rentals, & hostels for the backpackers.
Most of the hotels and resorts are in the south and the west in places like Kuta, Seminyak, & Canggu. Other places you find a range of accommodation options are Ubud, and also Sanur & Nusa Dua on the eastern coast.
Transportation
When you get onto the island by air, you'll be landing in Ngurah Rai International Airport located towards the southern part of Bali, near Denpasar.
To get to your accommodation you might want to take an airport taxi or take the help of a ride-share service so you get a fixed rate for your drop off.
To get around the island you could rent a motorcycle or a moped & with that you'll have flexibility, be able to save time, and it'll help you get through traffic a bit more easily. However, if you'd rather not deal with the traffic, driving on the left side & Bali's roads, you can opt for taxis, ride-shares, or rent a car and hire a driver to take you around.
Best time to visit
Bali is dry from April to October. That's when the island gets most of its visitors. If you'd like to go in the dry season but not when it's the busiest, the months to avoid would be June, July, & August.
From November to March it's rainy season in Bali. Although it doesn't rain every single day of the rainy season, things may not go according to plan. The rains could affect your outdoor activities like hikes, waterfall visits, beach time, & boat-trips.
Nearby destinations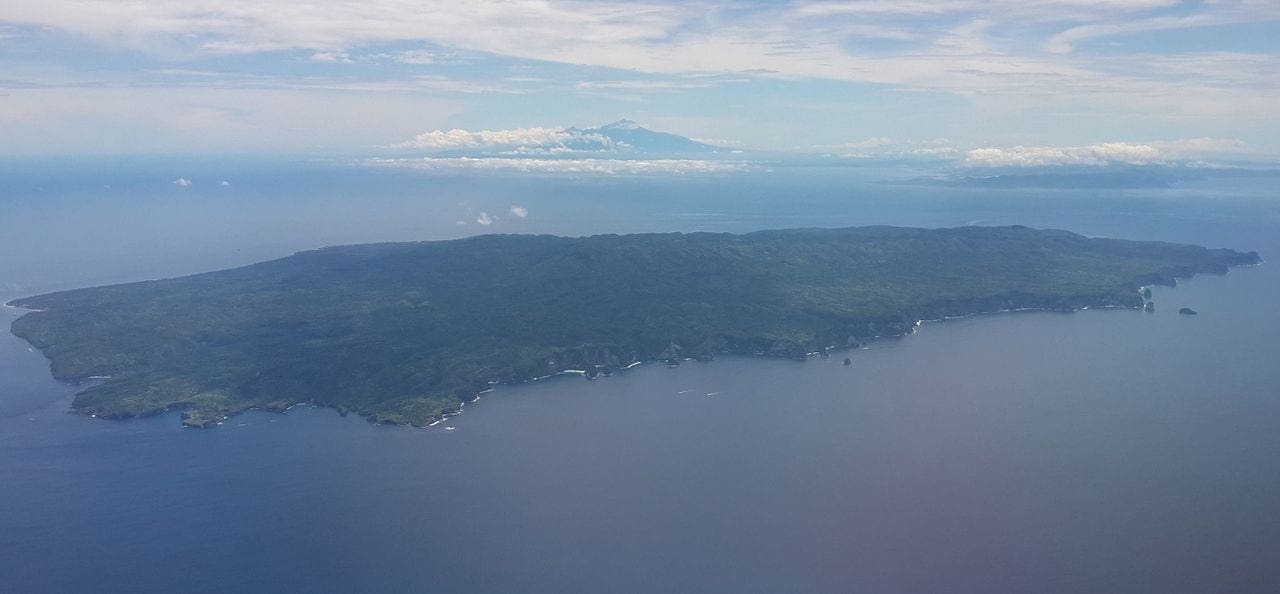 When on Bali, it's easy to hop over to the islands southeast of it, so I had to include nearby destinations in this Bali travel guide! You can take a ferry to Nusa Lembongan, Nusa Ceningan, & Nusa Penida. If you want to look further than these islands you could consider Gili Islands. Having come this far, if you'd like to go even farther, you could also think about Komodo Island!