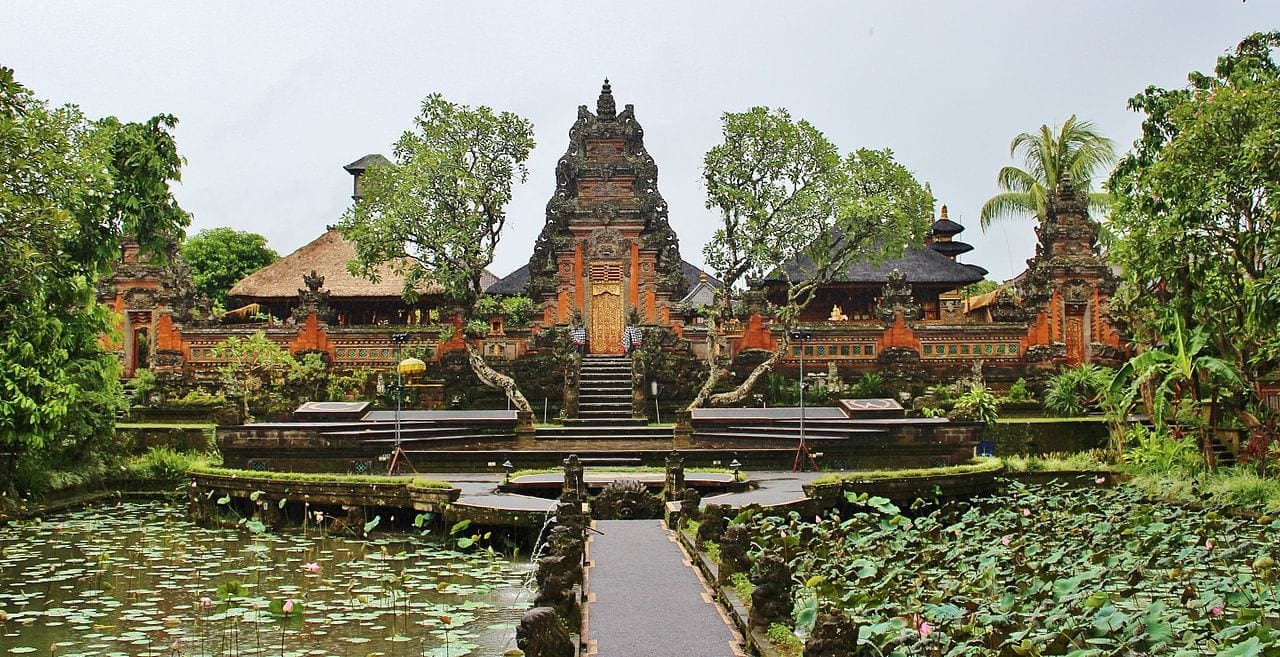 Ubud in Bali, Indonesia is said to be the cultural capital of the island. This is the town to go to experience Balinese Hinduism and the rich cultural practices of Bali. There are temples and museums that you must see. And it's a place to shop to your heart's content too! It's a town that's buzzing with tourist and local activities but its still not removed from its countryside. Just outside the town you can visit rice fields, rainforests, waterfalls and all. Here's a list of the top 10 things to do in Ubud, Indonesia.
1. Stroll through rice terraces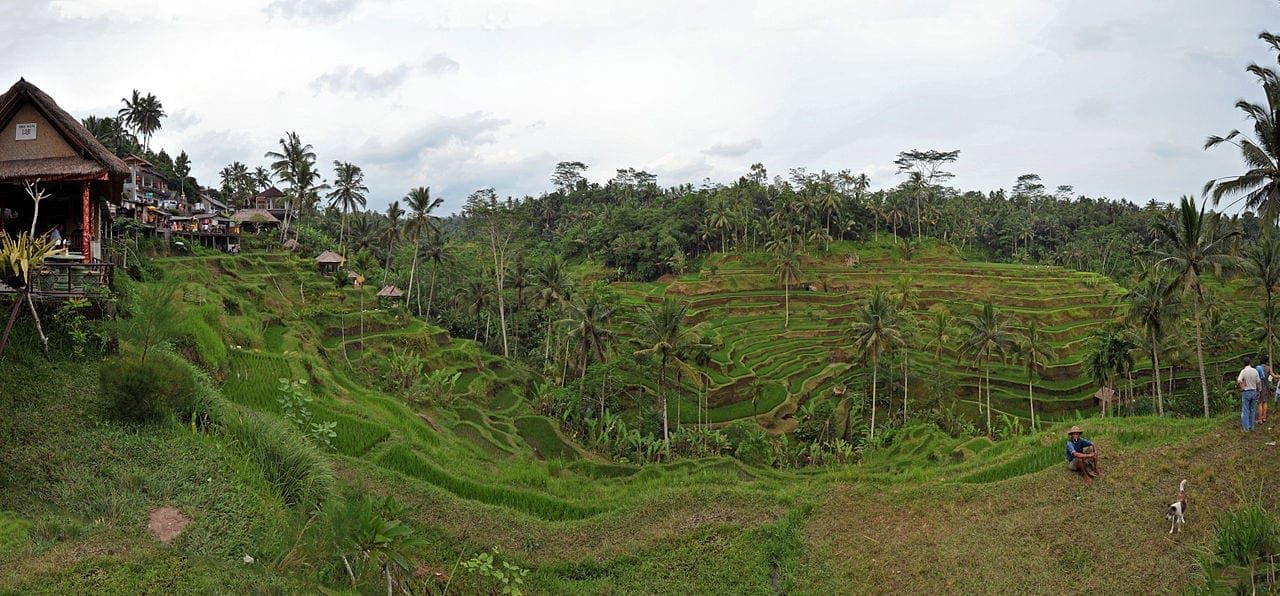 When you're in Ubud you must check out the rice terraces the area is known for. These green landscapes of paddy cultivated on hillside terraces are iconic to Ubud.
These rice terraces are perfect for strolls, photography, and for an experience of Ubud's countryside. Some of these hillside farms even have the famous swings of Bali, where you can get a feel of flying over rice fields!
One of the most visited areas is the Tegalalang Rice Terraces. If you go early in the morning you can be there when there are less tourists. And if you go in the late afternoon or evening, you'll be there when the sun is not too hot.
2. Go see the monkeys at Mandala Suci Wenara Wana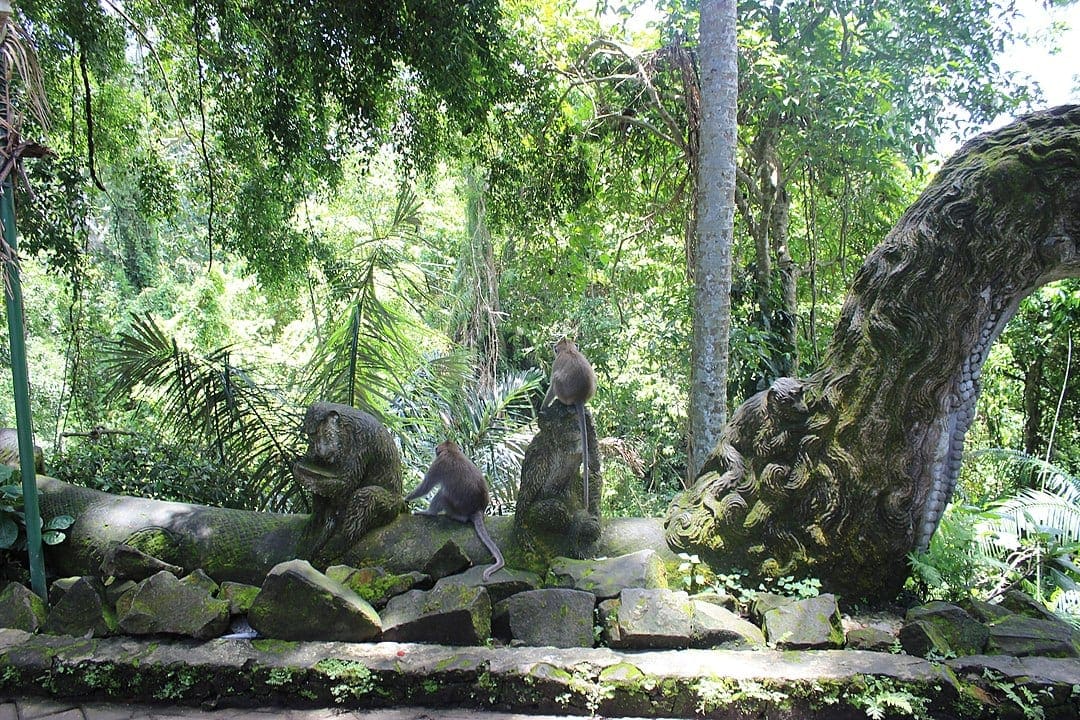 Mandala Suci Wenara Wana is a sacred Monkey Forest just outside Bali & it's an extremely thing to do in Ubud for tourists who get a thrill from being able to go to a place that's full of monkeys. And there's the fact that it's in the middle of a tropical rainforest.
There are three temples here, however it's the monkeys that are the bigger attraction. The macaques can be interacted with to a certain extent; just make sure you have a local to guide you with the feeding if you'd like to feed them with bananas available at the sanctuary. Also, make sure you're following the guidelines to stay safe in the presence of the monkeys that are still wild animals.
3. Admire the premises of Ubud royal palace
Puri Saren Agung, or the Ubud Royal palace, is a cultural landmark. Built in the 1800s, this palace is a specimen of Balinese architecture and a major attraction for visitors to the island.
A good part of the palace is set aside for royal use. However, there is still a lot to see and do here. Apart from the architecture, the intricate work on the buildings, the sculptures, & the gardens are musts to see. And in the evenings the palace turns into a venue for a traditional performance with the gates of the palace playing a grand backdrop for the event.
4. Go shopping at Ubud art market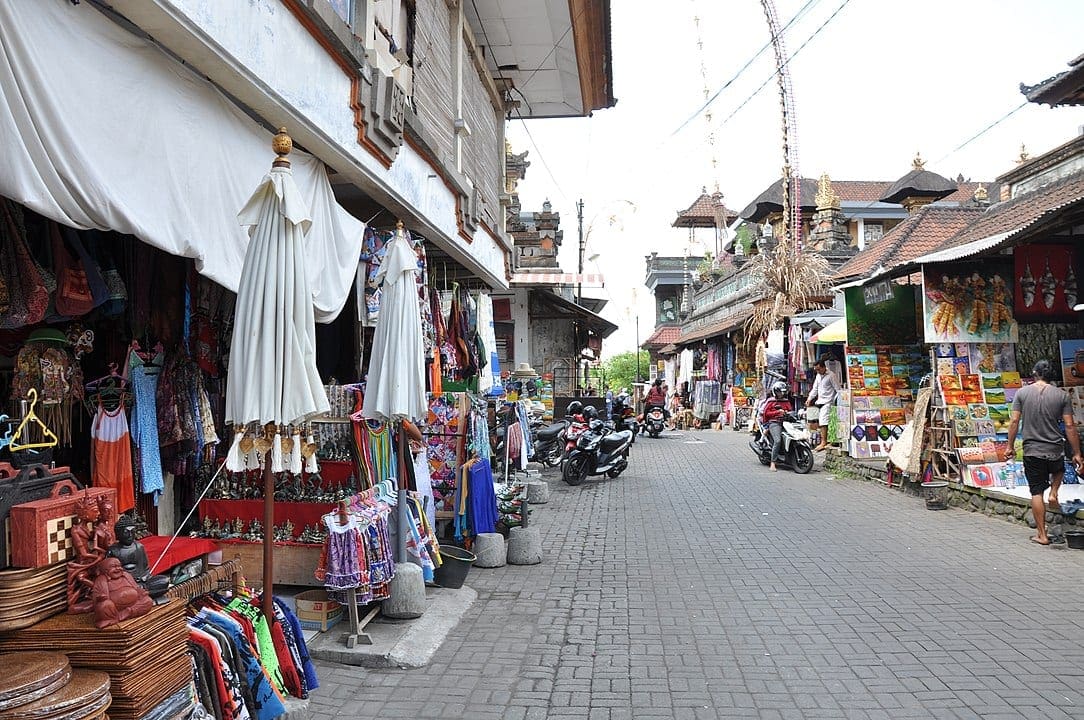 Just a stone's throw from the Royal Palace of Ubud is the Ubud Art Market, a place bustling with activity all day long. It starts off as a traditional market selling produce and flowers in the early morning hours. Later in the day, it takes on its art market name. If shopping is your sort of fun, this is a great thing to do in Ubud!
This art market is the perfect place in Bali to go street shopping. You can do all your souvenir shopping here. It's a colorful place with lots of attractive things calling out to you. You'll find everything from clothes to handicrafts and art.
5. Take in the energy at Ubud's temples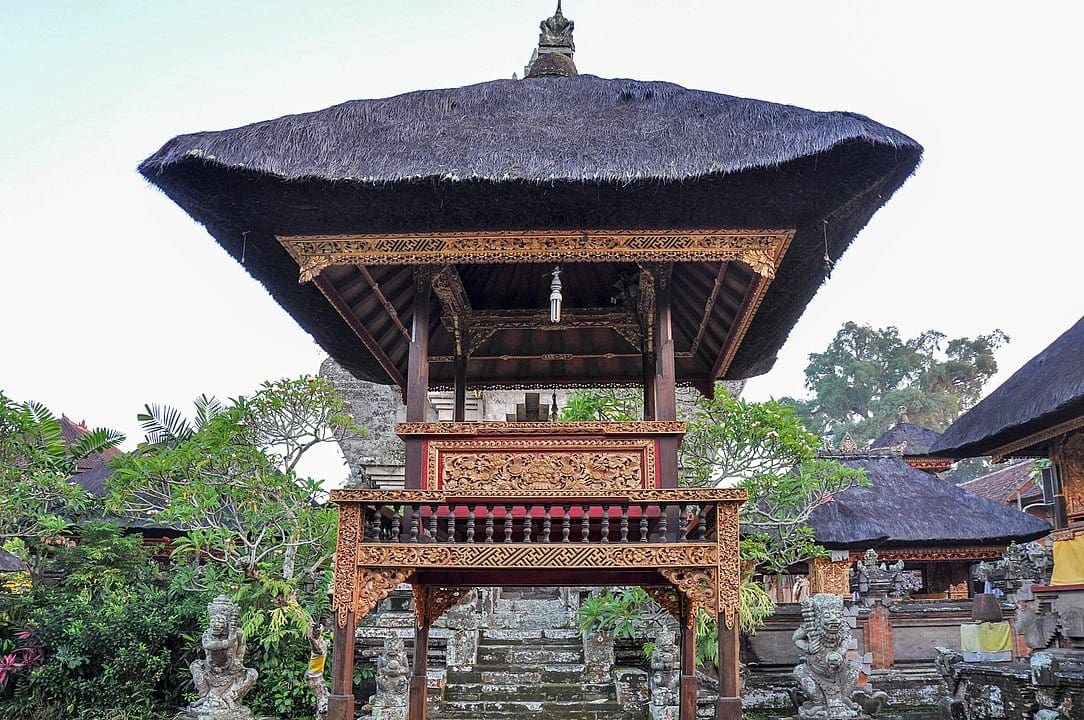 Ubud is home to a large number of Hindu temples which are a window into Balinese Hinduism. Some temple complexes allow you to go inside and take the blessings of the deities and take a dip in the holy water that is believed to purify you.
These are also places where you can see traditional architecture, sculpture, & cultural performances.
Some of the temples you can visit while you're in Ubud include Pura Desa, Pura Taman Saraswati, & Pura Dalem Agung Padangtegal. Pura Desa is considered the main temple of Ubud. The Saraswati temple is dedicated to the goddess of learning & it's one of the most visited temples in the Ubud area. Even if it's closed there's quite a bit to see: the style it's built in, it's ornamentation, & large lotus ponds. It's also called Ubud's Water Palace. Pura Dalem is also quite a sight but it's known most for being a venue for traditional dances.
The other temples that you might want to see are Ulun Danu Bratan – the floating temple, and the Gunung Kawi temple, which is built into a rock. There's also Goa Gajah, or the Elephant Cave, which has a lot of carvings on its rock walls.
6. Do the Campuhan Ridge Walk
When you want to get away from the action of Ubud, you could hike the Campuhan Ridge Walk, one of the best things to do in Ubud. The trail is paved & takes you through some greenery and onto the ridge that shows you a river and some rice fields of Ubud.
If you'd like a longer walk, you can walk into town on the other side and loop back & you'll have done close to 10 kilometers. The best time to hike would be in the morning or late evening when the area is on the cooler side. Going up the ridge to catch a sunrise is also a great idea!
7. Visit the Bird Park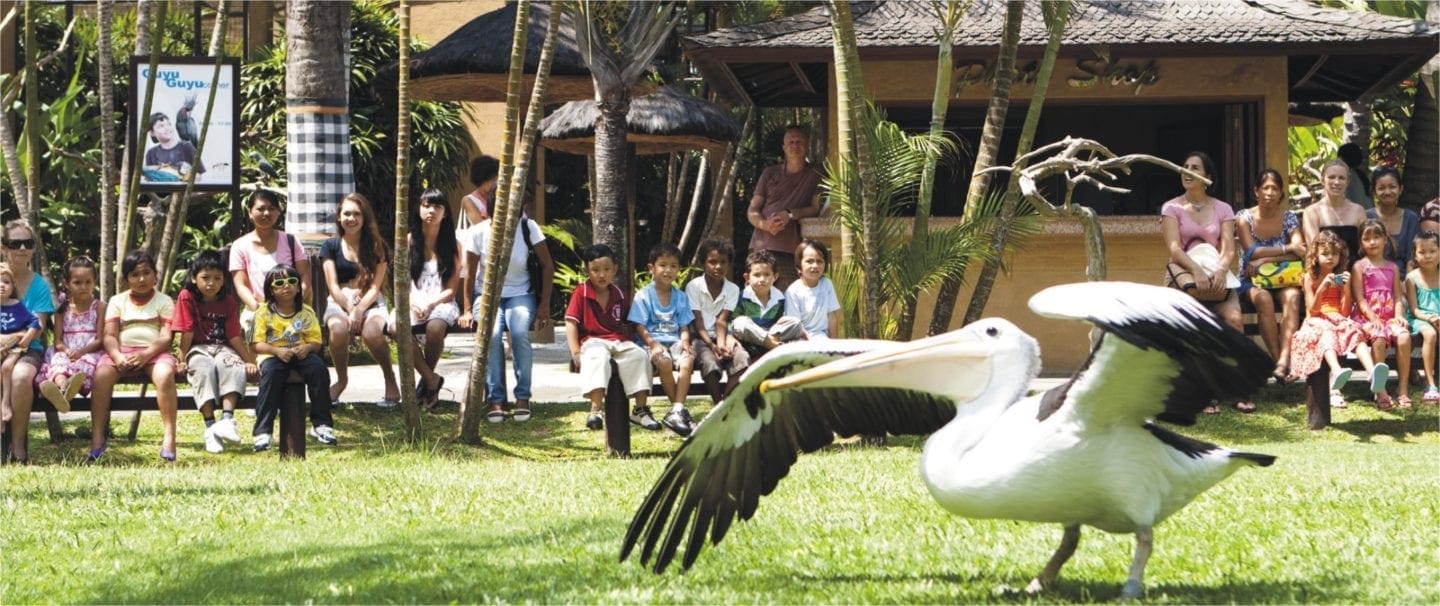 Ubud's Bird park is set in a tropical garden and is home to birds not just from the islands of Indonesia, but also from far away tropical regions of Australia, Africa, & South America. A must-see while you're there is the endangered Bali Myna.
Adjoining the Bird Park is an area that's dedicated to some reptiles. Go there to see Monitor Lizards and Komodo dragons.
If you're a bird enthusiast there are bird watching tours that start from Ubud and branch out towards different parts of the island. There's also a village that's known for its population of herons called Petalu.
8. Drive down to Tegenungan Waterfall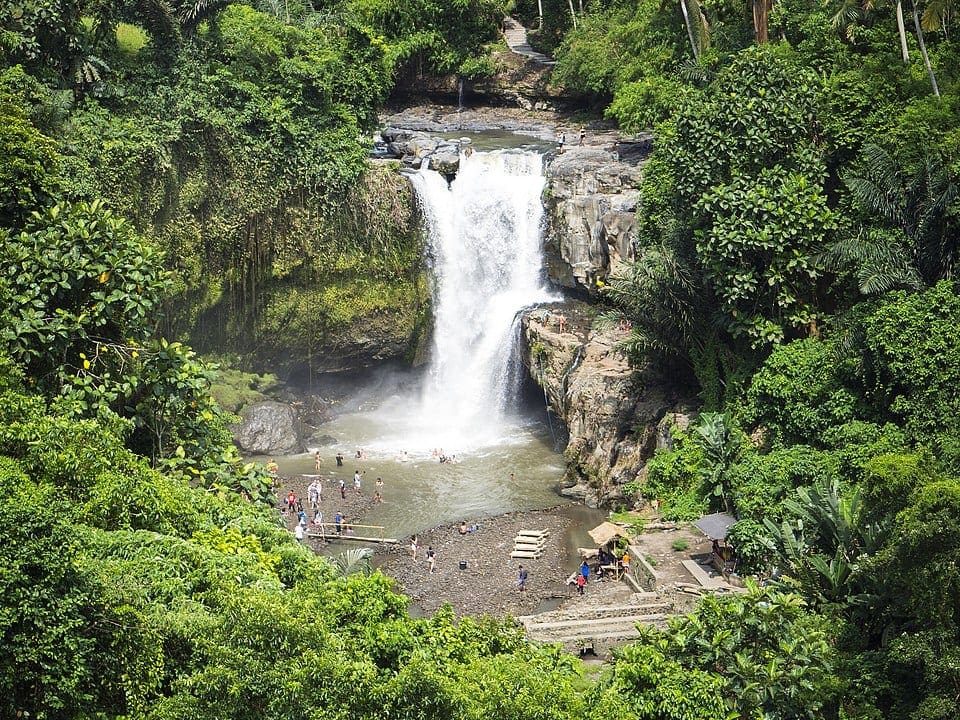 Tegenungan Waterfall, one of Bali's most celebrated waterfalls, is just a half-hour drive away from Ubud. The drive southeast is a pleasant one through rich green vegetation and paddy fields.
Once you pay your entry fees, you do a short hike to the waterfall in the middle of a forested area. There you can climb up the rocks or splash in the pool below the fall. Go early in the morning if you'd like to avoid the large crowds, because this is one of the most popular things to do in Bali!
9. Browse through Neka Art Museum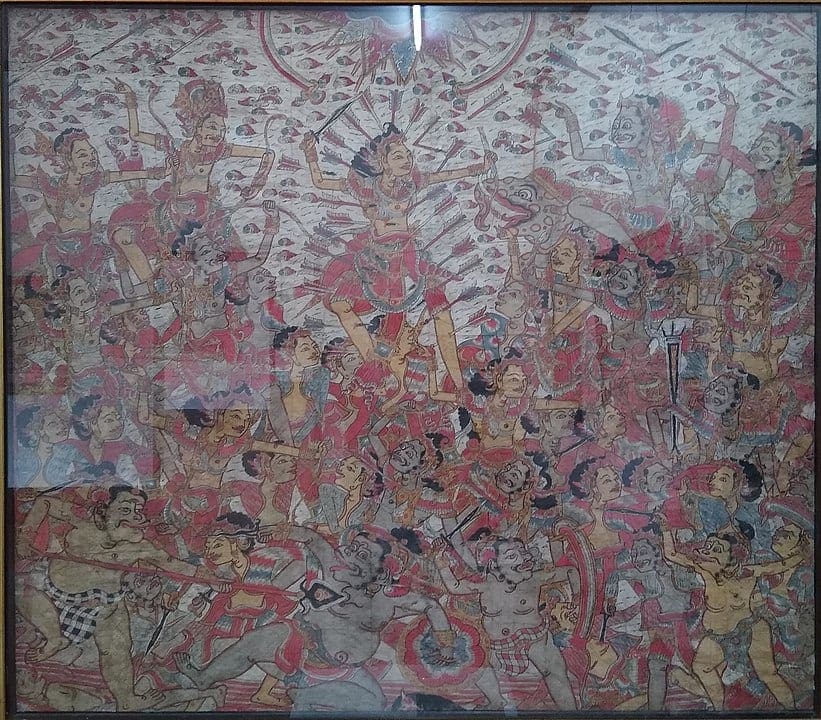 Ubud is known for being the cultural hub of Bali & the many museums dedicated to art is proof of that. Neka Art Museum specializes in Balinese art. It would be just the place to get familiarized with local art. In fact, the large collection will even give you an idea of the history of art on the island.
The exhibits here are well-organized and housed in 6 buildings built in Balinese style of architecture.
Neka Art Museum was founded by a teacher who was an art collector himself. So there are artworks from his own collection and pieces that he acquired from different parts of Indonesia. You'll also find a grand collection of Keris, or daggers, that belonged to his family, and also some Indonesian sculpture. You'll also find works of some western artists.
10. Indulge in some wellness tourism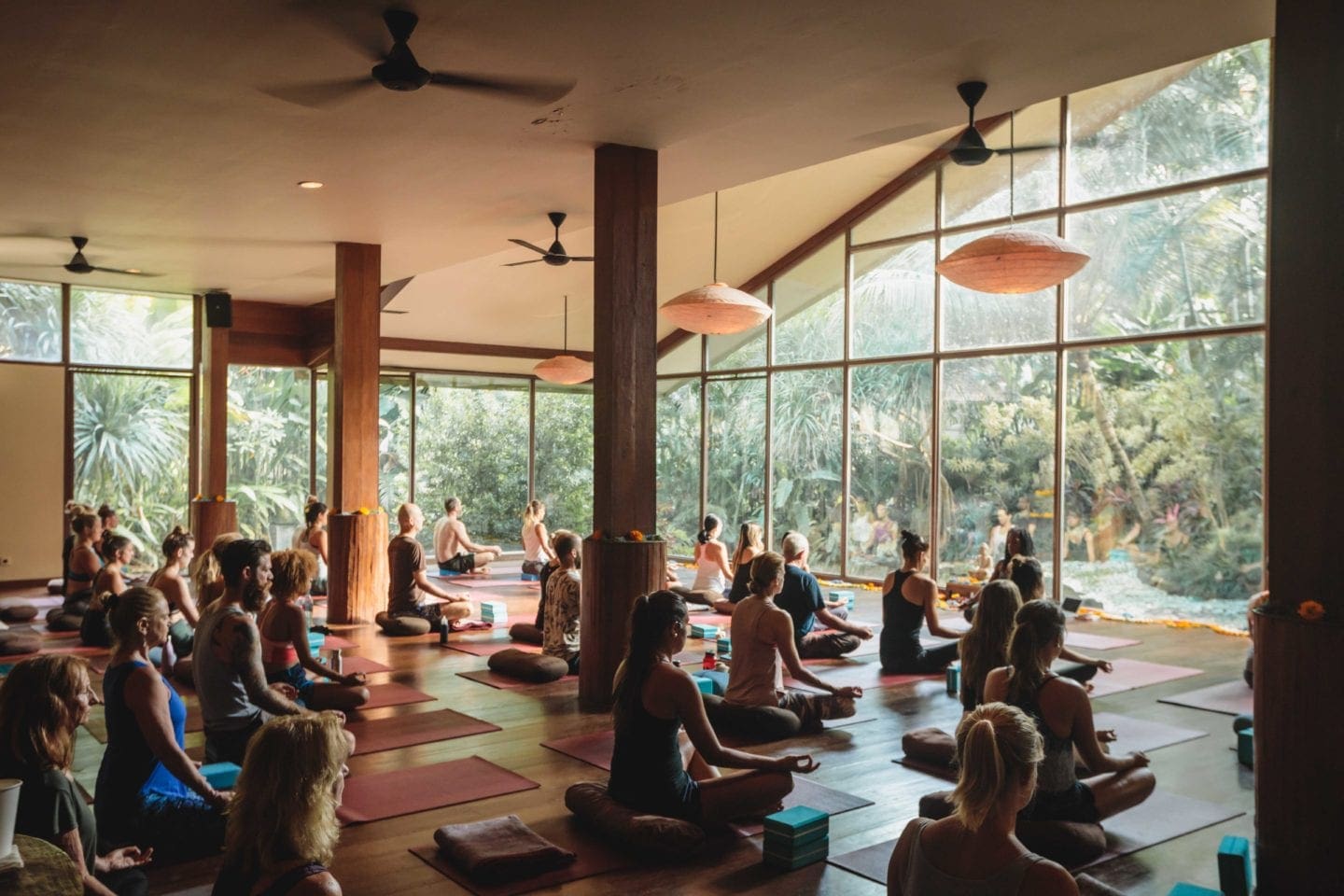 When you're in Bali, make sure to make room in your itinerary for massages, yoga, reiki, or meditation. You could go after a hike or a set aside a day or two to pamper yourself. These wellness options are very popular things to do in Ubud.
Many of the resorts in and around Ubud offer spa packages and there are separate centers too that offer their services in quiet and peaceful locations.