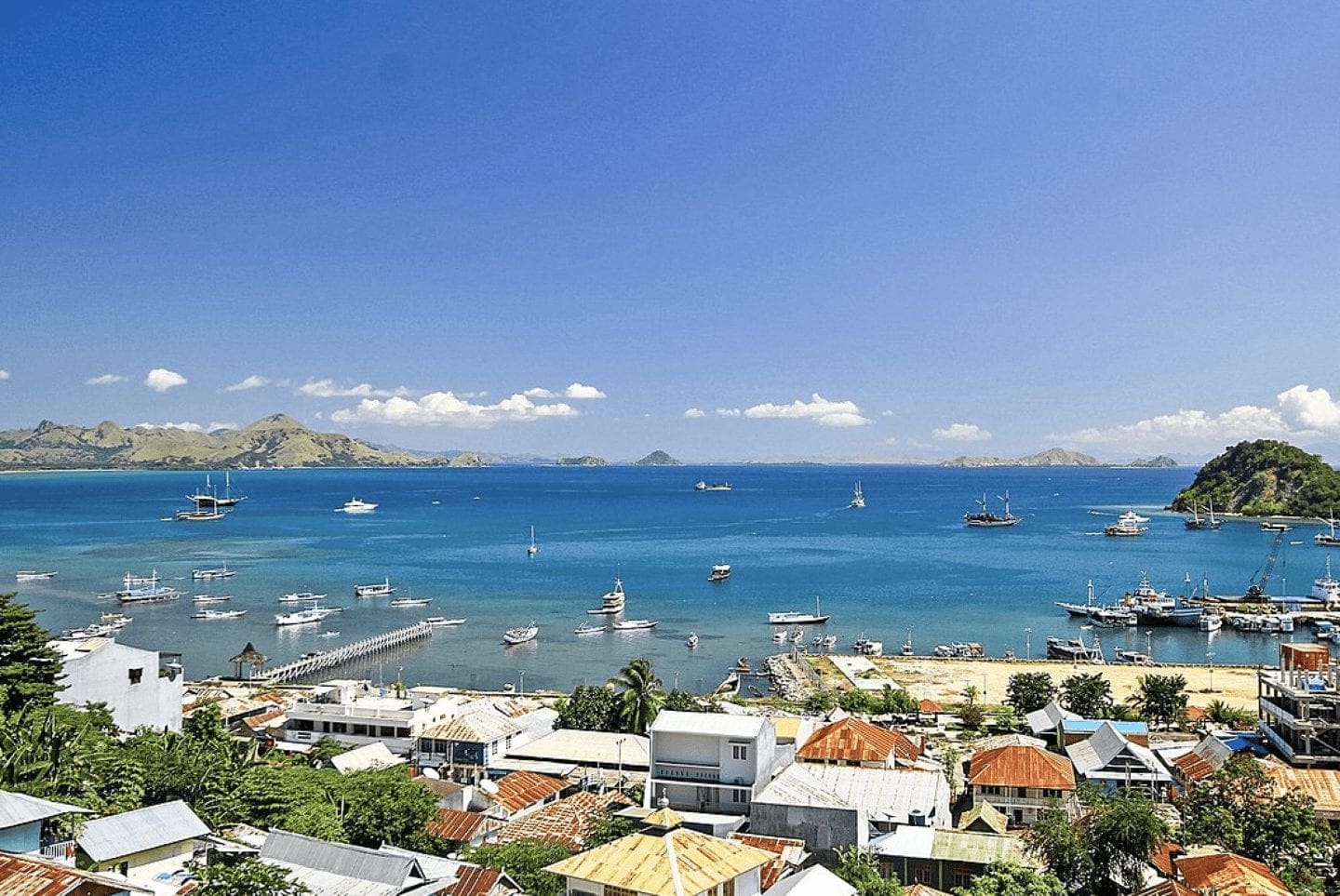 Labuan Bajo is a small town of the Lesser Sunda Islands in Indonesia. It's also an up and coming tourist destination in that part of the archipelagic nation. Sometimes spelled Labuhanbajo, this Indonesian town is mostly known for being the base for tours to Komodo National Park. However, more areas in and around the town are being developed in order to harness its full tourism potential. Read on for a complete Labuan Bajo travel guide.
History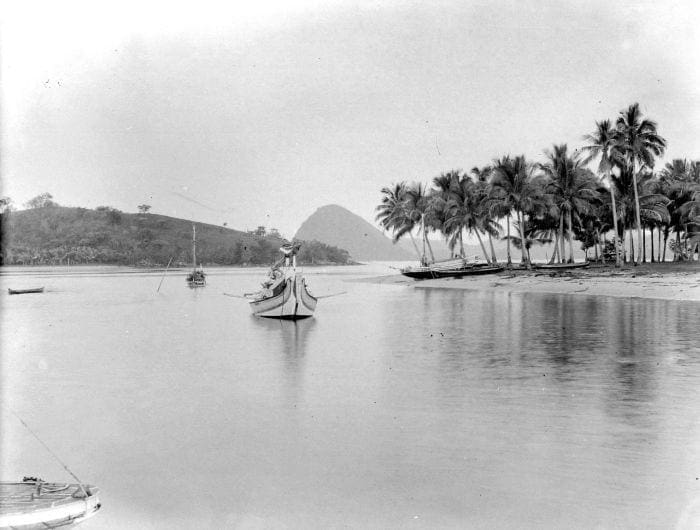 Present-day Labuan Bajo has several hotels, resorts, restaurants, and a whole lot of tour agencies. There's even a port that's getting busier and busier. Labuan Bajo was primarily a fishing town before tourism began taking over the area.
The port and the soil that was conducive to cultivation of crops like coffee, coconut, & hazelnut seem to have attracted Portuguese to these parts. Labuan Bajo was under Portuguese control in the 14th & 15th centuries. It was these colonists who named the island 'Flores,' meaning flowers.
In 1980 Komodo National Park was set up on islands near Flores, and Labuan Bajo became more popular. Over the last decade, the port has been expanded and the area has begun to see more tourist infrastructure put in place.
What to see and do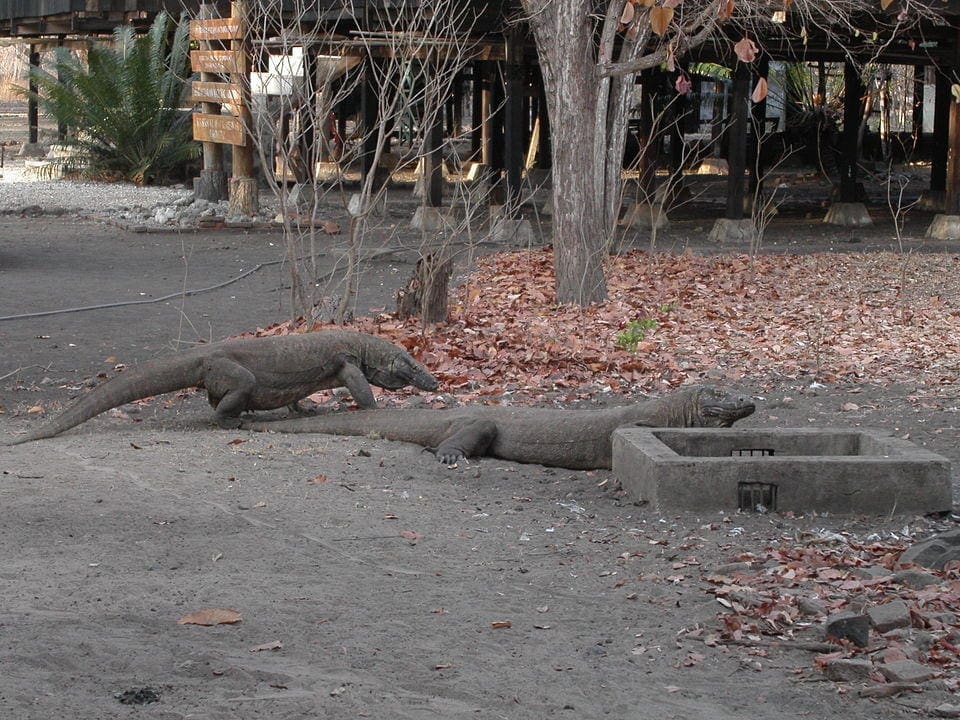 Being in the coastal area of the island of Flores, and having a mountainous terrain, Labuan Bajo's tourist attractions include snorkeling spots, beaches, & vista points. Some people even think it can be called 'a city of sunsets' because of the number of places in town from where you can get an unobstructed view of the sunset!
A few miles out of town there are a couple of waterfalls & some caves that have become points-of-interests for visitors to Labuan Bajo. One of those caves is a sea cave that can be swum in, and the other is known to put up a spectacular light show when sunlight falls through a gap in the cave.
If you'd like to see some buildings in the area, there are some churches & mosques, and traditional dwellings too.
What brings most visitors to Labuan Bajo, however, are the large number of tour offices that arrange tours to Komodo National Park. These agencies are lined up on the main road of the town.
For more ideas on what to do here than are included in this Labuan Bajo travel guide, check out my post: Top 10 Things to do in Labuan Bajo.
Food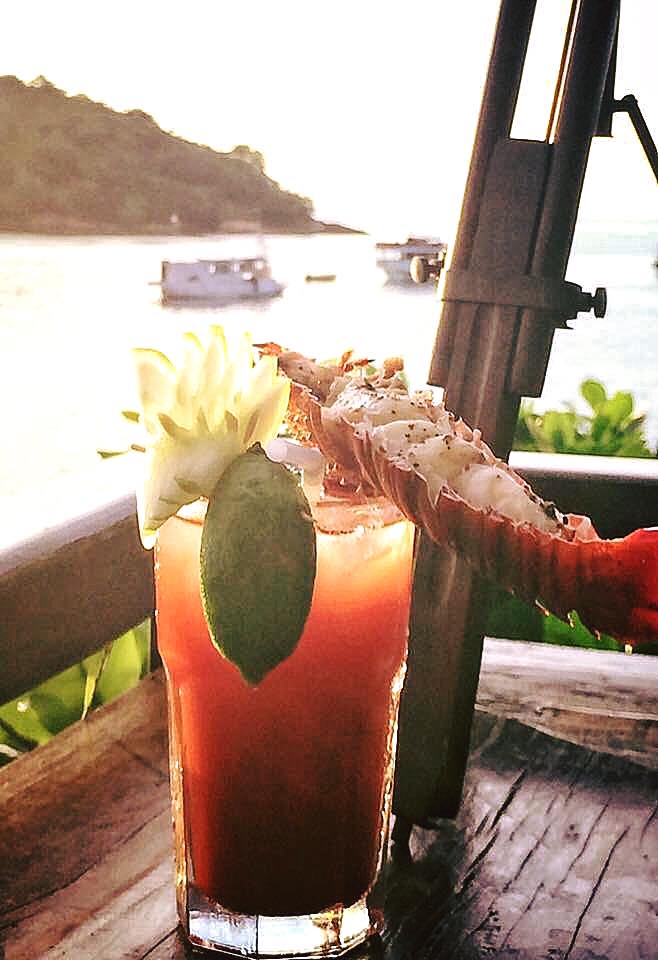 This main road that starts at the port and goes into town is where most of Labuan Bajo's restaurants are. For a town the size of Labuan Bajo, there are many restaurants serving Indonesian cuisine as well as food from other parts of Asia & Europe.
Indonesian food can be found at warungs, or local eateries, and other restaurants on the busier part of the road. You'll find several restaurants serving Italian food in Labuan Bajo. The town even has a few fine-dining options.
A good number of Labuan Bajo's restaurants open out to the sea offering grand views of the Flores Sea, the port, & the islands around, making them the perfect place for evening cocktails.
For specific places to eat that are not included in this Labuan Bajo travel guide, check out my post: Best Restaurants in Labuan Bajo.
Shopping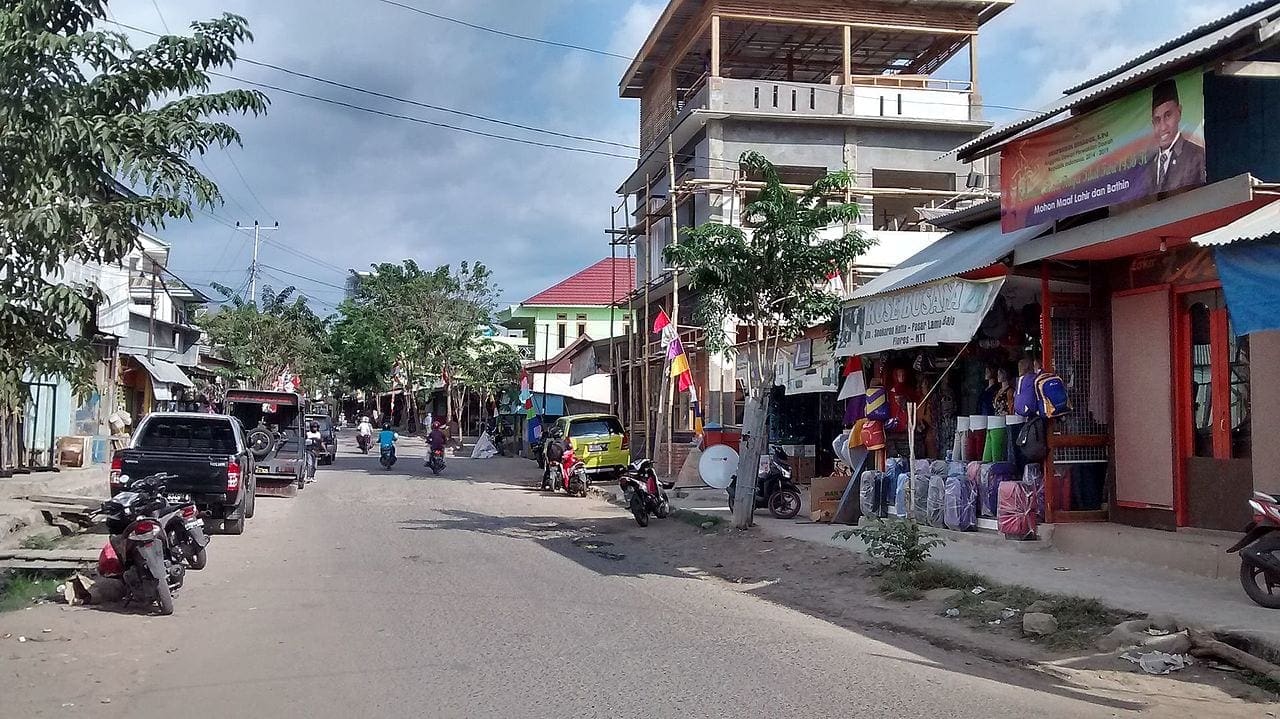 Labuan Bajo has morning markets and supermarkets where you can pick up your essentials.
The town's main areas, especially Soekarno Hatta, have shops that sell goods that can make great souvenirs for your trip to Indonesia. You'll find Komodo dragon souvenirs, clothes, traditional textiles like the Ikkat, & handcrafts that you can take back as gifts.
Geography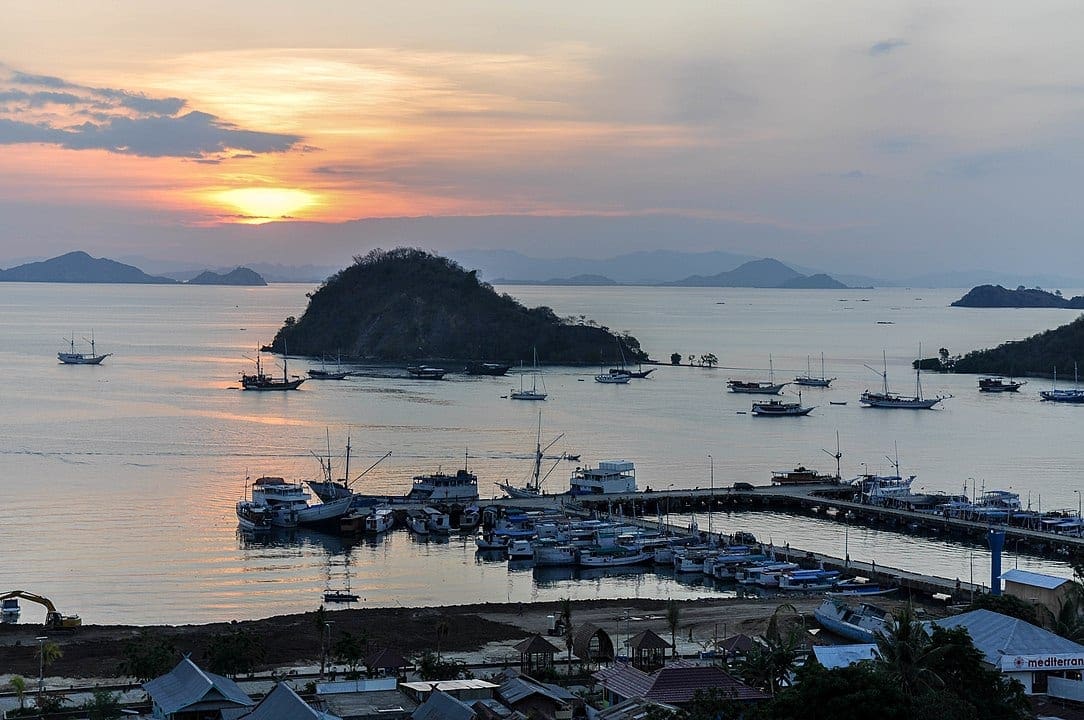 Labuan Bajo is a small town in the northwestern corner of Flores Island, which lies in Eastern Indonesia.
The beaches, the harbor, the mountainous nature of the island that gives it many vantage points, caves, & waterfalls have all helped Labuan Bajo be the promising tourist town it has become.
Its nearness to several other islands rich in animals like the Komodo dragon & flying foxes have also helped Labuan Bajo. The area is also rich in marine life, giving visitors ample snorkeling opportunities in this part of East Nusa Tenggara.
Accommodation
Labuan Bajo might be an upcoming tourist destination in eastern Indonesia. However, its hospitality industry has already come a long way, giving visitors quite a bit of choice when it comes to picking an accommodation in this part of Flores.
There are a number of homestays in the port area that have become quite popular. There are also several 3-star and budget hotels, as well as resorts that tourists can opt for.
Those who would like to delve further into the cultures of the island can stay in some tourist villages farther away from the town.
Transportation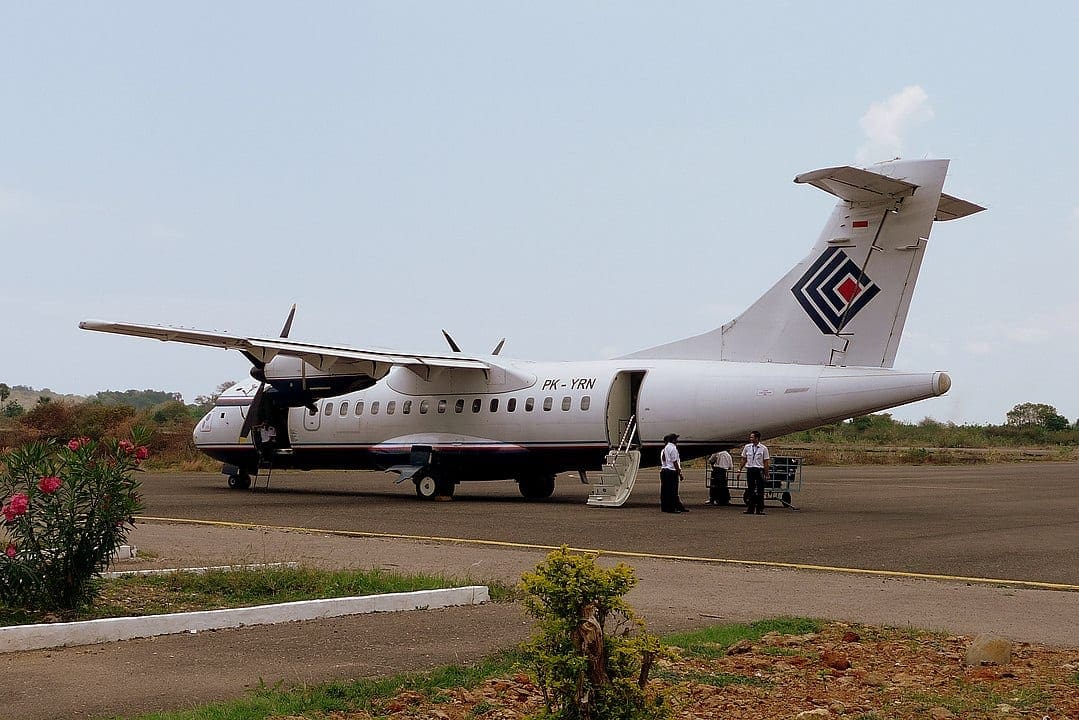 With Labuan Bajo being a port town it sees quite a few boats, ferries, and ships enter & leave its harbor daily. Many of Labuan Bajo's visitors come on ferries from Bali, Sape, Bima, Sumbawa, Lombok, & Makassar.
The town has an airport too. At Labuan Bajo Komodo Airport there are air services to and from Bali & Jakarta. From the airport, you can take a taxi to your hotel or homestay. Some accommodations have airport pickups & drops for their guests.
To get around the island tourists can take taxis, ojecks – or motorcycle taxis, or even rent a car and hire a driver. If you'd like to do it all on your own, you could rent motorcycles. Also, there's public transportation in the form of bemos (minibuses).
Best time to visit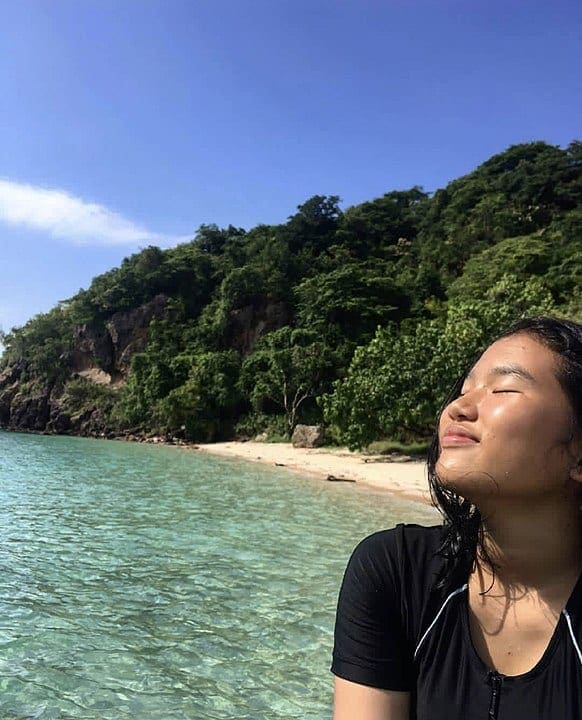 The best time to visit Labuan Bajo is between June & September. This way you make sure there is no rain to foil your plans to ride to Rangko Cave, hike up the hills of Padar Island, or hike into Komodo dragon territories.
Nearby destinations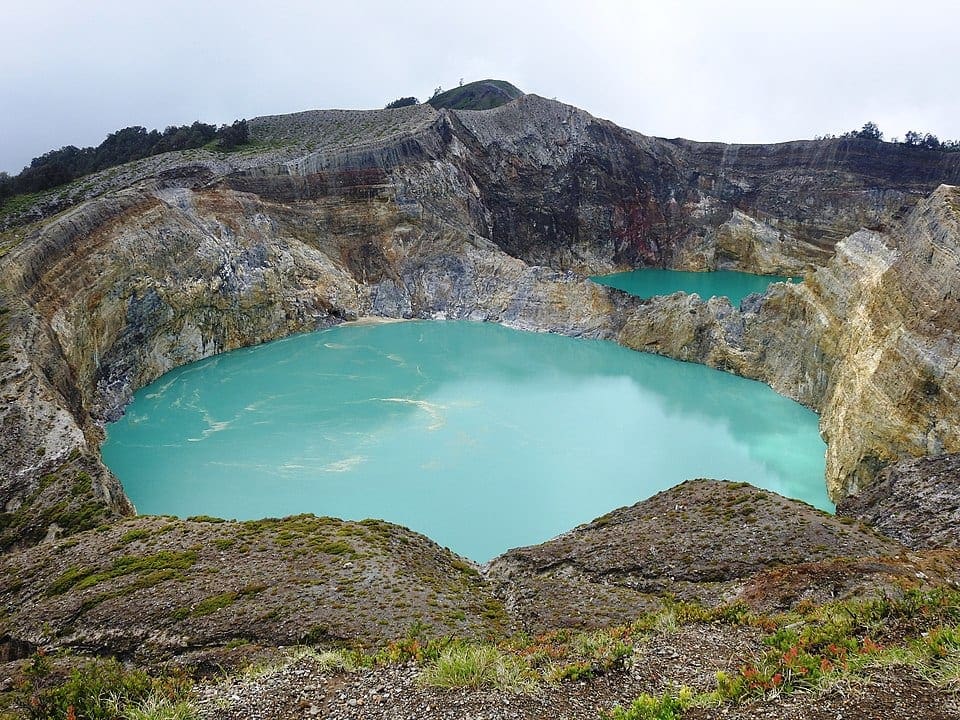 While this is a Labuan Bajo travel guide, it's important to note the many places around it! The most popular destinations near Labuan Bajo are undoubtedly the Komodo Islands, which is made up of Komodo Island, Rinca Island, & Padar Island. While Komodo Island & Rinca Island are places to see the Komodo Dragon, Padar Island is known for its natural beauty. You can hike up the hills that offer stunning views, enjoy its beaches, or snorkel its waters.
The nearby islands of Kanawa, Bidadari, & Seraya are also places to go snorkeling. Kalong Island and its mangroves are known for the flying foxes or the fruit bats that create a spectacle in the sky at dusk & dawn.
Other places you might want to explore when in Labuan Bajo include the traditional villages to the east of the town, and Kelimutu National park where you can hike to some crater lakes.