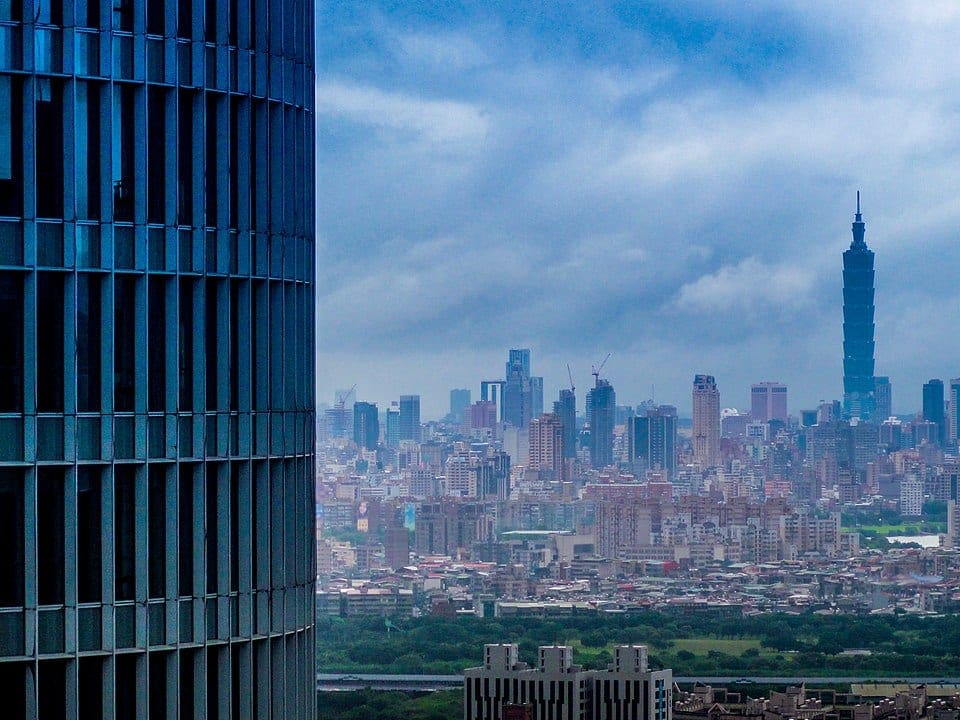 Taipei in Taiwan is a amazing place to visit with its mix of modern and traditional architecture and lifestyle. Being the cultural & political capital of Taiwan, there is much to see and do in Taipei, both in the city and just outside it. Taipei's outdoors has a lot of natural attractions to offer visitors to the city. Hiking, visiting waterfalls, & getting into hot springs are just some of the top 10 things to do in Taipei.
1. Watch the change of guard at Chiang Kai-shek Memorial Hall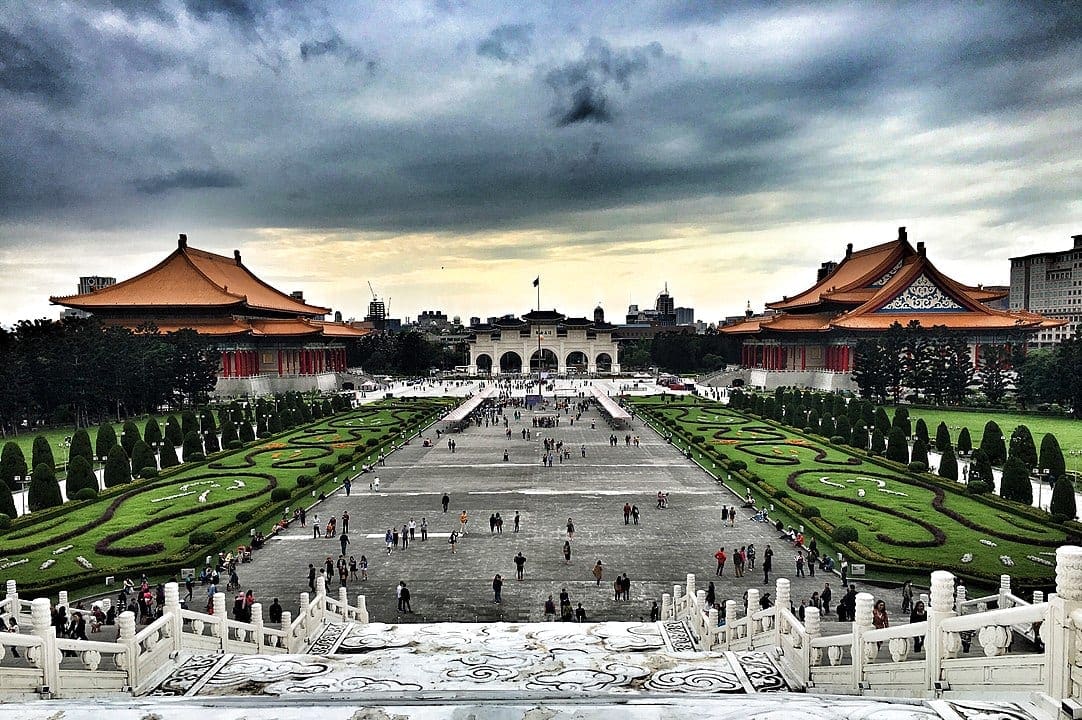 Chiang Kai-shek Memorial Hall is one of the most visited landmarks of Taipei. This white building with a blue roof was built in honor of Chiang Kai-shek, the first president of the Republic of China, aka Taiwan.
This monument houses a library, a couple of cars, & some other possessions of the political figure. Visiting here will tell you all about Chiang Kai-shek's life and the history of Taiwan as well. Also known as Liberty Square, this place has a large area where protests are often held. Around the memorial hall are some well-kept gardens with koi ponds & fruit trees that are also open to the public.
Most tourists visit Chiang Kai-shek Memorial Hall to watch the change of guard that is held at the top of the hour throughout the day. The ceremonies of hoisting and lowering the flag are also popular to watch.
2. See the architecture of historical Longshan Temple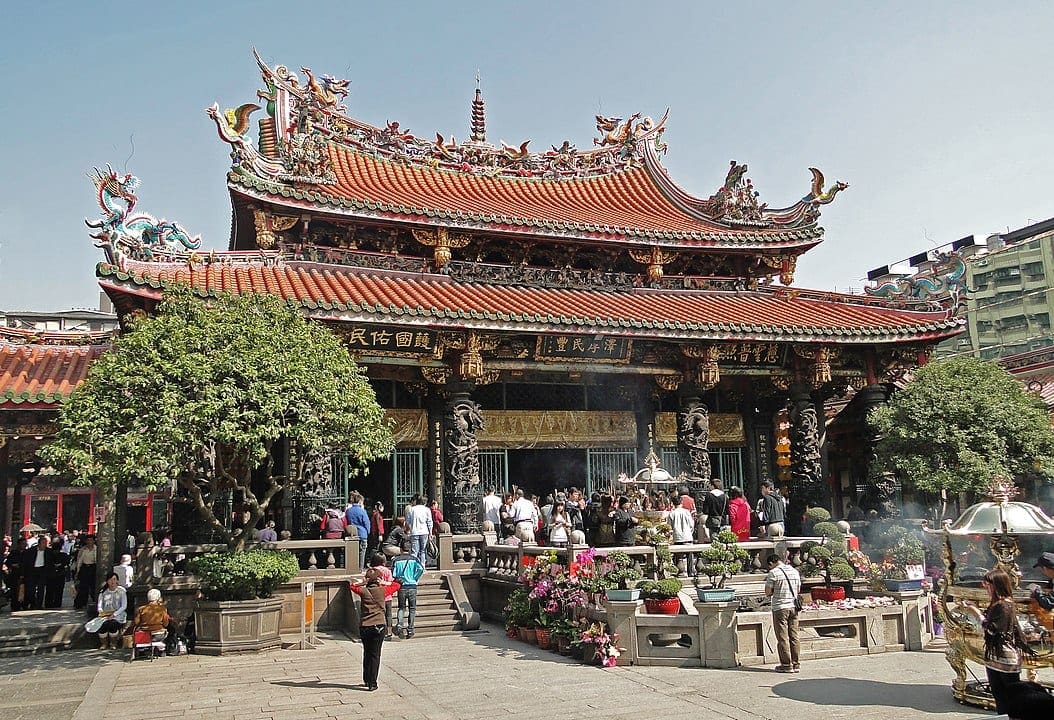 Another recognizable structure that is an integral part of Taipei is Longshan Temple. This temple is said to have been built in the 1730s in dedication to Guanyin — the Goddess of Mercy. However, the temple also has idols of many of the deities of the local folklore.
Longshan Temple is one of the top things to do in Taiwan & is a place to see Taiwanese temple architecture with all its traditional roofs, carvings and all. This temple has time and again met with destruction from natural calamities like earthquakes & typhoons and also from the Second World War. And every time it's been rebuilt and taken care of by the locals.
Longshan Temple is a busy tourist place. You might want to visit it early in the morning or late in the evening if you'd like to avoid the big crowds that this place is known to get.
3. Ride to the top of Taipei 101 in a super-fast elevator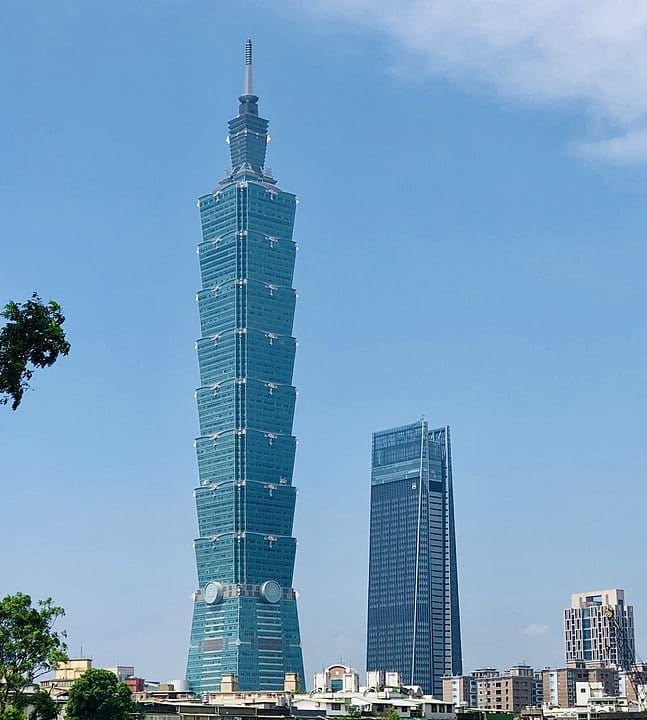 The one building that's impossible to miss while in the capital of Taiwan is Taipei 101. All of 1667 feet, this tall construction is the tallest building in Taipei. It became the world's tallest building in 2004 when it was built and it stayed that way until 2010 when the Burj Khalifa came into being in Dubai.
When in Taipei, don't miss the opportunity to check out this iconic structure that resembles a bamboo stem. The first few floors of the building offer shopping opportunities. There are food courts in there, too. A must-do here is to take the high-speed elevator to the top floors where the observations levels are. It's just around a 40-second ride to the top, and you can see 360-degree views of the city from the 89th-91st floors.
4. Hike up Elephant Mountain for the views

Now if you'd like to see Taipei 101 from afar and see how it stands tall amidst the skyline of Taipei, you could hit the Xiangshan Hiking Trail. It's just around 15-30 minutes from the town & one of the best things to do in Taiwan.
The trail does get steep and it requires you to climb a whole lot of steps, but there are many places where you can pause and take in the views of the city. There are great photo opportunities too.
The best times to be up on Elephant Mountain are at sunset, sunrise, or at night when all the city lights are on.
5. See Chinese artifacts at the National Palace Museum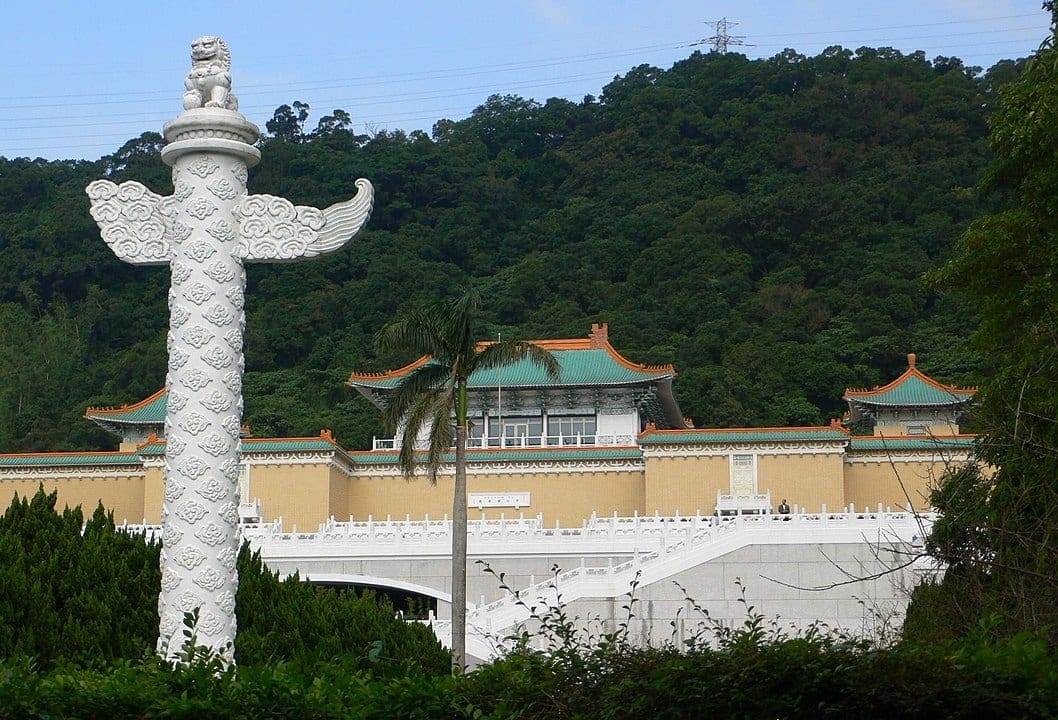 Taipei's National Palace Museum is yet another attraction that almost always makes its way into Taipei itineraries as one of the best things to do in Taipei. This museum is said to have a massive collection of Chinese cultural items that were brought over during the Chinese Civil War.
The exhibits here include everything from paintings to ceramics, books and other artifacts that belonged to several dynasties that ruled the area. You can opt for an audio tour to learn more about the imperial collections.
6. Revisit Taipei's history at Fort San Domingo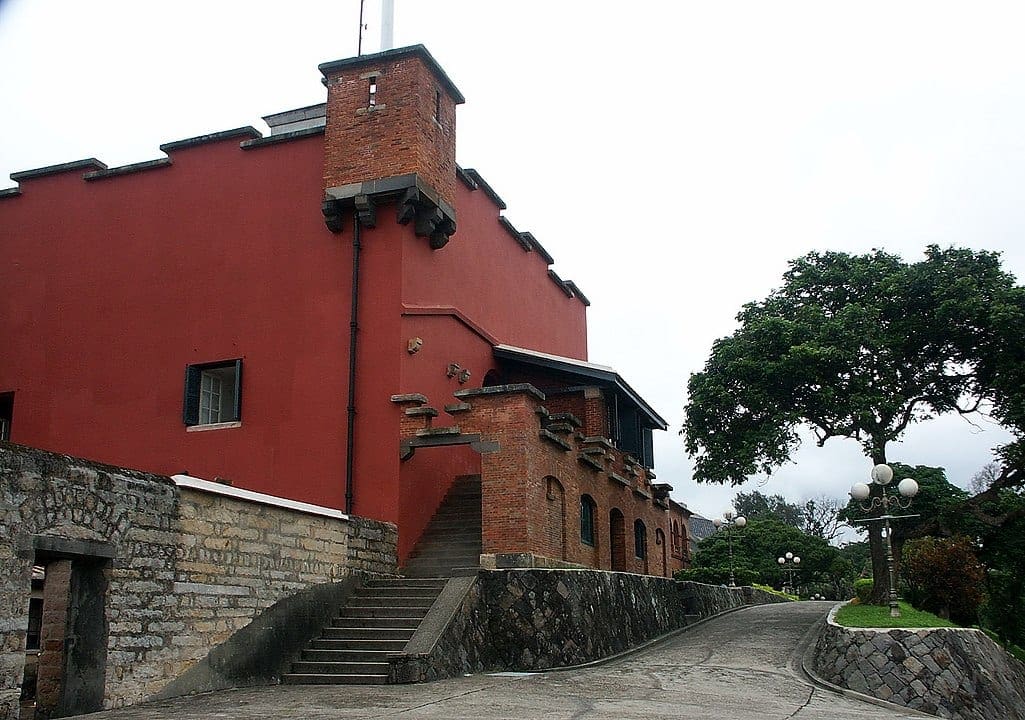 The place to go to learn about Taipei's colonial history is Fort San Domingo. The fort has a long history of its own. It was first built by the Spanish & later destroyed. Then the Dutch rebuilt it. Later the Qing Dynasty added to it, and it changed hands from the British to the Japanese and even to Australia & the US.
Now a National Historic Site, it's open to tourists and anybody who wants to learn about Taiwan's past.
7. Get out to Yangmingshan National Park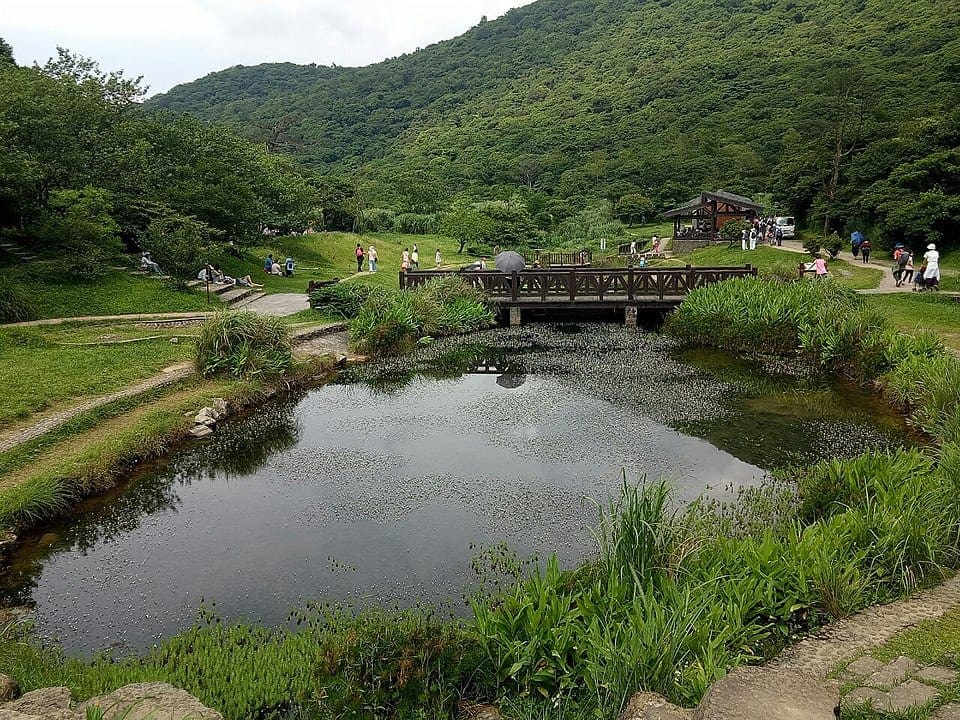 Yangmingshan National Park is one of the 9 National Parks in Taiwan and it's just a short ride away from the city if you want to go somewhere green, do some hiking, see more views, or experience some volcanic activity.
Yangmingshan is known for being an active volcanic area with sulphur springs and steam vents. It's also where Taiwan's tallest volcano, the dormant Seven Star Mountain, is. There are also some historical buildings situated within the park.
8. Drive to Shifen Waterfall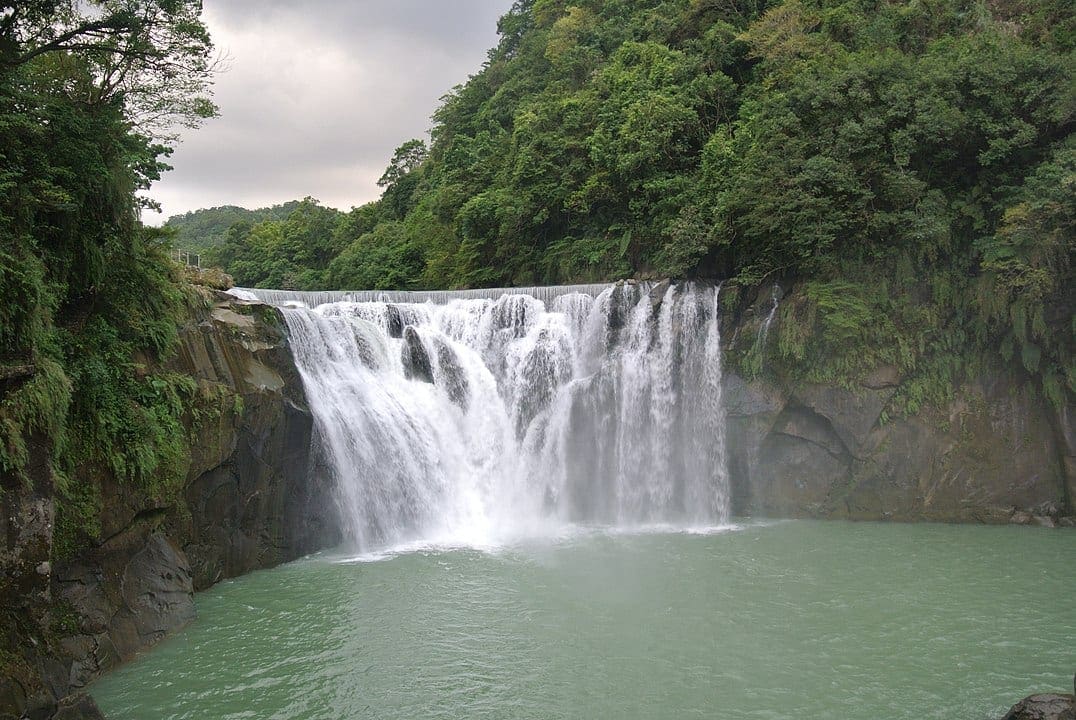 If you want to see more of Taiwan's natural beauty, Shifen Waterfall is just around an hour's drive out east. It's one of the coolest things to do in Taiwan and it is quite a sight to see.

Here Keelung River drops from a height of 66 feet. Shifen is also the broadest waterfall on the island. It's around 130ft wide and in the shape of a horseshoe, so Shifen is often referred to as the Little Niagara of Taiwan.
9. Hot springs at Wulai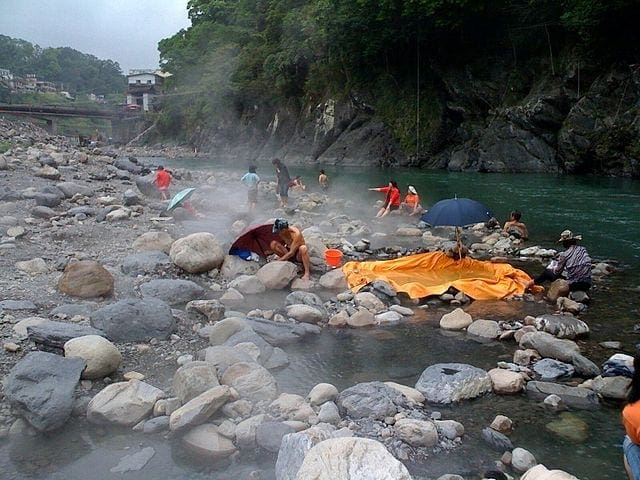 With all the geothermal areas around Taipei, it would be a shame if you didn't get to spend some time at a hot spring.
The hot springs at Wulai is a popular place to go and it's easy to get to by public transport or by taxi. There are both public & private pools that you can opt for here. Most of the public ones are situated on either side of the Nanshi river and most of them are free of charge. However, if you'd like a soak in the luxury of private ones, you'll find some resorts with private rooms too.
10. Explore Shilin Night Market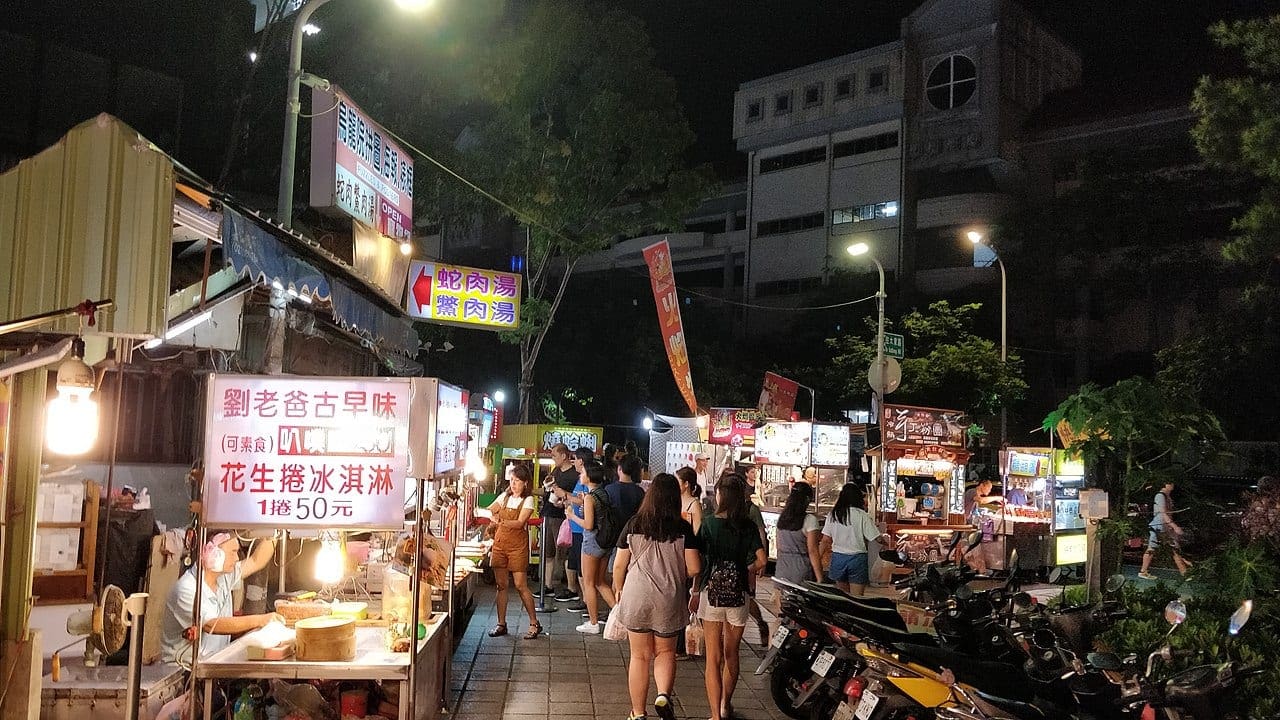 Night markets are an indispensable part of Taipei so you must make it a point to go to at least one while you're in the Republic of China. Shilin Night Market in Shilin District is one of the most popular & largest ones.
This night market began operation in 1913 as a small market near the wharf, has expanded, and now accommodates over 500 vendors dealing with everything from clothes & accessories to food & games. The night market is a great place to shop, window shop, drink bubble tea, and try some Taiwanese street food.