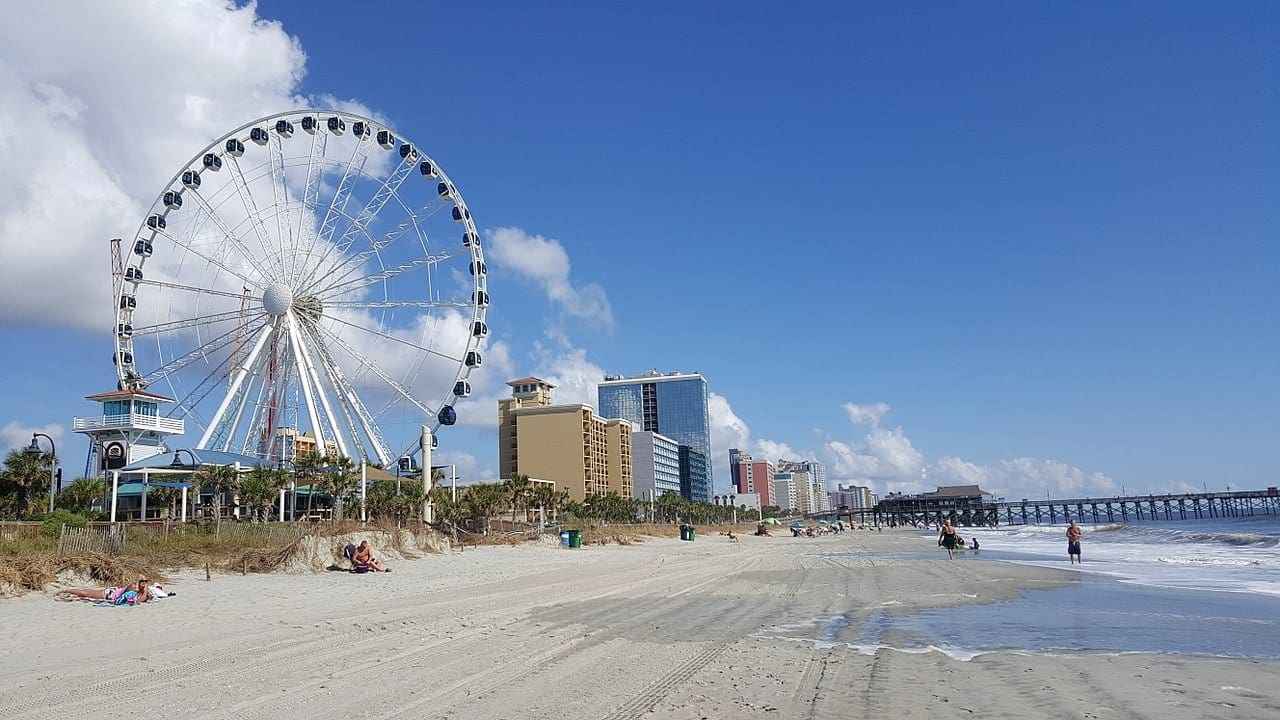 Heading to Myrtle Beach in South Carolina and wondering what you can do there? There's a long stretch of beach area, boardwalks, good seafood, bars, amusement rides, & everything you need for a seaside vacation. Here's a list of the natural & manmade attractions in this coastal city, and the top 10 things to do in Myrtle Beach.
1. Enjoy the Broad Beaches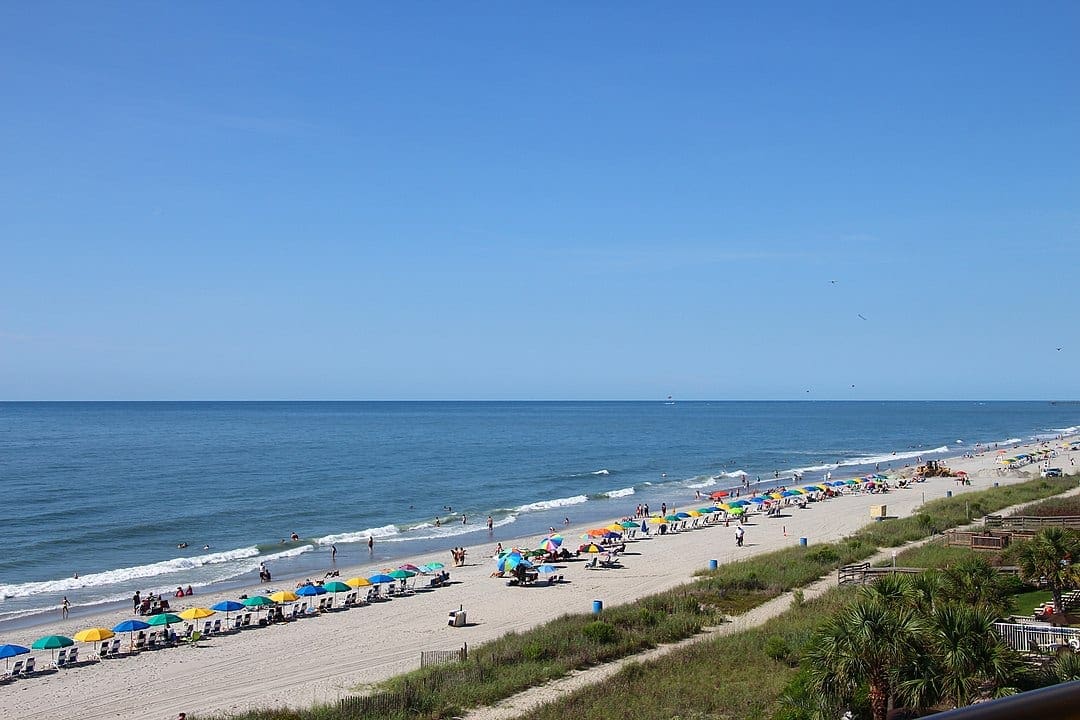 This coastal city is fortunate to have around 60 miles of sand to call its own. So visiting Myrtle Beach means having access to over 10 beaches in the area, enjoying the sand, combing them for seashells & shark teeth, and splashing in the Atlantic Ocean!
Whether you want to relax on the beach, play, swim, surf, kayak, or do stand up paddleboarding, there's a beach area that's perfect for each activity.

There are several places where you can access the beaches of Myrtle Beach. North Myrtle Beach, Public Beach, Myrtle Beach State Park, Surfside Beach, & Huntington State Beach are some great options.
2. Stroll the Boardwalk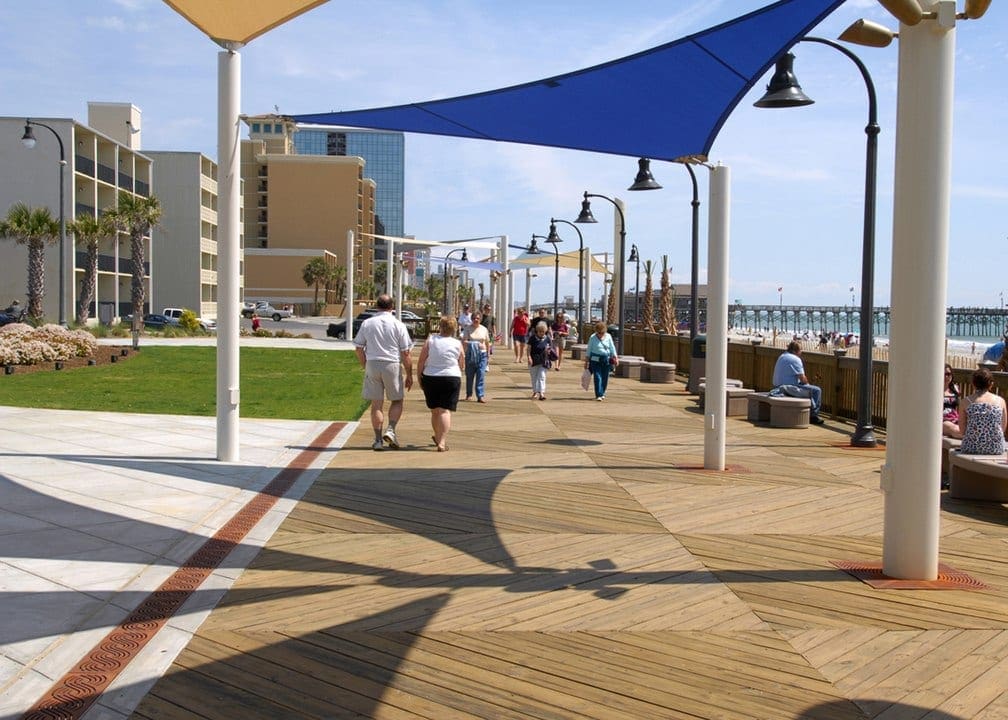 There is over a mile of boardwalk & promenade that's one of the best things to do in Myrtle Beach. There are bars & restaurants, beachwear stores, & gifts shops on it. There are benches to sit on & take in the views of the Atlantic too.
If you'd like to stretch the walk further you could walk onto the many piers that extend into the ocean. The boardwalks also have many beach access points making it easy for you to get onto the sand.
The present wooden boardwalk was built in 2010. The original one was damaged by a hurricane in the 50s and for a long time, Myrtle Beach didn't have a good enough promenade. The wooden structure that runs between Pier 2 (at 2nd Avenue North) & Pier 14 (14th Avenue North) is said to have elevated the city's standing as a seaside destination.
3. Do a helicopter tour of the Grand Strand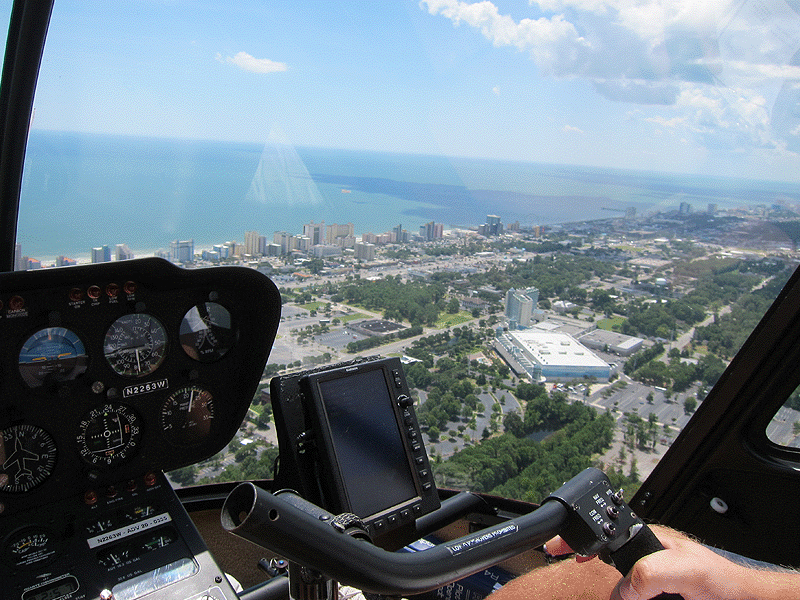 Yet another must-do here in Myrtle Beach is a helicopter ride. This is a great destination where you can try this activity as it's not as expensive as it is in other vacation spots.
More importantly, given the landscape here, you get a bird's eye view of the beaches of Myrtle Beach, its famous boardwalk, the huge amusement park structures, the downtown area & the expanse of the Atlantic Ocean.
4. See Myrtle Beach from a Skywheel gondola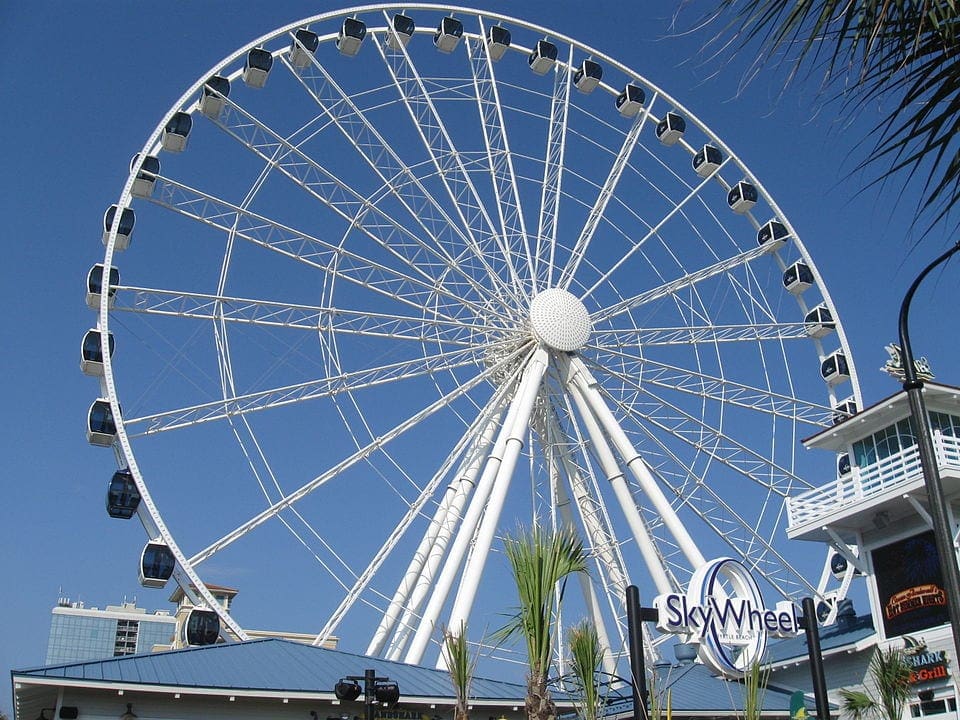 One other way to experience this part of coastal South Carolina from up above, especially if you'd prefer to stay connected to the ground, is to get onto the Skywheel, another superstructure in the beach town. This one of the most fun things to do in Myrtle Beach!
The Skywheel stands on the boardwalk and is one of the largest Ferris wheels east of the Mississippi. Its gondolas rise up to a height of 200 ft and treat you to views of the rest of the beach area, the city of Myrtle Beach ,and of course the ocean.
Get onto it at night to see a fully lit-up Myrtle Beach!
5. Get your entertainment fix at Broadway at the Beach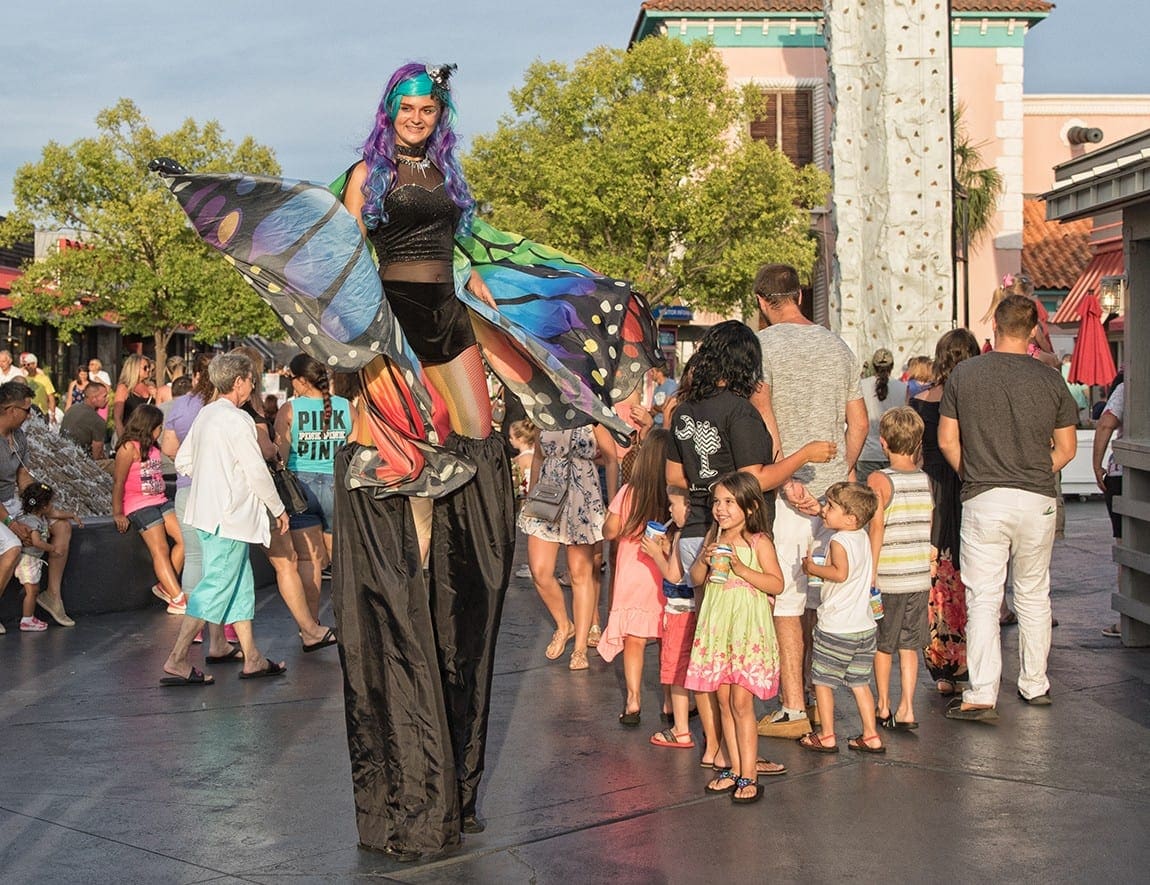 Broadway at the Beach is Myrtle Beach's entertainment complex. Set around Lake Broadway and sprawling over 350 acres, Broadway at the Beach is a collection of attractions like theaters, museums, nightclubs, restaurants, hotels, parks, & even a good number of shopping options.
Tourists and repeat visitors to Myrtle Beach rarely miss the action in this area. The city's WonderWorks is located here, its own Hollywood Wax Museum. The Ripley's Aquarium at Broadway at the Beach is also a very popular attraction.
6. Ride the Swamp Fox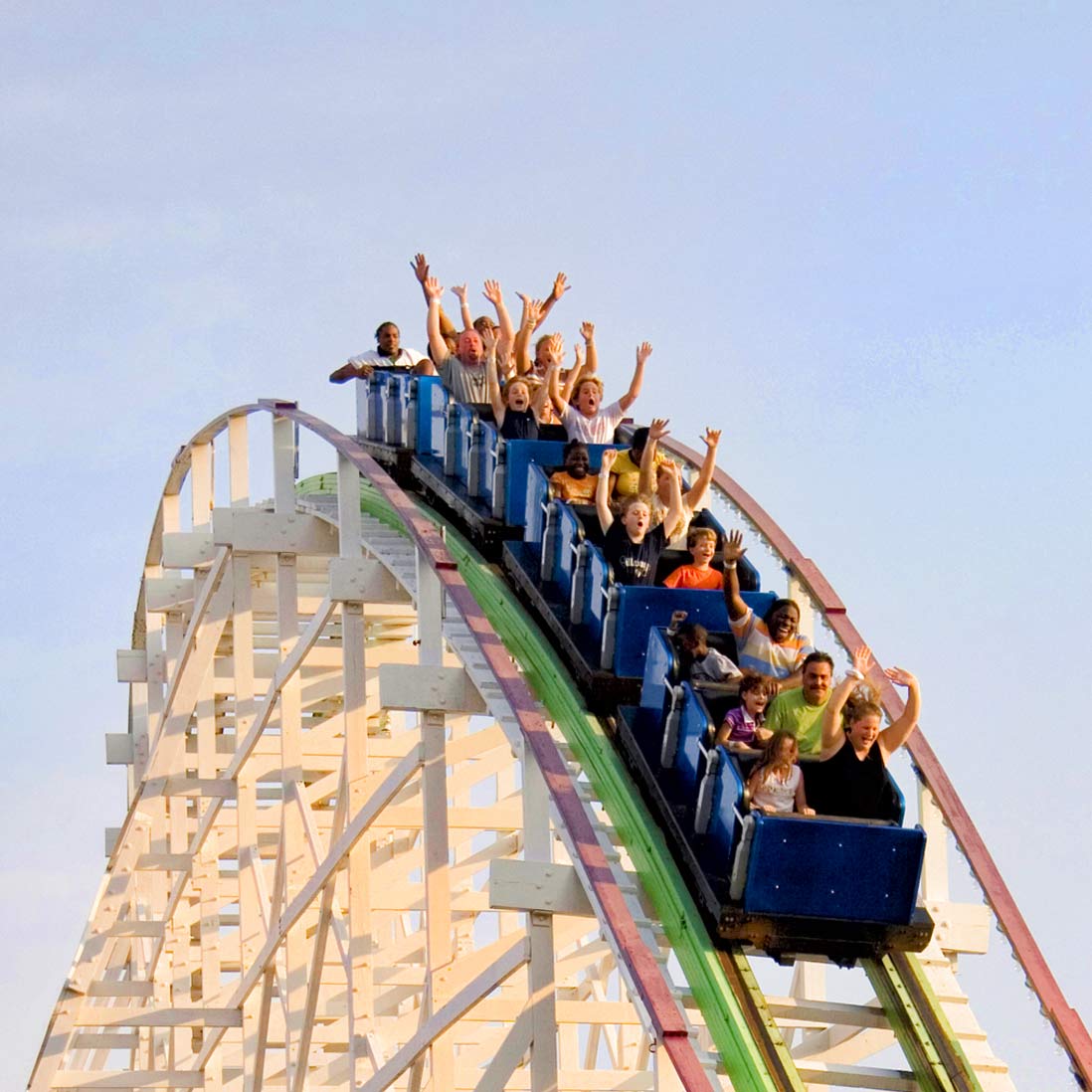 Among the most recognizable structures & best things to do in Myrtle Beach is a vintage wooden roller coaster. Spread over an area of 2,400 sq. ft. the coaster dates back to 1966 and it's still in operation. You can't go to Myrtle Beach without a ride on it! Called the Swamp Fox, the coaster can be found in Family Kingdom Amusement Park.
The park also has a newer steel roller coaster, a Ferris wheel, and several other high-thrill rides for adventure seekers. And there are smaller and easier rides for the little kids and people who are not as big of thrill-seekers.
7. Visit Murrells Inlet Marsh Walk
Murrells Inlet Marsh Walk is a waterfront and marshside boardwalk situated towards the southern end of Myrtle Beach. It's near the estuary so the land is marshy there.
As you walk this boardwalk you'll find seafood restaurants, bars, boat-rental places, & lots of birds to watch as you make your way down the wetland area. You can even see Goat Island (an island with goats roaming on it) from here.
Murrells Inlet Marsh Walk is a pleasant area for a stroll and it's scenic too.
8. Hike at Myrtle Beach State Park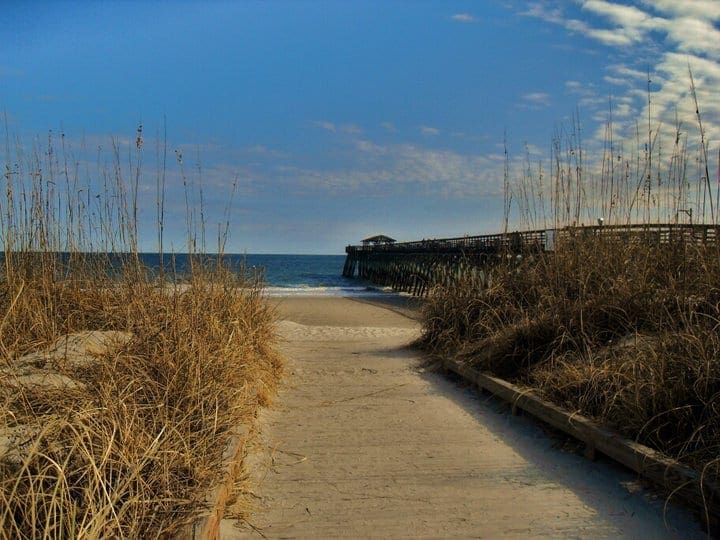 Nature lovers are sure to cherish a visit to Myrtle Beach State Park & find it one of the best things to do in Myrtle Beach. It's also at the southern part of the city. Spread over 300 acres, this park is said to be one of the oldest state parks of South Carolina.
And when you're in this part of South Carolina this state park is the place to go for a picnic or you can do a nature walk through the trails there. Apart from the two nature trails here you'll also find equestrian trails.
This state park is most known for its maritime forest. You can also camp here or do some pier fishing. There's a dune system you might want to see and the beach here is quieter than the ones near the thick of the town.
9. Explore Huntington Beach State Park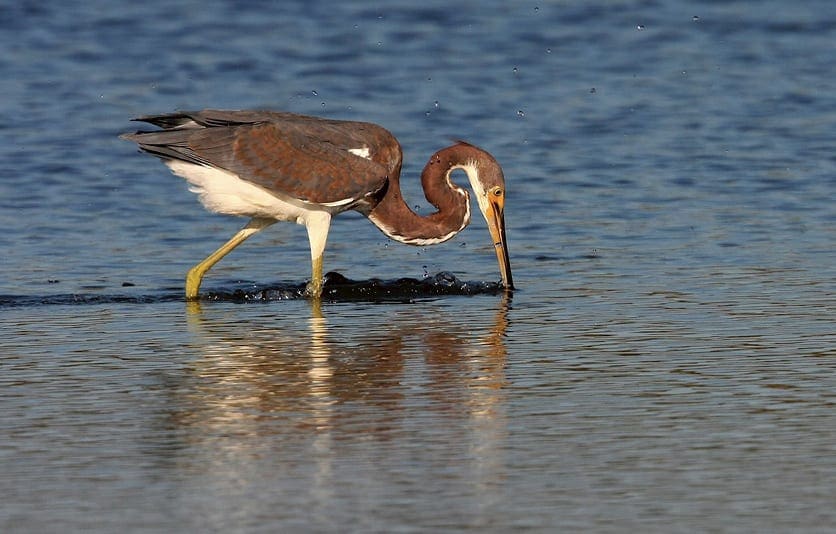 If you like visiting state parks, there's also Huntington Beach State Park located around 15 miles south of Myrtle Beach State Park.
As its name tells you, there's a beach here; three miles of it. Apart from that, there are hiking & biking trails. There's also a freshwater lake where you can see some wildlife. Birdwatching, fishing, & camping are other things you can do here at Huntington State Beach.
If you like history & architecture you could go see Atalaya Castle, the historical mansion that belonged to Archer and Anna Huntington who owned the land here.
10. Admire the Sculptures of Brookgreen Gardens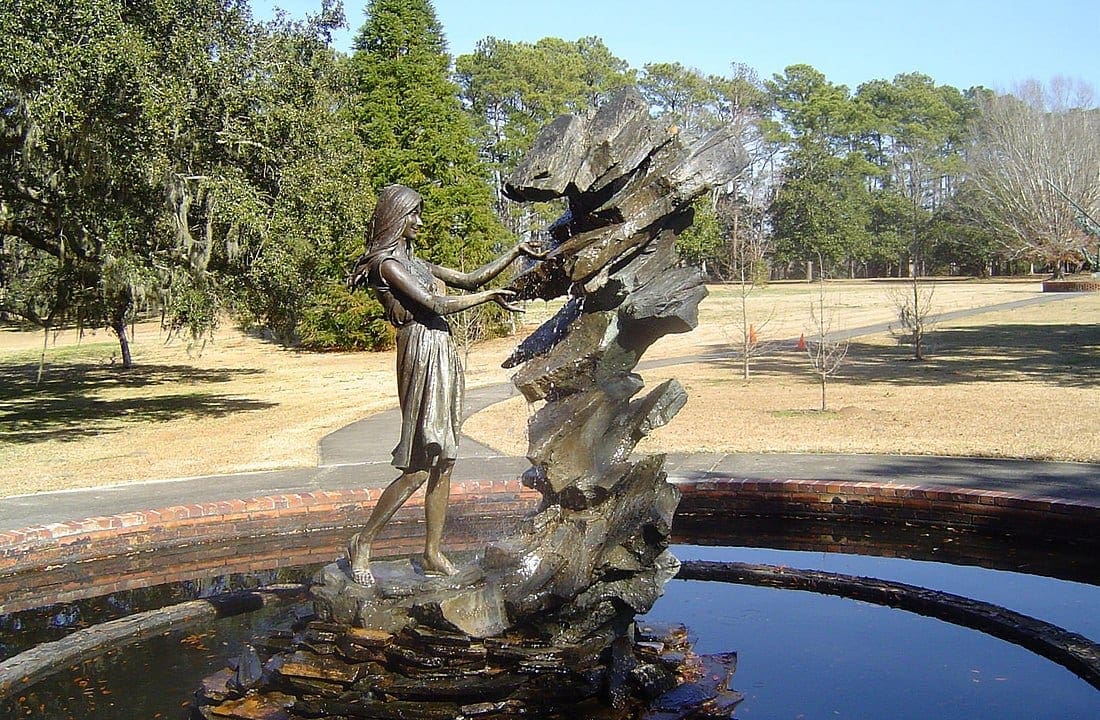 And while you're at Huntington Beach State Park, you should also visit US's largest sculpture garden which stands within the boundaries of this park. This garden also belonged to the Huntingtons.
The garden was once a retreat & later turned into a garden of sculptures and opened to the public. It specializes in showcasing American figurative sculptors and has a collection of 2000 figures that can be attributed to at least 400 sculptors. Brookgreen Gardens is not just one of the largest gardens of its kind, but also a research center.
Within Brookgreen Gardens is also a botanical garden, a zoo, an aviary, & a butterfly garden.