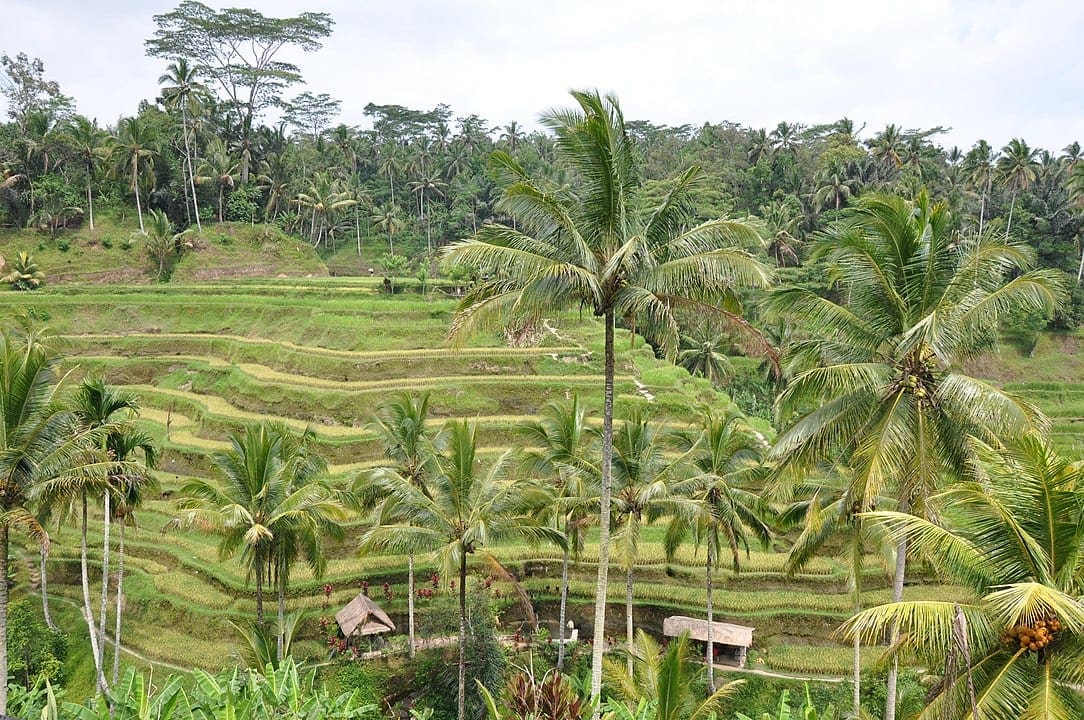 Ubud is considered to be the cultural heart of Bali. It's where you go to experience the history and local lifestyle of the islanders. It's an important spot in the history of Balinese Hinduism, too. Ubud is where most of Bali's art museums are. There are a number of craft villages (specializing in jewelry, woodwork, & other handicrafts) and temples too. And the town is surrounded by forested areas & rice fields. It's also one of the most-visited parts of the island of Bali. Read on for a complete Ubud travel guide!
History
Ubud means 'medicine' in the local language and it gets its name from the presence of a variety of herbs and medicinal plants that are native to the area. The area finds mention in the history of the island as the place where a revered Hindu priest is said to have sat down to meditate at the confluence of 2 rivers. Later, a shrine was built here. Then the area saw the growth of a royal family. And a few temples came into being in the centuries that followed. Ubud became a royal territory and a principal site of Balinese Hinduism.
Over the years, Ubud has attracted people from the islands around it and also people from far away countries. Several artists from the western world also came and settled here and helped Ubud grow artistically.

In the last couple of decades, however, Ubud has leaped to fame among domestic and international tourists and has since become a tourist destination known the world over.
What to see and do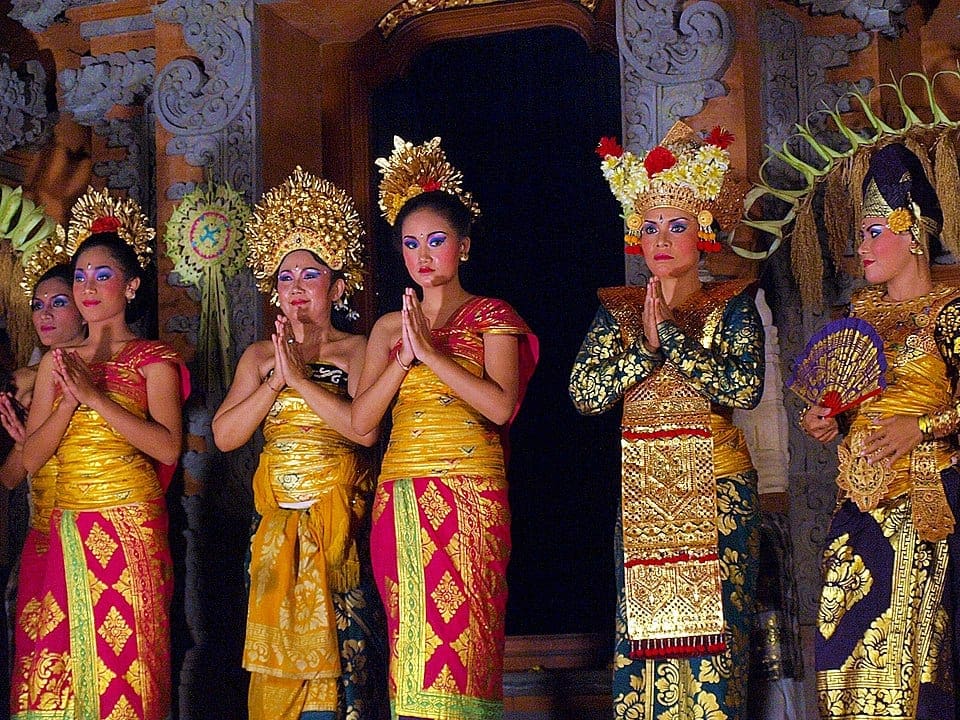 Visitors to Bali often make it a point to spend some time in the town of Ubud to see and walk through the grand, green landscapes the area is blessed with. You don't have to go very far from town to see the famous paddy fields of Ubud. While some of the fields lie stretched out in the valleys, there are several hillsides that have terraced cultivation of paddy. These rice terraces are great places for walks & photography, and to see how rice is grown.
Other things to see in Ubud include Balinese Hindu temple complexes around town. Pura Desa Ubud is the main temple of Ubud. Then there are the temples of Pura Taman Saraswati, a temple built in honor of the Hindu goddess of learning, and Pura Dalem Agung Padangtegal, the temple of death. Other often-visited temples are Gunung Kawi temple, Tirtha Empul, & Goa Gajah – or the Elephant Cave, which has a grand sculpted entrance. Three of Ubud's temples are within Mandala Suci Wenara Wana or the Monkey Forest.
If you'd like to see more Balinese cultural sites, the places to visit are the Ubud Palace and the many museums around town. Neka Art Museum, The Blanco Renaissance Museum, ARMA Museum, Agung Rai Museum of Art, & Komaneka Fine Art Gallery are some of the popular ones.
Yet another cultural experience you don't want to miss while you're in Ubud are the dances of the land. The places to watch these are the temples, some museums, and even the Ubud Palace. The time to catch these performances would be in the evening.
Coming back to Mandala Suci Wenara Wana, the forest is another major point-of-interest in Ubud. Almost all of Ubud's first-time visitors pay a visit to the sanctuary where the macaque move about freely, often coming close to visitors to take a closer look at their belongings. If you'd like to feed the monkeys you could buy some bananas at the sanctuary. This is one of the most fun things in this Ubud travel guide!
Hikers can hit the trail on the Campuhan Ridge to see more of Ubud's terrain, rice fields, and maybe even watch a sunset. Other hiking options are the walks to the waterfalls in the middle of forests, a short drive away from the town. You can also hike up the volcanic Mt. Agung or Mt. Batur if you'd like a longer trip.
Shopping in Ubud is unavoidable given the attractive wares you find on the streets, the art markets, & the souvenir stores near the tourist attractions in and around town. These streets and the stalls in the markets also remind you to try Ubud's street food and local eateries.

For even more options on what to do in Ubud that aren't included in this Ubud travel guide, check out my post: Top 10 Things to do in Ubud.
Food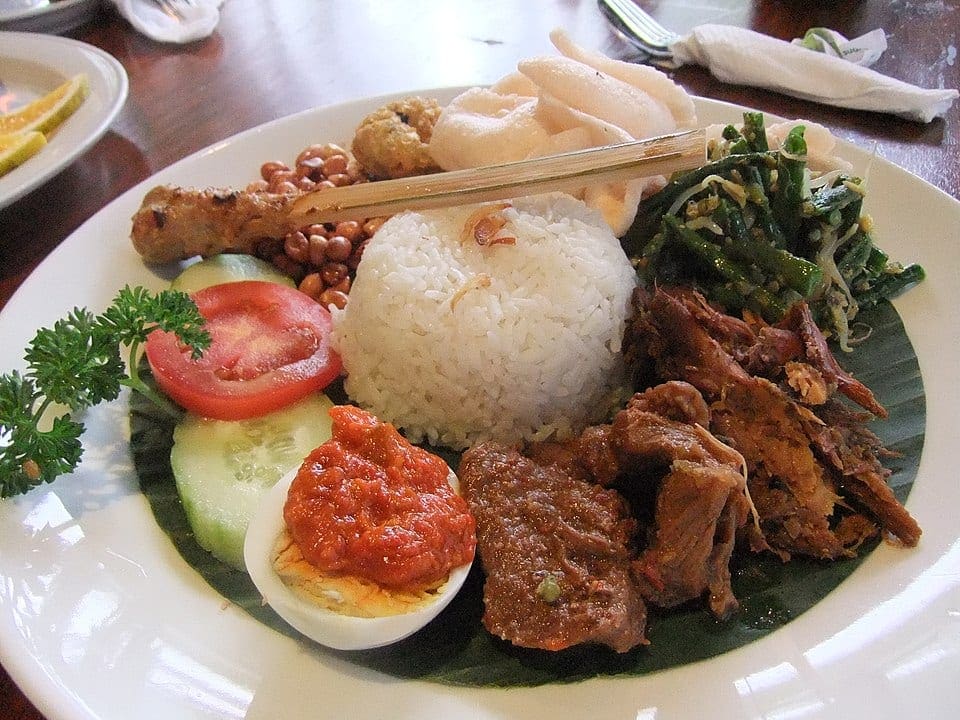 When in Ubud, a must in terms of food is to treat yourself to Nasi Campur. This is the Indonesian version of a lunch plate with rice as the main dish and number of meat, seafood, and vegetable items served on the side.
Apart from the 'mixed-plate', the other items you must have are sate, their skewered meat, babi gulung, which is Indonesia's own roast suckling pig, and bebek goreng, or fried duck. A dessert to try is bubur injin, or black rice pudding.
To try these local items, look for hole-in-the-wall places and stalls on wheels (street food) or at warungs, which are basically local cafes usually run by families and serving authentic home-cooked style food.
Ubud might be a small town, but not when it comes to its dining scene. It's home to many upscale restaurants, too, some of them with tasting menus, others offering a wide range of dishes in the form of fusion food, and some places keeping it all Indonesian. Ubud also has some very well-appreciated vegan restaurants.

For names of specific restaurants to visit in Ubud that are not included in this Ubud travel guide, check out my post: Best Restaurants in Ubud.
Shopping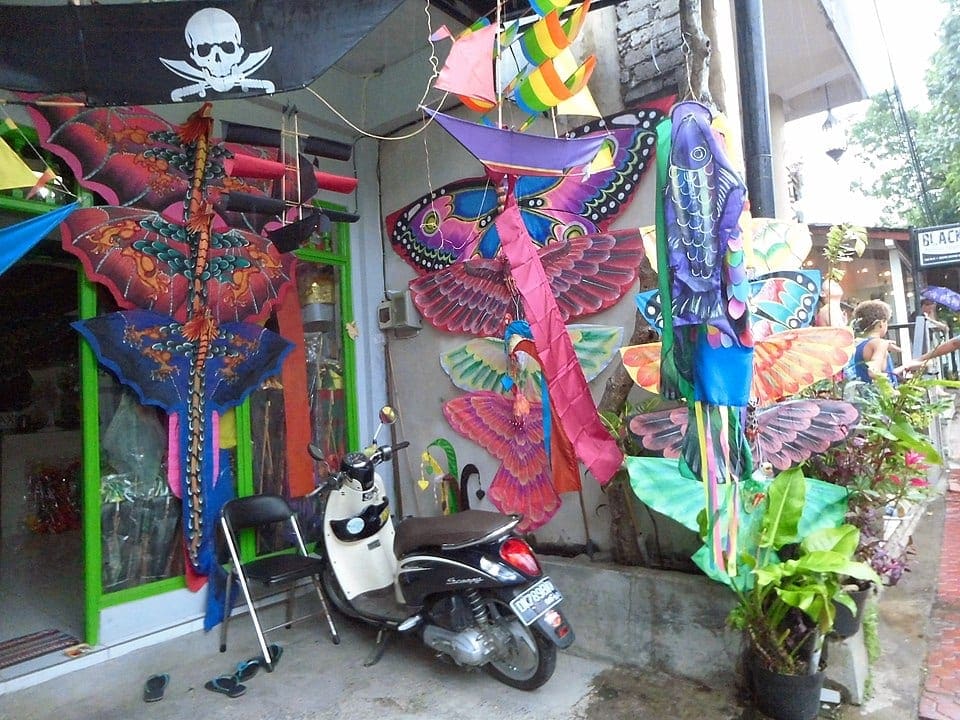 Shopping has to be on your list of things to do in Ubud! & the Ubud Art Market must be a part of your itinerary. What starts off the day as a traditional market selling produce & provisions, transforms into a shopper's paradise selling everything from handicrafts to textile and from sculptures to art. Ubud Market is not the only art market in the area. There's Sukawati Art Market and Guwang Art Market, too. And fine art is a great souvenir to take back from a place that is an art capitol.
Other places to shop at are Monkey Forest Road and Jalan Raya, which are streets lined with shops selling handbags, clothes, & jewelry. Celuk Village is also a great place to buy jewelry from. This village is known for its jewelry craftsmen who work with gold & silver.
You'll also find souvenir shops near all the major tourist attractions around Ubud, like the art museums, rice terraces & the monkey sanctuary.
Other things to take back from here include coffee, sarongs, kites, baskets & kites.
Geography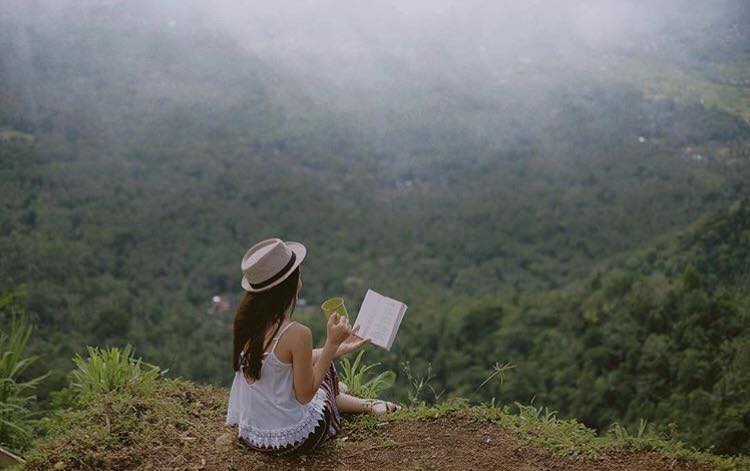 Ubud is an inland town towards the southern part of the island of Bali in Indonesia. Surrounded by lush tropical forest and rich green paddy fields, Ubud is a town made up of 14 village communities.
Ubud is also not very far from mountains, ridges, & a whole lot of waterfalls. Even the coast is just around an hour's drive from the cultural hub of Bali!
Accommodation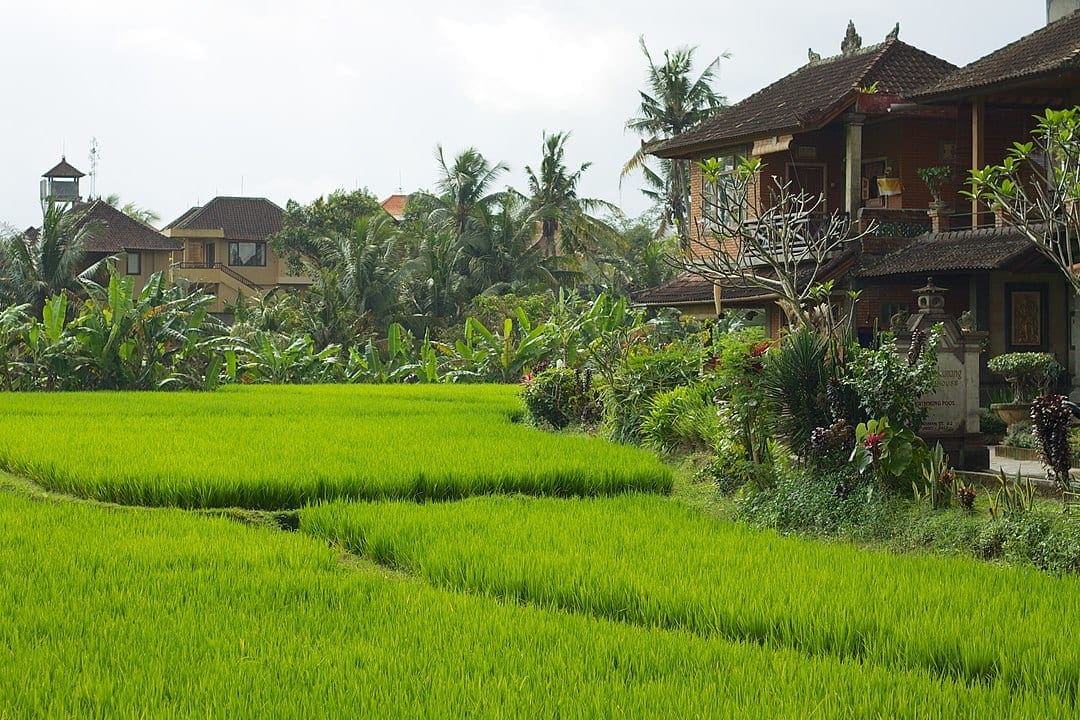 Ubud is a full-fledged tourist town with a fair range of accommodations. There are budget hotels as well as several high-end resorts overlooking rainforests and rice terraces.
The town and the villages that make up the area also have a large number of home-stays. These B&Bs meet different budgets from mid-range to inexpensive, and they also give you an opportunity to get closer to the culture & lifestyle of the island. Most of them are in the villages.
You'll even find great and surprising deals on private villas around Ubud!
Transportation
If you want to holiday in Ubud, you're going to have to fly into the Ngurah Rai International Airport in Denpasar. Before you arrive, you should check with your resort or homestay and see if they have airport transfers. Getting a cab to take you into Ubud is going to be quite a task because the local taxis discourage ridesharing services and taxis from other parts to operate in the Ubud area.
If you don't have that option, the next best thing would be to take an official Bali Airpot Taxi. Yet other choices you have are public buses or bemos (minivans that are widely used for public transport).
When you're in Ubud, you can walk to most of the tourist attractions that are in the central part of town. For places that are further out, you can take local taxis, scooter taxis, or the minivans. If you'd be comfortable driving or riding on Ubud's roads, you could rent a car, a motorcycle, or a bike.
Best time to visit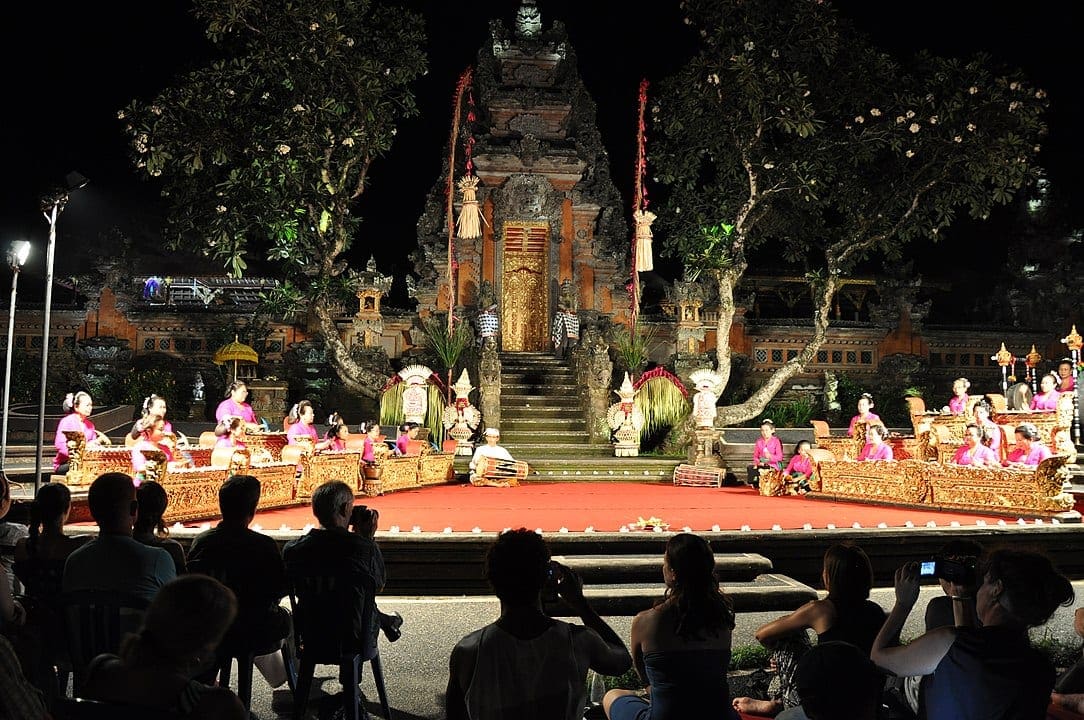 June, July, & August make Ubud's high season. These are the months when the area is warmest and most dry. If you'd like to go in the shoulder season, you might want to look at traveling during April-May or September-October, after which the island begins to see more rain, often stopping any hiking and rice field walks. You might even see a bit of flooding in parts of the island of Bali during the season.
Nearby destinations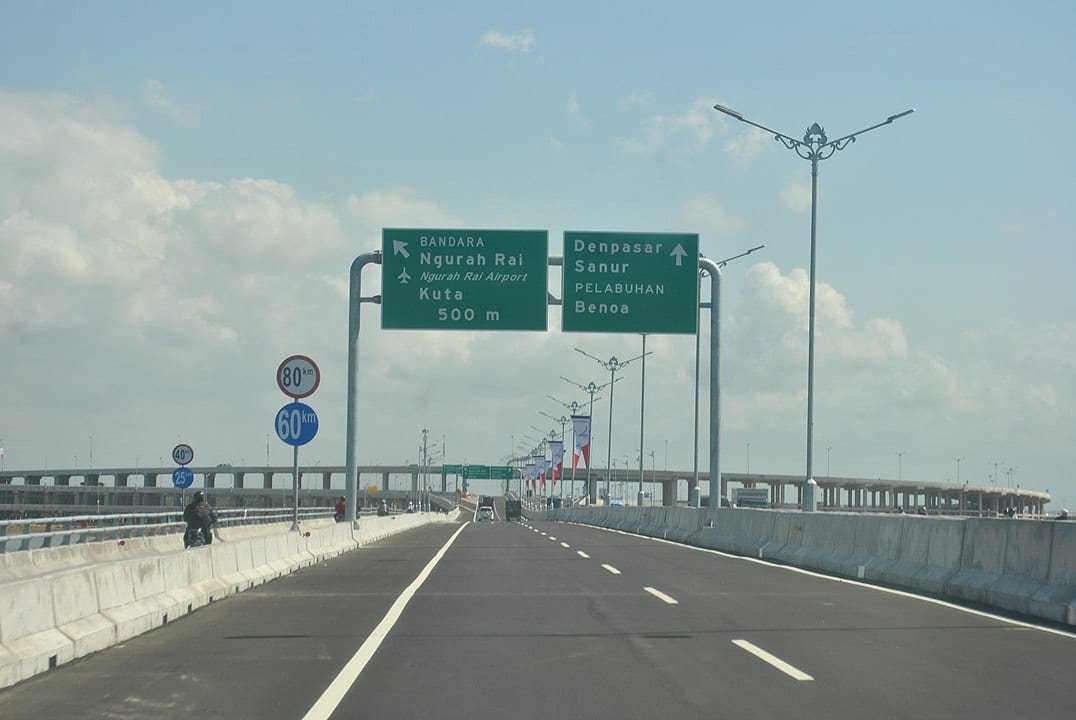 When you're in Ubud, you are on the island of Bali. And that means the seaside is not very far. Despite this being an Ubud travel guide, I wanted to make sure to include the surrounding areas, as well. Most of Bali's popular beaches are on its southwest, southern & southeastern parts. Seminyak, Kuta, Jimbaran & Sanur are some names of areas to take note of for your beach days. There are also a number of sea temples on the coast.
You could also leave the main island of Bali and explore the smaller islands of Nusa Lembongan, Nusa Ceningan & Nusa Penida. Or you could travel west and see West Bali National Park.